Sun, 28 Oct 2001, 09:58 PM



Russell, Capps, Pawuk and Gann Visit the Winner's Circle at the Strip



Courtesy of NHRA Communications



LAS VEGAS --
Rookie Darrell Russell won his second Top Fuel race of the year Sunday at the inaugural ACDelco Las Vegas NHRA Nationals at The Strip at Las Vegas Motor Speedway.
Ron Capps, Mark Pawuk and Shawn Gann also won their respective categories at the $1.9 million race, the 23rd of 24 events in the $50 million NHRA Winston Drag Racing Series.
Darrell Russell
Russell, from Hockley, Texas, blasted his Amato Racing dragster down the track in 4.602 seconds at 319.67 mph to defeat points leader Kenny Bernstein who posted a pass of 4.689 at 308.78 in his Budweiser King dragster. Russell's first career-win came in his professional debut at the season-opening Winternationals in Pomona, Calif., and he has posted five-runner-up finishes in between wins. Prior to defeating Bernstein, Russell defeated Scott Weiss, Clay Millican, and Don Lampus en route to the win.
"The sun was coming down and I couldn't see the (win) light and it looked like Kenny's light came on so I thought I red-lighted," said the 33-year-old Russell. "Then I saw the win light and I was thinking, 'this is very cool.' This is the 50th anniversary of the NHRA, the last time Winston will be here, so it's pretty special. When we won the first time, then we were the runner-up in Phoenix, I was thinking, 'Is this a fluke or is it really this easy?' We have been in seven final rounds and have two victories this season. There are some seasoned veterans out there who haven't done that this year."
Bernstein's runner-up finish extended his lead in the Winston standings to 54 points over Larry Dixon heading into the season finale. Dixon was eliminated in the second round when his Miller Lite dragster lost traction and slowed to a finish. With 138 possible points available, the Winston championship will be decided in Pomona. "Whenever you go against the big red car you have to be able to be on your best game," said Russell. "The first person to congratulate me was (Dixon team-owner) Don Prudhomme. Before I even got out of the car, there was Don Prudhomme, handing me a Miller Lite."
Capps scored the Funny Car victory at the starting line when final round opponent Bob Gilbertson fouled. Capps still managed to speed down the quarter-mile in his Skoal Racing Chevy Camaro in 4.890 at 308.85 to record his third win of the year and the 12th of his career.
"(Gilbertson's crew chief) Paul Smith is a little conservative sometimes, but that is why they make a lot of great runs," said Capps. "You always know that it is going to be a great race against that car."
The win gave team-owner Prudhomme two victories at The Strip this year. His other Funny Car driver, Tommy Johnson Jr., won the April event in Las Vegas. Capps used wins against Frank Pedregon, Whit Bazemore, Al Hofmann and Gilbertson to move into third place in the Winston standings.
"I used up a lot of energy against Whit," said Capps. "I had to dig down deep, but I wanted to win real bad. It doesn't take much to get me motivated. I try hard to like all of the guys we race with, but sometimes you have to find a way to make it personal and go after the win. Whit has one of the best cars out there right now and beating him is like beating John Force."
There was a rare occurrence during the first round of eliminations when already-crowned Winston champ John Force and opponent Bob Bode were disqualified as both drivers left the starting line before the timing system was engaged. No time or speed was recorded for either vehicle. Due to the double disqualification, Bruce Sarver had a bye run in the quarterfinals.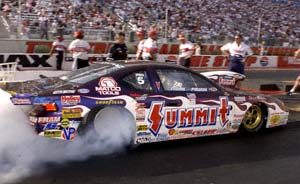 Mark Pawuk
Pawuk used a holeshot to win the Pro Stock title with his run of 7.033 at 196.07 to defeat former NBA player Tom Hammonds who posted a quicker run of 6.994 at 197.68 in his second straight final round. It was Pawuk's first win of the year in his fifth attempt and his first since June last year. Pawuk won by three-thousandths of a second, or about 10 inches. "I'm glad I could rope a victory this year," said Pawuk. "With only two races left, I was getting nervous. We qualified at No. 7 and everyone kept saying 'Lucky No. 7 in Las Vegas.' But I kept thinking of how No. 7 never got me anywhere on the craps table. But we were on the right side of the ladder when we needed to be.
"I didn't expect us to get past the second round for sure, but we did. We have been running strong all year and we were hoping to get a few victories this season. To be in a final is a major accomplishment. We've had 15 different winners and that just shows how tough this class is."
Five-time Winston champ Warren Johnson, who was eliminated in the first round, leads Jim Yates by 103 points in the standings.
Gann earned his first career Pro Stock Motorcycle win, covering the distance in 7.352 at 182.92 atop his Gann Racing Suzuki to hold off Antron Brown's slower numbers of 7.374 at 181.57. "Getting the win is awesome," said the 23-year-old Gann. "The day started where we didn't have the edge we thought we would need. But the hard work we put in at the shop has paid off. We've been slaving away at the motor. I'll never buy a motor from someone else. I won't be out here if I have to do that. My pop takes a lot of pride in building the equipment."
Current standings leader Angelle Savoie saw her lead trimmed to 73 points ahead of Brown. She must advance to the semifinals at the final race of the year to clinch her second straight NHRA Winston championship.
The NHRA's 50th Anniversary season will conclude with the 37th annual Automobile Club of Southern California NHRA Finals, Nov. 8-11, in Pomona, Calif.
LAS VEGAS -- Sunday's final results from the Inaugural ACDelco Las Vegas NHRA Nationals at The Strip at Las Vegas Motor Speedway. The $1.9 million race is the 23rd of 24 events in the $50 million NHRA Winston Drag Racing Series:
Top Fuel -- Darrell Russell, 4.602 seconds, 319.67 mph def. Kenny Bernstein, 4.689 seconds, 308.78 mph.
Funny Car -- Ron Capps, Chevy Camaro, 4.890, 308.85 def. Bob Gilbertson, Pontiac Firebird, foul.
Pro Stock -- Mark Pawuk, Pontiac Grand Am, 7.033, 196.07 def. Tom Hammonds, Chevy Cavalier, 6.994, 197.68.
Pro Stock Bike -- Shawn Gann, Suzuki, 7.352, 182.92 def. Antron Brown, Suzuki, 7.374, 181.57.
Federal-Mogul Dragster -- Brian Hough, Dragster, 5.473, 258.02 def. David Wells, Dragster, 5.542, 254.04.
Federal-Mogul Funny Car -- Jay Payne, Chevy Camaro, 5.750, 249.12 def. Pat Austin, Pontiac Firebird, 5.781, 231.00.
Comp Eliminator -- Bo Butner, Pontiac Firebird, 7.998, 169.27 def. David Rampy, Roadster, 7.357, 162.76.
Super Stock -- Dan Fletcher, Chevy Camaro, 10.575, 120.01 def. Mark Faul, Pontiac Grand Am, 11.336, 111.32.
Stock -- Lee Zane, Buick Apollo, 12.726, 89.57 def. Gary Emmons, Pontiac Firebird, foul.
Super Comp -- Billy Maddox, Dragster, 9.070, 161.07 def. Damon Dabbs, Dragster, 9.087, 163.85.
Super Gas -- Scotty Richardson, Chevy Corvette, 10.072, 140.15 def. Frank Kohutek, Pontiac Grand Prix, 10.059, 149.55.




NHRA: 10 Most Recent Entries [ top ]

Mar 22- LAS VEGAS 1 - Defending Funny Car Winner Tommy Johnson Jr. Excited for Four-Wide Racing
Mar 22- NHRA Northwest Nationals Tickets on Sale Now
Mar 21- LAS VEGAS 1 - Fact Sheet
Mar 21- LAS VEGAS 1 - Event Preview
Mar 20- Strong Stable of Contending Pro Stock Racers Vie for Final Starting Position for K&N Horsepower Challenge
Mar 20- GAINESVILLE - Special Awards
Mar 20- GAINESVILLE - Lucas Oil Drag Racing Series Wrap Up
Mar 19- GAINESVILLE - Sunday Video
Mar 18- GAINESVILLE - Pro Mod Sunday Wrap Up
Mar 18- GAINESVILLE - Sunday Wrap Up