Wed, 24 Oct 2001, 02:43 AM



Happy Birthday, Larry!!



By Bob Frey



OK, so the O'Reilly Fall Nationals presented by Castrol Syntec wasn't the record-fest that I thought it would be, but it was still a very exciting race. As soon as I (and anyone else who knew anything about drag racing), saw that the weather was going to be in the 80-degree range and sunny, we knew that the record performances of the past two races wouldn't be repeated. Still, it was a tremendously exciting event, with great finals and more than a few surprises.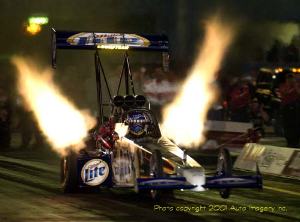 Larry Dixon
The Top Fuel battle is now as close as it has been in a number of weeks.
Larry Dixon's
win over
Doug Kalitta
, coupled with Larry's semi-final victory over
Kenny Bernstein,
means that Kenny will go into Las Vegas with a slim, 15-point lead. Since that is less than one round of racing, it appears that the battle for the 2001 Winston Championship will, indeed, go right down to the wire. Although,
did you know
that Kenny could, mathematically, clinch the title in Vegas? With a possible 138 points up for grabs, if Kenny were to be the top qualifier, win the race and set the national record, he would clinch the championship if Larry failed to qualify. How many of you think that will happen, raise your hand. Just what I thought, but I did want to point out that that slim possibility does exist…By winning four and two rounds, respectively, in Texas, Larry and Kenny tied the NHRA mark for the most round wins in a season by a Top Fuel car.
Did you know
that
Gary Scelzi
held the record at 54 round wins? The reigning champ did that last year en route to his third title, and now, both Dixon and Bernstein share a piece of that historical mark. Obviously, the record will be beaten this year, and, if it's not, I'll buy you all a steak dinner. When Larry met Kenny in the third round in Texas,
did you
know
that it was the 5
th
race in a row in which the two had faced each other? And, in case you're scoring at home, Kenny leads that mini-series, 3-2. Hey, that's one extra round win for Kenny, and isn't that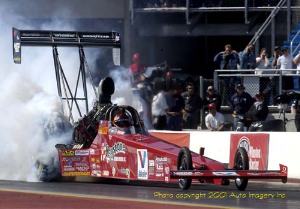 Darrell Russell
about the margin of difference right now? Go figure… By the way, today (Tuesday, October 23) is Larry Dixon's
birthday.
I wonder if he celebrated by winning Dallas early, or if he'd like to celebrate by winning Las Vegas late?…With his final round appearance, Doug Kalitta jumped up into third place in the standings. Doug now leads Scelzi by seven points in the battle for that third spot. If Gary can manage to make it to third place this year, he would become only the third driver in Top Fuel history to finish in the top three in points for five, consecutive years.
Did you
know
that only
Joe Amato
and
Cory McClenathan
have accomplished that feat to date? ….
Darrell Russell
, who drives for Joe and who lost in the opening round, was named as one of the four finalists for the AAA Club "Road to the Future" award. The other three nominees are
Bruce Sarver, Brad Jeter
and
G.T. Tonglet
. Look for Russell and Tonglet to share the "Future" award and the NHRA "Rookie of the Year" award, although I'm not sure who will win what.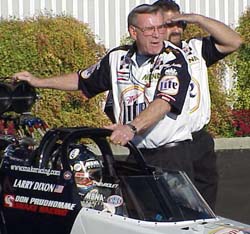 Dick LaHaie
In Dallas, Dixon qualified number one for the third time this season, and for only the 11
th
time in his career.
Did you know
that until this season, Larry had won just one race when he was the top qualifier? In his rookie season, 1995, Larry dominated the Englishtown race and he won from the top spot. Since then, he has had seven tries to win from the number one position, and he has missed each time, in fact, he never even got to the final round at any of those races. In 2001, he has gone to the finals each time that he has been number one…The one, remarkable performance standard in Dallas was Dixon's 4.508 in qualifying, a time that had him five-hundredths in front of the second guy,
Mike Dunn
. In top fuel, that's a bunch. And, when he ran even better, a 4.500 in eliminations, it was obvious that Dixon,
Dick LaHaie, Don Prudhomme
and the rest of the Miller Lite team had the best car in Texas this weekend.
Did you know
that 4.500 was Larry's best run of the year, and that he had the low elapsed time for six, consecutive runs (2 in qualifying and 4 in eliminations) in Dallas? Aside from elapsed time,
did you know
that Mike Dunn set top speed, again, in Dallas? Mike's pass of 330.76 in the first round was, by far, the best of the event.
Did you know
that this is the 10
th
time this year that the Gwynn / Steinbrenner car has been the fastest one on the property? And,
did you know
that Mike has only been able to win at two of the tracks when he set that top speed?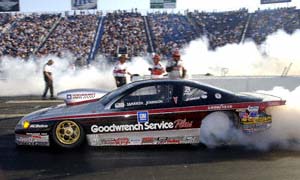 Warren Johnson
Pro Stock Car and Pro Stock Motorcycle titles could both be clinched in Las Vegas this weekend.
Warren Johnson
comes into the race leading
Jim Yates
by 150 points, so he only needs to match Yates' performance this weekend in order to secure his 6
th
, Winston title. Although it hasn't been the dominating, W.J. season that we've come to know and expect, I'll bet you the "Professor" will tell you that it's played out exactly the way he wanted it to. After all, I'm sure he'd say, isn't the goal to win the championship?…
V.
Gaines
' win in Dallas, his second on tour and his second at the Motorplex, ran the number of different winners this season to an amazing 14 in the class. We were assured of another, new winner when
Tom Hammonds
also advanced to the final round. Tom, who has made amazing progress since announcing his retirement from the NBA, beat
Mark Osborne
in the opening round and, believe it or not, it was the third time that Tom beat Mark in as many starts.
Did you know
that Hammonds stopped Osborne twice back in 1998? Amazing, isn't it? Tom, unfortunately for him, made his worst run of the weekend in the finals, a 6.961, and that cost him the race….
Hurley Blakeney
qualified for the field with his Ford, which is not really that surprising if you look at the last two races.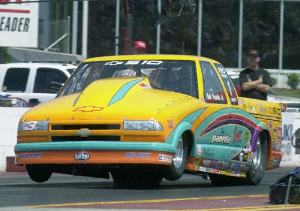 Bob Panella
Did you know
that Hurley was the first alternate at both Maple Grove and Chicago, with runs of 6.84 & 6.85? Also,
did you know
that Hurley was the last guy to win a round at an NHRA national event in a Ford Pro Stock car? He did that at Englishtown last year, beating
Mark Pawuk
. Prior to that, the last Ford round win came at Columbus in '99 and was recorded by
Robert Patrick
. And, still for the Ford faithful, the last time one of the blue-oval clan went as far as the semi-finals was in Dallas in 1998, and the guy was, again, Robert Patrick. By the way just to show you how much the weather was a real factor in Texas,
did you know
that the low qualifier,
Mike Edwards
, wouldn't have made the field at either of the last two races with his 6.872 qualifying time?….
Angelle Savoie
can wrap up her second Winston Championship if she can go three rounds further than
Antron Brown
this weekend. And, while that is possible, it may not be probable since Antron runs really well. It should come down to which driver can handle the pressure better….
Bob Panella
, who won the truck class in Dallas, simply has to show up in Pomona to claim his crown. Bob deserves a lot of credit for winning this past weekend, since he had to beat his closest challengers,
Randy Daniels
and
Greg Stanfield
in the first two rounds. Plus, he had to beat the top qualifier,
John Lingenfelter
in the semi-finals, and the hottest guy in the class,
Mike Coughlin
in the final round. Nice job, Bob.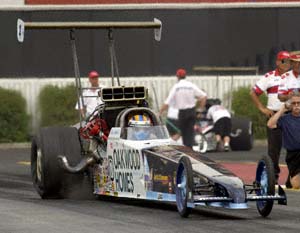 Rick Santos
The sportsman classes were great, too, in Texas.
Did you know
that the bump spot in the Federal Mogul Dragster class, a 5.542, equaled the best, ever in that class? Only this year's Winternationals had a filed that was that quick. Yet, with all of the firepower in the class, after one round, five of last year's top ten drivers were on the sidelines, including
Billy Bybee, Troy Buff, Jay Meyer, Bruce Bowler
and
David Wells
. Throw in upset losses by
Keith Stark
and
David Baca
and you had one of the weirdest rounds of all time in the class. Oh, did I mention that
Brandon Bernstein
didn't even qualify? In the end,
Rick Santos
, who left Maple Grove extremely upset with himself (he lost in the finals there on a holeshot), won it all and wrapped up his fifth, Federal Mogul World Championship. To make it even sweeter for Rick, he beat
Mark Hentges
, who beat him in that Maple Grove final, and
Brian Hough
, who beat him on a holeshot at Pomona in July, in the last two rounds….
Pat Austin
made it win number 74 when he stopped
Jay Payne
in the Funny Car finale, while
David Rampy
and
Jeff Taylor
also made it to the winner's circle. Talk about an all-star cast!
Finally, our thoughts and prayers are with John Force and his brothers and sister this week, as they mourn the passing of their mom, Betty. John, who learned of his mother's passing while in Texas, stayed to race because "that's what she would have wanted me to do." John clinched his 11th title when he won and Whit Bazemore lost in the second round. John then lost to Gary Densham in a great final. Isn't it strange that Gary would go 243 races without a win and then would beat John Force twice in a month to win two events? And, I guess it's only fair to report that Gary also celebrated his 55th birthday in Dallas… By the way, I understand that all of the members of the Matco Tools Funny Car teamed have been signed to contracts for next year, keeping in place the one team that looks like it could challenge John as he goes for number 12 in 2002. And, Cruz Pedregon, the only guy other than John to win the Funny Car championship since 1990, will return to action next year and that should be good for the class and all of us who enjoy it.




NHRA: 10 Most Recent Entries [ top ]

Apr 21- HOUSTON - Sunday Schedule
Apr 21- HOUSTON - Saturday Video
Apr 21- HOUSTON - Saturday Wrap Up
Apr 21- HOUSTON - Super Stock Class Eliminations Finals
Apr 21- HOUSTON - Funny Car Qualifying, Session #4 Bonus Points
Apr 21- HOUSTON - Total Qualifying Bonus Points
Apr 21- HOUSTON - Funny Car Eliminations Ladder
Apr 21- HOUSTON - Funny Car Final Qualifying, Session #4 Order
Apr 21- HOUSTON - Top Fuel Qualifying, Session #4 Bonus Points
Apr 21- HOUSTON - Pro Stock Qualifying, Session #4 Bonus Points