Thu, 25 Oct 2001, 08:22 PM



Make Way For The Champions!



By Bob Frey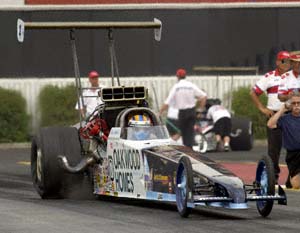 Rick Santos
As the NHRA drag racing season heads into its final weeks, the championship in the two, top classes in the sportsman categories have already been decided. Once again, it'll be Rick Santos the dragster champ and Frank Manzo the Funny Car winner. After watching those two race recently, it's no surprise that they will retain their titles.
To put Rick Santos' title defense in its proper perspective, all you have to do is look at the last, three races in which he competed. Going into Maple Grove, Rick's closest competitor, Mark Hentges, desperately needed to win a national event in order to keep his slim, title hopes alive. And, when Mark beat Rick on a holeshot in the final round, it appeared that we may have a new champion in 2001. Of course, Rick still had some races to claim and that meant that he still had a chance to catch or pass Mark. Hentges, meanwhile, was out of events, that is, he had claimed all of the points that he could, so all he could do was follow Rick, try to beat him and hope that he didn't add any more points to his total. Well, as it turned out, it was a great theory.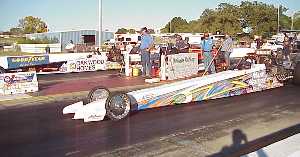 Hentges vs. Santos
The week after Maple Grove, both Rick and Mark, along with about a dozen other great drivers, all showed up in Noble, Oklahoma, for the Division 4 point's race. Rick in an effort to gain some points, Mark in an effort to see that that didn't happen, and the others in an effort to protect their home turf. Another great theory. Well, in the end, it was Rick and Mark in the money run, a run that Rick won by being very good off the starting line and excellent on the track. The win, a wire-to-wire job, was extra sweet for Santos since he not only lost that Maple Grove race, but he had set the national record in Pennsylvania as well, only to come home empty handed. At the end of the weekend in Oklahoma, however, the two contenders for the title were in a virtual, dead heat in the points. Next stop.Dallas, Texas.
The Dallas race saw a huge turnout, and a record-tying bump spot. It also saw Rick beat Mark in the semi-finals, and then beat Brian Hough in the finals. In the process, he added to his total and broke the tie with Mark, plus he eliminated every other challenger to his throne. In short, he wrapped up his fifth, consecutive title. And he did it in typical, Rick Santos fashion. Not only did he get even with Hentges for the Pennsylvania deal, he also evened up the tally with Hough who had ended Rick's 16-race win streak earlier in the year at Pomona. Until that July race, Santos had won sixteen, consecutive final rounds, and that's not bad. Still, stunned by the loss in PA., he responded the way a real champion would, he beat his closest challenger at the next race, and eliminated all the other contenders one week later.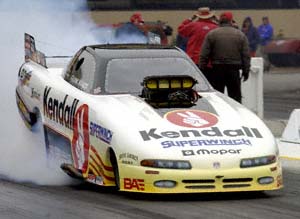 Frank Manzo
Frank Manzo, who locked up his seventh title the same week that Santos was losing in Pennsylvania, won two races in the same week, that's how good he is. He beat Paul Gill in the finals of a rained-out event on Saturday, and then came back to win the race on Sunday. In the process, Frank completed another perfect season, that is, he would accrue points at five national and five divisional events, all of which he won. Now that doesn't happen very often. But, unlike Rick, who began his season with a win, Frank went all the way into the summer months without a win, and, seemingly, without a chance to hold on to his title. In fact, it wasn't until the Atlanta race that he actually put one in the win column. By then, Von Smith had a couple of divisional wins, including one over Frank, and he appeared poised to displace the "Ace" as the top guy in the class. Well, that feeling of euphoria wouldn't last long.
Following his Atlanta win, Frank got on a roll, one that included wins in Columbus on the national level, and Lebanon Valley, Numidia and Cecil County on the divisional trial. Those wins put him in pretty good shape going into the U.S. Nationals, another race that he won. By then, Frank appeared to be back in form and well on his way to retaining the title, if not on his way to that perfect season. But, he had another national event to contest and a rained out divisional race to complete. Both of those things would take place at the Maple Grove event, and both of those would include Paul Gill, one of the best Federal Mogul Funny Car drivers in the country. Plus, he had a very good car and he liked his chances against Frank, his archrival. Well, nobody responds to a challenge quite like Manzo. He beat Gill on a holeshot on Saturday to wrap up a perfect divisional season, and he beat him again on Sunday en route to winning the race. Oh, did I mention that he beat Gill after blowing an engine in round two, replacing it and then racing Gill? Well he did. And he did all of that after, basically, clinching the title with the divisional victory. A lesser man would have given his crew the day off after blowing the engine, but a lesser man wouldn't have had six world titles coming in. Frank's performance that weekend in Pennsylvania is the kind of thing that legends are made off. The guy who had to wait until Brad Anderson beat Gary Southern in the final round at the final race of the 1981 season to claim his first title, won his seventh championship with room to spare. And he won it the way he always did, with class and style.
There are still five other championships to be determined in the sportsman categories, and it doesn't look like any of the defending champions will repeat. That's not because any of them had particularly bad seasons, it's just that the competition is so tough, that repeating is a tall order. Of course, the competition in the dragster and the funny car classes isn't exactly soft, and that's what makes Rick's and Frank's performances so very impressive. And while a lot of the attention in drag racing is on the professional classes, anyone who didn't watch Santos and Manzo race this season missed a lot. They missed two, great champions do what they do best, and that is, they faced adversity, and they overcame it. They saw challenges, and they responded to them. And they saw another championship right in front of them, and they took it.
Rick Santos, along with his Oakwood Homes sponsorship, and his crew, including Norm Grimes, John Layfield, Alan Russell, Mike Kramer and Jeff Santos, may switch to top fuel eventually, but in the meantime, they have to rank up there with the great, sportsman teams of all time. When you consider that they broke the record of wins in the class, which had been held by the great Blaine Johnson, you know that they have accomplished a lot. Frank Manzo, with his sponsors, Kendall Oil, Superwinch and Mopar, also have a lot to be proud of, as do John Glade, his longtime friend and crew chief, as well as the rest of his crew, Bud Donato, Ed Hoffman and Mike Howardson. Frank is also the first to point out that he couldn't do what he does without the help and support of his wife, Michelle. Neither driver could accomplish what they have on their own, and NHRA couldn't have completed 50 great years of drag racing without racers like Rick and Frank.




NHRA: 10 Most Recent Entries [ top ]

Apr 21- HOUSTON - Sunday Schedule
Apr 21- HOUSTON - Saturday Video
Apr 21- HOUSTON - Saturday Wrap Up
Apr 21- HOUSTON - Super Stock Class Eliminations Finals
Apr 21- HOUSTON - Funny Car Qualifying, Session #4 Bonus Points
Apr 21- HOUSTON - Total Qualifying Bonus Points
Apr 21- HOUSTON - Funny Car Eliminations Ladder
Apr 21- HOUSTON - Funny Car Final Qualifying, Session #4 Order
Apr 21- HOUSTON - Top Fuel Qualifying, Session #4 Bonus Points
Apr 21- HOUSTON - Pro Stock Qualifying, Session #4 Bonus Points