Mon, 22 Oct 2001, 05:49 AM



Dixon, Densham, Gaines and Panella Earn Wins while Force Clinches 11th



Courtesy of NHRA Communications



ENNIS, TEXAS --
Winston Title John Force clinched a record 11th NHRA Winston Funny Car title Sunday during the 16th annual NHRA O'Reilly Fall Nationals at Texas Motorplex.
Force has won unprecedented nine straight NHRA Winston championships. He didn't get the Funny Car event victory, however, losing to teammate Gary Densham in the final round. Densham turned in a 4.832-second run at 318.13 mph while Force went 4.852 at 318.69 mph in a battle between two Castrol GTX Ford Mustangs.
Larry Dixon, V. Gaines and Bob Panella Jr. won in their respective categories at the $1.9 million race, the 22nd of 24 events in the $50 million NHRA Winston Drag Racing Series.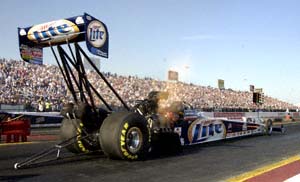 Larry Dixon
Both of Densham's career victories have come against Force. The third driver of the Force team, Tony Pedregon, has also beaten the boss twice.
"We are all waiting for John to win that 100th race," Densham said. "If it weren't for Tony and I, he'd have 102 wins. That shows what kind of guy John is. He puts the best people in the right positions.
"The race (Sunday) was just two really bad, fast race cars going 318 mph."
Force clinched the title in the second round of racing when Del Worsham beat Whit Bazemore. Force needed to get in one more round of racing than Bazemore, who stands in second place of the Winston Funny Car points list.
"I hadn't realized what had happened," Force said. "Bazemore smoked the tires and everyone said we won. It was a big relief to get it over with. I'm not trying to kid anyone. We are under a lot of pressure to win and it gets hard to focus sometimes. That's why being inside that race car is such a good place for me to be. It's so calm.
"I got to hand it to Bazemore. He got out of the car and said, 'It's your 11th, well enjoy it. It will be your last.' His crew was laughing. He just jumped right at me, and he has a right to. If that teams stays together, without a doubt, he will get it. It's all a matter of time. They got to wear me out sooner or later."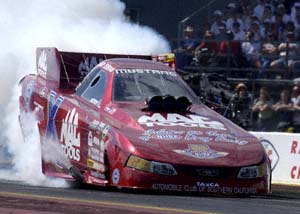 Gary Densham
Dixon beat Doug Kalitta 4.553 at 320.05 mph to move within 15 points of Winston Top Fuel points leader Kenny Bernstein. Kalitta smoked the tires and coasted to a time of 7.908 seconds at 105.64 mph. Dixon beat Bernstein in the semifinals with a time of 4.532 seconds at 324.20 mph in the Miller Lite Dragster. Bernstein turned in a 4.575 run at 323.04 in the Budweiser King Dragster.
Dixon and Bernstein have faced each other nine times this season - five races in a row. Bernstein has the edge, taking away six victories.
"They are two really strong cars and finally we were able to get the win light again," Dixon said. "First and foremost you are trying to win the event. If you can do that, you can win the points. The way it turned out, racing him early helped us out. But it could have gone the other way just as easy. I was just real thankful to get past him and get the opportunity to win."
The race for the Winston Top Fuel title is now separated by one round. There are two races left, at Las Vegas and Pomona, Calif.
"Trophies, points and money are up for grabs," Dixon said. "There are only eight rounds of racing left. Whoever wins the most rounds is going to win the championship. As a driver, all I am looking for is a chance to win. To be able to come here and win is pretty special."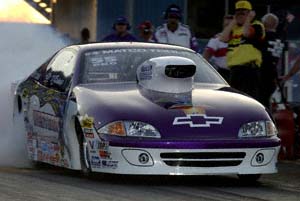 V. Gaines
Gaines beat Tom Hammonds with a 6.929-second run at 199.77 mph in a Western Motorsports Chevy Cavalier in Pro Stock competition. Hammonds had a 6.961-second run at 200.00 mph in a Winnebago/Itasca Motorhomes Chevy Cavalier. It was the first final round appearance for both racers and the first win for Gaines of the season.
"Today was our day," Gaines said. "The last few races Tom has been running real consistent and he was getting good lights. We had a tough opponent, but we've been running better lately and we ran good all day."
Panella sped to a 7.460-second pass at 181.48 mph for the Pro Stock Truck win in his Bob Panella Motorsports Chevy S-10. Mike Coughlin clocked a 7.499-second effort at 180.50 in his Jeg's Mail Order Chevy S-10.
Panella has four wins this season and just needs to show up for competition at the next race to clinch his third straight Winston Pro Stock Truck title.
"I'd walk (to Pomona) if I had to," Panella said. "That's another race track that I have not won at yet."
The next NHRA Winston Drag Racing Series event is the inaugural ACDelco Las Vegas NHRA Nationals, Oct. 25-28 at The Strip at Las Vegas Motor Speedway.
ENNIS, Texas -- Sunday's final results from the 16th annual O'Reilly Fall Nationals presented by Castrol Syntec at Texas Motorplex. The $1.9 million race is the 22nd of 24 events in the $50 million NHRA Winston Drag Racing Series:
Top Fuel -- Larry Dixon, 4.553 seconds, 320.05 mph def. Doug Kalitta, 7.908 seconds, 105.64 mph.
Funny Car -- Gary Densham, Ford Mustang, 4.832, 318.13 def. John Force, Mustang, 4.852, 318.69.
Pro Stock -- V. Gaines, Chevy Cavalier, 6.929, 199.77 def. Tom Hammonds, Cavalier, 6.961, 200.00.
Pro Stock Truck -- Bob Panella Jr, Chevy S-10, 7.460, 181.48 def. Mike Coughlin, S-10, 7.499, 180.50.
Federal-Mogul Dragster -- Rick Santos, 5.393, 260.71 def. Brian Hough, 5.495, 259.66.
Federal-Mogul Funny Car -- Pat Austin, Pontiac Firebird, 5.661, 253.16 def. Jay Payne, Chevy Camaro, 5.724, 252.52.
Comp Eliminator -- David Rampy, Roadsater, 7.312, 164.44 def. Larry Pritchett, Pontiac Grand Am, 8.101, 154.95.
Super Stock -- Jeff Taylor, Pontiac Grand Am, 8.572, 153.53 def. Elisha Boyd, Oldsmobile Achieva, 9.843, 138.27.
Stock -- Steven Hall, Ford Mustang, 10.588, 124.30 def. Marty Woffard, Chevy Nova, 11.732, 110.59.
Super Comp -- Mike Thomas, Dragster, 8.907, 168.66 def. Gary Stinnett, Dragster, 8.895, 175.06.
Super Gas -- John Brimer, Pontiac Trans Am, 9.868, 156.27 def. Barry Crane, Plymouth Arrow, 9.836, 132.64.




NHRA: 10 Most Recent Entries [ top ]

Apr 19- HOUSTON - Friday Schedule
Apr 19- Tige Boats Named Presenting Sponsor of E3 Spark Plugs NHRA Pro Mod Drag Racing Series Portion of NHRA SpringNationals
Apr 19- HOUSTON - Previous Success, Early Win has Funny Car's Courtney Force Excited
Apr 18- Haney Headed for NHRA Pro Mod with Summit Racing on His Side
Apr 18- HOUSTON - Richie Crampton Enjoying Early-Season Success Heading to 31st Annual NHRA SpringNationals
Apr 18- 2018 Mustang Cobra Jet Celebrates 50th Anniversary of Racing Legend with Quickest
Apr 18- New Ford Mustang Funny Car Scheduled to Debut In 2019 NHRA Mello Yello Season Opener
Apr 16- HOUSTON - Fact Sheet
Apr 16- HOUSTON - After Early-Season Mishap Funny Car's Jonnie Lindberg Looks to Get On Track