Sun, 21 Oct 2001, 08:58 AM



Bazemore, Dixon Set Records En Route to No. 1 Qualifying Spots



Courtesy of NHRA Communications



ENNIS, TEXAS -
Whit Bazemore and John Force could meet in the finals today at the NHRA O'Reilly Fall Nationals presented by Castrol Syntec. The Funny Car drivers went side-by-side on Saturday, with Bazemore coming away with the No. 1 qualifying position and both ends of the Texas Motorplex track record.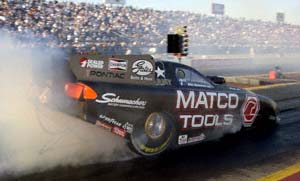 Whit Bazemore
Bazemore drove the all-concrete quarter-mile track in 4.753 seconds at 325.37 mph for his seventh No. 1 qualifying spot of the season.
Force smoked the tires at mid-track, but is seeded No. 2 after a 4.758, 322.69 run from Friday.
Larry Dixon, Mike Edwards and John Lingenfelter led their respective categories at the $1.9 million race, the 22nd of 24 events in the $50 million NHRA Winston Drag Racing Series.
Force and Bazemore have faced each other 10 times this season. Force has taken away six victories.
"It's exciting for us because we are competitive with that team," Bazemore said. "They proved yesterday and they definitely proved (with a national record and win) at Reading (Pa.) that they are the best team out there. You can look at their results to know that. We are a young team, so this means a lot."
Force can clinch a record 11th Funny Car Winston title this weekend if he can run as many rounds as Bazemore. Bazemore sits in second place of the Winston standings, 285 points behind Force. Force has six wins this season while Bazemore has claimed three.
"I want some more trophies in my cabinet," Bazemore said. "If we meet (Force) in the finals, that will certainly be exciting. I'll be up and ready for business."
Dixon set a track record in the Top Fuel category with a 4.508-second run at 322.34 in the Miller Lite Dragster. Dixon is battling Kenny Bernstein for the Winston Top Fuel title. Bernstein qualified in the No. 4 spot with a 4.577 run at 326.56, but is No. 1 in the season standings. Dixon is in second place, only 58 points behind.
"I'm not trying to send a message, every race I go to I try to be the No. 1 qualifier," Dixon said. "(Crew chief) Dick LaHaie tried a few things with the clutch and the motor and the car ran real strong. I'm very excited about racing (Sunday). The object is to win the race. If we win, we'll come away with more points that Kenny."
Edwards remained the quickest driver in the Pro Stock category with a 6.872 run at 200.62 mph in his Young Life Chevy Cavalier, set during the second session of qualifying on Friday. Edwards is aiming for his second win of the season. "I feel real comfortable at this track," Edwards said. "I prefer the left lane, it looks a little better. But really, it's pretty good on either side."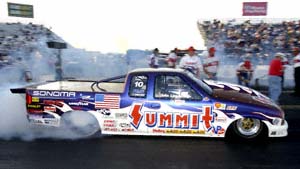 John Lingenfelter
Lingenfelter set an elapsed-time track record with a 7.458-second run at 181.15 mph in his Summit Racing Equipment GMC Sonoma to lead the Pro Stock Trucks. This is the first No. 1 qualifying spot for Lingenfelter since 1998.
"We feel real confident about the race track," Lingenfelter said. "Some guys have a little more horsepower than we do, but we know the track pretty well. Everything came together. We need consistent driving. The track is really good. In fact, we hope that it gets a little worse because we have a better handle (on the track) than some of the other guys."
Final eliminations begin at 10:30 a.m. on Sunday.




NHRA: 10 Most Recent Entries [ top ]

Apr 23- HOUSTON - Lucas Oil Drag Racing Series Wrap Up The NHRA Lucas Oil Drag Racing Series Wrap Up
Apr 23- CHARLOTTE 1 - J.R. Todd Aiming for Two Four-Wide Racing Wins in 2018
Apr 23- Mid America Dragway Joins NHRA Member Track Network
Apr 23- HOUSTON - Special Awards
Apr 23- HOUSTON - Sunday Video
Apr 22- HOUSTON - Sunday Pro Mod Wrap Up