Fri, 29 Sep 2000, 10:16 AM



Melanie Troxel: A Superstar in the Making



By Mickey Schultz



At age 28, Melanie Troxel is a racer intent on making her mark in Top Fuel dragster, arguably the most visible class in NHRA drag racing today. The daughter of 1988 Top Alcohol Dragster Winston champion Mike Troxel, the Colorado native and current Colorado resident grew up at the races. Even her high school years were divided between academics, sports and racing. Looking back at those high school days, Troxel says, "Most people are pretty surprised to find out that I was both a cheerleader and took auto shop in high school. I don't think it ever occurred to me that I couldn't do both at the same time. I did pretty well in school out of necessity. I knew that I needed good grades to accomplish the things I wanted to do but the mechanical side of things just came naturally to me and was the thing that I enjoyed the most."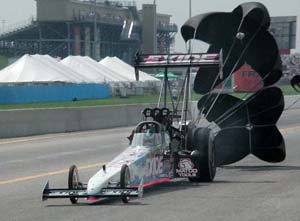 Melanie Troxel
Troxel's first foray into drag racing was the High School Drags established by the progressive thinking John Bandimere and his staff at Bandimere Speedway in Morrison, Colo., just outside Denver. A few rounds and a few wins and she was hooked, already making plans to move to up the drag racing class ladder.
"I had never raced anything. They didn't have the Jr. Drag Racing Program when I was younger, so there weren't any opportunities to drive anything until you were 16. The program at Bandimere was the easiest way that I saw to get involved with racing - - the easiest way to get your feet wet and give it a try. It's kind of intimidating, especially when you're 16-years-old and never driven anything, to think you want to go out and race a car. I decided that I wanted to go out to Bandimere and give it a shot. You know it's safe. It's definitely a great program," said Troxel.
During high school, as a project for auto shop, she rebuilt a small block Chevrolet engine from a Corvette restoration project that her mom had undertaken. Fueled by her passion for racing, after high school, Troxel then invested her college fund in a Super Comp car, inserted the engine she rebuilt in auto shop, and went racing. The experience with the Super Comp car gave her the opportunity to establish her own identity in the male dominated sport of drag racing.
Looking back at that time in her life Troxel said, "I wanted to go out and prove that I could do things on my own. A couple of things influenced that decision. Due to my dad having been very successful at the time, I think I felt a lot of added pressure. I was always introduced as, or announced over the PA, as the daughter of Mike Troxel. I had a little trailer that you couldn't stand up in that I hooked up to a little 4-cylinder S-10 and I went to the races by myself. It was an opportunity for me to prove to myself that this was something I could do. I got out, tried a lot of things and learned a lot about the sport."
A little known fact about Troxel's learning experience is that she also tried "circle track" racing. "It was after my Super Comp days. At the time, I was open to looking at all different types of motorsports. I hadn't grown up around other types of racing, but I wasn't ruling them out as a possible career. I went to Skip Barber's School in Sonoma (Calif.) and, as a result, decided to go to our local circle track. It's a three-eighths, paved oval. I ended up spending a year racing a late model stock car under the theory that if I didn't have to travel as much (as with my Super Comp car) maybe I could afford it. A whole different set of expenses cropped up with that though - - between tires and fuel and all that - - and it again became something I couldn't afford. It was a great experience and gave me the chance to see another side of motorsports," said Troxel.
After taking a year off from competition and helping with her father's racing operation, she returned to drag racing and refocused her sights and set new goals. In 1997, she attended Frank Hawley's Drag Racing School getting her Alcohol Funny Car license. She then set out to find a ride. Due to what Troxel calls "a strange set of circumstances," that ride came in her dad's car.
"Dad and I decided to race together. We licensed at Bandimere and went to my first divisional in Douglas, Wyoming," said Troxel. "In hindsight it was the best opportunity to go out and run a car. It's difficult to race with your family. But looking back, I really value the time we got to do that because now I know that there probably won't be a time where I'll get to go back and race with my dad or both my parents like I got to do for those few years."
"After several season with the family operation, I decided it was time to make a change to a hired driver. There are a lot of car owners out there that don't think to hire family members away from family operations. It's just not something you normally do. Therefore, I thought it was better for me and my career to drive for somebody who wasn't a family member. This way people would think of me as a hired driver - - someone who can come and drive your car," added Troxel. In 1999, Troxel switched from the family operation to that of hired driver when she joined the Federal Mogul A/Fuel dragster team of Jerry Darien and Ken Meadows. The move was a successful joint venture. Troxel had assisted the Darien and Meadows team by driving for them in early 1988, resulting in their sponsor, In-N-Out Burgers, a Southern California-based fast-food chain, expanding their sponsorship to include the Troxel team throughout the remainder of 1998.
Having set a goal to move to Top Fuel dragster, the experience that Troxel gained in the Federal Mogul A/Fuel dragster during the '99 season gave Troxel an added advantage when she moved to Top Fuel the following year.
With continued backing from In-N-Out, in late 1999, Darien and Meadows prepared to make the move to Top Fuel for 2000. Troxel upgraded to a Top Fuel license under the guidance of veteran fuel campaigner Paul Smith. Troxel, along with the entire Darien and Meadows team, were looking forward to 2000 like a kid waits for Santa to come on Christmas.
Unfortunately, the move was placed in jeopardy by the unexpected death of Guy Snyder, CEO of In-N-Out, in December of 1999, just two months prior to the debut of the Darien and Meadows Top Fuel team. Then came the biggest blow to the fledgling program. Reorganization by the new management team at In-N-Out did not include the monetary support for a motorsport program of the caliber that Darien and Meadows envisioned.
Troxel recounts the start of the 2000 season. "At the time we began to put the Top Fuel program together we knew, or thought, that we had a program for the entire 2000 season. We bought the best parts, everything we knew it would take to be competitive. When the circumstances changed with the death of Guy Snyder, we didn't have that much money to go running due to the parts we had previously purchased. So we decided to go out and run as hard as we could, for as long as we could, on the money we had and hope that would attract a sponsor. Although, we did well in the three races we ran, the timing to attract a sponsor was not right. Their budgets were already set for the year."
Through the long summer months, Troxel remained active in the sports by attending races, doing some color commentary, and searching for any opportunity that would return her to the driver seats. When it appeared that no sponsor was in sight for the Darien and Meadows operation, Troxel began looking for a new opportunity. That opportunity came from the camp of Don Schumacher Racing.
"Don and I began by talking about a program for 2001," said Troxel. "Then things started happening quickly. All of a sudden we were pointing toward this year. The whole Army deal came together in a matter of about three weeks and I had a ride again. This is a great team, with great people. They know how to win."
Troxel picked her opportunity well. Her new teammate is none other than the reigning Winston Top Fuel champion Tony Schumacher. Schumacher is again contending for the 2000 championship. Troxel's debut with Schumacher Racing came at U.S. Nationals in Indianapolis. She took over the Exide-backed dragster, formerly driven by Schumacher. While Schumacher moved to the Army-sponsored machine, which also made its debut at the biggest and most prestigious event on the NHRA schedule. During the Indy event, assisted by the power provided by Dan Olson and the tuning expertise of Tim and Kim Richards, Troxel gave credentials to Don Schumacher's decision to hire her. She qualified in the top half of the 16-car field, setting a new speed standard for female drivers at 320.13 mph, before losing in the semi-finals. One can say: she did her job.
At Reading, Penn., her second event under the Schumacher racing umbrella proved just as successful. Troxel qualified third with a blazing pass down the Maple Grove Raceway quarter-mile of 4.576 seconds, the quickest pass in the NHRA history books by a female driver. She was defeated in the second round when mechanical gremlins interrupted her pass.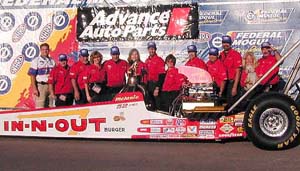 Melanie celebrates last year's win.
This weekend she moves to a track she knows well - - Heartland Park Topeka - - for the 12th annual Advance Auto Parts Nationals. "Topeka is basically a second hometown track for me. As long as I've been racing, starting out in Super Comp 12 years ago, I've run Topeka. So I'm very familiar with the track. The last time I raced there, I won the event. It's kind of a good feeling going to a track where you've had that (experience and success). Given the qualifying position and how good the car has been running at the last couple of races, coupled with the fact that I'm getting more laps in the car and getting more comfortable is all coming together at the right time and I have a really good feeling about going into Topeka." According to everything she has been told, not only does she have a ride for Topeka and the remaining races of 2000, she has a ride for all of 2001. For now, she can just sit back and do the job she was hired to do. In the meantime, if she can take out a contender or two and help her teammate to another championship that will be an added bonus for Schumacher Racing. Melanie Troxel is the real deal. She is a complete package. Echoing Don Schumacher 's quote in the release issued regarding her hiring: "She's a great driver with a tremendous amount of talent and we're expecting big things out of her. We also foresee Melanie in a big marketing role. She is a very attractive girl who excels at her job and is extremely smart and well-spoken. I think she's the total package to effectively market a product."
Melanie Troxel is a "Superstar" in the making!




NHRA: 10 Most Recent Entries [ top ]

Apr 24- CHARLOTTE 1 - Steve Torrence Enjoying Four-Wide Success Heading to NGK Spark Plugs NHRA Four-Wide Nationals
Apr 24- CHARLOTTE 1 - Fact Sheet
Apr 24- Kalitta Motorsports Welcomes NASCAR Stars to the SealMaster Track Walk in Charlotte
Apr 24- zMAX Dragway Celebrates 10th Anniversary
Apr 24- CHARLOTTE 1 - NGK Spark Plugs NHRA Four-Wide Nationals Brings 40,000 Horsepower Thrill Show to zMAX Dragway
Apr 23- HOUSTON - Lucas Oil Drag Racing Series Wrap Up The NHRA Lucas Oil Drag Racing Series Wrap Up
Apr 23- CHARLOTTE 1 - J.R. Todd Aiming for Two Four-Wide Racing Wins in 2018
Apr 23- Mid America Dragway Joins NHRA Member Track Network
Apr 23- HOUSTON - Special Awards
Apr 23- HOUSTON - Sunday Video