Tue, 26 Sep 2000, 12:34 PM



Frank Manzo: "His dream season"



By Lewis Bloom



This year no one in Federal Mogul Funny Car has been as successful as the man who drives the Kendall GT-1 Dodge Avenger, Frank Manzo. With his big win at the US Nationals over Tony Bartone Manzo locked up his sixth class championship. Since Federal Mogul took over the program four years ago only Manzo has won the championship. This year though others have run quicker, and faster, but Manzo has somehow found a way to win.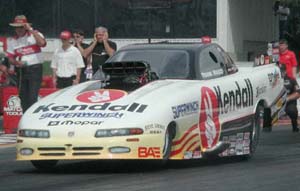 Frank Manzo
The 48 year-old utilities contractor has been racing Funny Cars since the early 1970's. He first won the Winston Championship back in 1981 and then again in 1986. He is also an 11-time Division One champion starting back in 1981. With 41 career National event victories Manzo is number nine on the all time NHRA Drag Racing winner's list with fellow racer's like Force, Glidden, WJ, and competitor Pat Austin, just to name a few. This year Manzo has only lost twice in divisional competition and has been undefeated in seven National Events as of this date. He like all racers has won on luck, skill and just brute horsepower. This year has been all Frank Manzo. According to Manzo his goal this year was to score a perfect ten this season, five divisional and five nationals. Which he did……
The season started for Manzo with a visit to the FMDRS points race in Gainesville Florida back in February. Only four cars showed up, but one of them was Manzo's arch-rival Tony Bartone. According to Manzo, Bartone was one of only two people to beat him last year, the other being Paul Gill. Manzo was in test mode for the new year and lost in the finals when he had tire shake. That was the last time Manzo lost for points this year up until the Cecil County FMDRS event which was completed at Maple Grove Raceway at the Keystone Nationals. Just like 1999 Paul Gill turned out to be the only other racer to beat Manzo this year when he shut off early.
Manzo then returned back to Gainesville and promptly won the Gatornationals over Bob Newberry in what was then the quickest side-by-side race ever (5.579 to 5.635). He also set the National Record at 5.572 and took out rival Bartone in the semi-finals. Next up was the race in Virginia where Manzo won over Australian Steve Harker. He ran 5.575 in round one and beat his good friend Bob Newberry in the semi-finals on his way to the finals. The Southern Nationals was up next for Manzo a race he had already won six times in the past. Manzo this time took out Chuck Cheeseman after qualifying number one for the first time in the new season. He beat Newberry in the semis once again in a great race 5.64 to 5.66. The next race on the tour for Manzo was supposed to be the race at Englishtown, but rain postponed that till the end of summer. The first part of Manzo's season was over and he had already attained three national event wins.
The real test for Manzo would be the FMDRS events in the Northeast Division where there are some very talented racers who can show up at any time. The first event was held back at the end of May at Maple Grove. Manzo only qualified number five but took out Gill in the final with a track record pass of 5.593. Then it was on to US 13 Dragway in Delmar Delaware where Manzo won over rising talent Craig English. The next race was July fourth weekend at Lebanon Valley Raceway just outside of Albany, New York. At that race Manzo was in Newberry's back yard, but still beat him in the final.
Manzo still continued to run strong with a number one qualifying effort of 5.690. He took a break from the divisional races and went to Bristol to win over a short field at the Winston Showdown. The summer was only just under way and Manzo had already won seven races. Manzo went west and found himself in Numidia, Pennsylvania and won another divisional race over Fran Monaghan. With two races left in division Manzo needed one more for the perfect score of five. He went to his home track Raceway Park just minutes from his house and set the track record in qualifying at 5.59. The race like most this year in Bob Lang's Division One was rained out and was rescheduled to be ran at Cecil County Dragway. Manzo continued his reign as he took out the very tough Gill in a good battle, 5.64 to 5.753. No matter what happened during the rest of the season, during the weekend at Cecil he achieved his goal of five wins in division.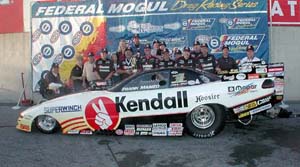 Manzo and team celebrate win.
The summer was over and still not a loss for Manzo at National events. Then came the US Nationals the ultimate event on the NHRA tour. He could clinch the championship if he would win the race. The field as always would be as tough as it gets Austin, Bartone, Newberry, and Cheeseman just to name a few. Manzo qualified second behind Bartone and really was lucky in the semi-finals when Cheeseman fouled out at a near perfect .399. Manzo had a broken racecar and just drove down the track, which meant no chance for lane choice. Bartone ran 5.64 on a single when Newberry's racecar was shut-off due to a fuel leak. In the final both cars left together with Manzo's slightly better reaction time giving him the win, 5.67 to 5.64. Manzo jumped on top of his Dodge Avenger at the end of the track while his crew jumped for joy on the starting line. Long time crew chief John Glade said it was a "dream season", they had the championship and the perfect ten.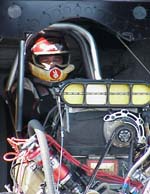 Manzo focussed on winning.
Now, it is time to race for fun. According to Glade "Frank says this is what we do, race". It was onto Englishtown to race at his home track. He took out Gill once again and ran all 5.60's during the race. This win was big for Frank as it was at his home track and his 40th career win. Then came the race at Maple Grove. Manzo would actually lose a points race for the first time since February when he shut-off while racing Gill to finish up the rained out Cecil County FMDRS event during qualifying. Qualifying was incredible with Bartone and his talented team led by Steve Boggs re-setting the National Record with a brutal pass of 5.549, the classes quickest run ever. Gill also made a career run for the number two spot at 5.607, Newberry was third at 5.616 and Manzo was only fourth at 5.626. With the first round of eliminations on Saturday Manzo, Bartone, Gill, Newberry, Monaghan and Jay Payne all advanced. Manzo ran a 5.585-second pass and Bartone with a 5.563. Round two on Sunday afternoon Bartone ran another incredible pass of 5.570 to take out Payne while Manzo beat Newberry once again with his best run ever at 5.558. Bartone in his Quaker State, Roger Dean Chevrolet Camaro singled into the final with a 5.582. Manzo took out Gill in an excellent race, 5.599 to 5.674. To Gill's credit he had a very good light at .434. This set up a repeat of the Indy final from two week's before. This time it seemed like it was Bartone's turn to win his second race of the year, he looked too strong. In what proved to be the quickest side-by-side race ever Manzo left on Bartone by .005 seconds and out ran him by .003 seconds, margin of victory .008 seconds. Manzo won at 5.586 to a losing 5.589. Imagine running 5.50's in a FMFC and losing! Manzo even received the congratulations from former competitor Joe Amato and Gary Scelzi. Scelzi even went on to tell him with a bright smile on his face to stick to FMFC and stay out of Top Fuel. Manzo finished his season with not one loss in seven national events……..
John Glade, Manzo's longtime crew-cheif said in his post win interview that his guys, Ed Hoffman, Fred Bauer, Mike Hausenfeld and Steve Lowen had worked hard and never gave up all season. "Dream team" he called the guys and mentioned the fact that not one of the crew works full time on the car. When asked about their success this year Glade said they have a combination that they have been picking at for a long time and consistency is the result. Glade also mentioned that "other team's might be in their race shop's during the work week, but Frank and I are out in the street digging ditches". Glade did mention that he and Manzo would like to race a fuel car, but only if they could go out and win. Simple translation: Money!
When asked about their incredible year Manzo said "his team works so hard and everything fell into place". He also added in classic racer-speak "we race one round at a time, the track and the car in the other lane". A fellow racer asked Manzo where do you go from here. Frank responded, "Next year I want to be undefeated. I dream about running 5.49"! For Manzo and his fans his dream is not too far off in the future.




NHRA: 10 Most Recent Entries [ top ]

Mar 20- Strong Stable of Contending Pro Stock Racers Vie for Final Starting Position for K&N Horsepower Challenge
Mar 20- GAINESVILLE - Special Awards
Mar 20- GAINESVILLE - Lucas Oil Drag Racing Series Wrap Up
Mar 19- GAINESVILLE - Sunday Video
Mar 18- GAINESVILLE - Pro Mod Sunday Wrap Up
Mar 18- GAINESVILLE - Sunday Wrap Up
Mar 18- GAINESVILLE - Pro Mod Championship Points
Mar 18- GAINESVILLE - Bonus Points
Mar 18- GAINESVILLE - Championship Points
Mar 18- GAINESVILLE - Mickey Thompson Top Fuel Harley Series Championship Points