Mon, 25 Sep 2000, 08:44 AM



Santos Wins Championship - Bowler Wins Autumn Classic



Courtesy of NHRA Marketing



NOBLE, Okla. -
Rick Santos clinched his fourth straight Federal-Mogul Dragster National Championship when Jay Meyer lost to Bruce Bowler by virtue of a red light in a semi-final match up, giving away his hopes of catching Santos in the points standing. Santos, who qualified number one and set both ends of the track record in qualifying, took out Lee Callaway in round one with a pass of 5.454 seconds at 250.13 mph. Santos was then disqualified after his semi-final round win against Troy Buff when Santos and the Oakwood Homes team bypassed the weigh scales disqualifying themselves from competition.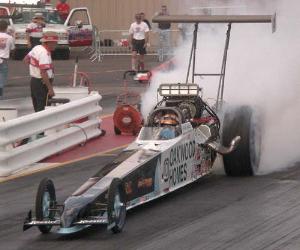 Rick Santos
"We came out here to win the championship, not to mess with the division points standings. We did what we came here to do which was win the championship," said Santos as to why the decision was made.
It was Bruce Bowler who went on to take home the win at Thunder Valley in the Federal-Mogul Dragster Category. Bowler, who out ran Meyer in the semi-final with a 5.567 to Meyers red-lighting 5.588, took out Troy Buff in the dragster final with a run of 5.582 seconds at 243.83 mph to Buff's 5.725, 247.11 mph pass.
Randy Fleming took his Federal-Mogul Funny Car from the number one qualifying spot with a run of 5.887 seconds at 248.41 mph to a final round win over Lawren Jones at 5.834 second, 248.41 mph. Jones slowed to a 10.169 at 83.42 mph in the final. Fleming's 5.834 run in the final was low elapsed time of the event, which he added to his top event speed of 248.75 mph.
The following are final results from the NHRA South Central Division Federal-Mogul Drag Racing Series event at Thunder Valley Raceway Park.

FEDERAL-MOGUL DRAGSTER
Round 1
1. Rick Santos, San Leandro, Calif., 5.454 seconds, 250.13 miles per hour def.
8. Lee Callaway, Channelview, Texas, 5.841, 239.61



2. Jay Meyer, Freeport, Texas, 6.015, 200.75 def.
7. Joe Fuentes, Leander. Texas, broke



3. Bruce Bowler, Denver, Colo., 5.590, 249.93 def.
6. Kent Nuckols, Albuquerque, N.M., 5.825, 247.865



5. Troy Buff, Spring, Texas, 5.645, 254.23 def.
4. Shelly Howard, Tulsa, Okla., 5.648, 249.44



Round 2
Bowler, 5.567, 256.99 def. Meyer, 5.588, 251.11 red light
Buff, 5.578, 254.38  def. Santos - disqualified



Final
Bowler, 5.582, 243.83 def. Buff 5.725, 247.11



FEDERAL-MOGUL FUNNY CAR
Round 1
1. Randy Fleming, Independence, Mo., '99 Trans Am, 6.209 seconds, 232.25 mph def.
8. Bob Alberty, Muskogee, Okla., '98 Pontiac, broke



2. Todd Simpson, Ponder, Texas, '00 Avenger, 5.985, 238.22 def.
7. Warren Dauzat, Baton Rouge, La., '96 Achieva, 6.681, 198.98



6. Lawren Jones, Albuqurque, N.M., '00 Corvette, 6.441, 203.52 def.
3. Pete Swayne, Orange, Calif., '97 Firebird, 6.723, 204.45



5. Kirk Williams, Glenwood, Iowa, '97 Pontiac, 6.063, 239.74 def.
4. Steve Addleman, Sioux Falls, S.D., '97 Firebird, broke



Round 2
Fleming 6.054, 233.22, def. Williams, 6.562, 165.34
Jones, 20.667, 56.91 def. Simpson - broke



Final
Fleming, 5.834, 248.41 def. Jones 10.169, 83.42



COMPETITION
Larry Pritchett, Clarkrange, Tenn, '97 Grand Am, 8.223, 144.92 def.
David Myers, Dallas, Texas, '99 Camaro, 7.690, 171.46



SUPER STOCK
Jimmy DeFrank, Tarzanna, Calif., '89 Camaro, 10.572, 120.56 def.
Vic Penrod, Walters, Okla., '69 Camaro, 10.571, 123.52



STOCK
Pat Joffrion, Belle Rose, La., '94 Camaro, 11.086, 110.34 def.
Rusty Hall, Sweeny, Texas, '68 Mustang, 10.730, 122.44



SUPER COMP
Mark Huckaby, Irving, Texas, '00 dragster, 8.923, 153.45 def.
Terry Sullivan, Richardson, Texas, '00 dragster, 8.942, 164.44



SUPER GAS
Mitch Truman, Hurst, Texas, '90 Oldsmobile, 10.002, 112.88 def.
Carlton Graham, Fort Worth, Texas, '76 Vega, 9.945, 142.02 red ligth



SUPER STREET
Vernon Rowland, Newcastle, Okla., '76 Chevy, 10.945 def.
Deborah Ridenhour, Fort Worth, Texas, '41 Willy's, 14.187 (no mph recorded for
either driver)



MOTORCYCLE
Shane Eperjesi, Lake Dallas, Texas, Suzuki, 8.006, 160.25 def.
Buddy Robinson, Colorado Springs, Colo., Kawasaki, 13.044, 60.21



NHRA: 10 Most Recent Entries
[ top ]
Mar 19
-
GAINESVILLE - Sunday Video
Mar 18
-
GAINESVILLE - Pro Mod Sunday Wrap Up
Mar 18
-
GAINESVILLE - Sunday Wrap Up
Mar 18
-
GAINESVILLE - Pro Mod Championship Points
Mar 18
-
GAINESVILLE - Bonus Points
Mar 18
-
GAINESVILLE - Championship Points
Mar 18
-
GAINESVILLE - Mickey Thompson Top Fuel Harley Series Championship Points
Mar 18
-
GAINESVILLE - Bonus Points
Mar 18
-
GAINESVILLE - Summary of Eliminations in Top Fuel
Mar 18
-
GAINESVILLE - Summary of Eliminations in Funny Car