Sun, 17 Sep 2000, 08:52 PM



Amato, Sarver, Johnson and Hines All Visit the Winner's Circle



Courtesy of NHRA Communications



At Maple Grove Raceway



MOHNTON, Pa. --
Five-time NHRA Winston champion Joe Amato won his 52nd career Top Fuel race and second of the year Sunday at 16th annual Keystone Nationals.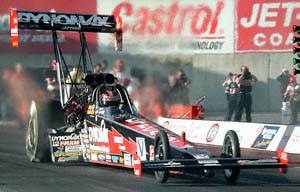 Joe Amato
Hometown favorite and defending event winner Amato, from Exeter, Pa., blasted his Dynomax dragster down the track in 4.626 seconds at 310.27 mph to hold off Team Winston driver Gary Scelzi who ran a 4.639 at 312.78.
Amato had never won at Maple Grove Raceway in his storied career and has now won the last two national events held in his home state. He defeated Rhonda Hartman-Smith, Andrew Cowin, Bob Vandergriff and Scelzi for the victory. Amato had eye surgery earlier this summer and immediately won the next event he competed in Denver for his only other win of the season.
This track used us up for 14 or 15 years and it must have felt it owed us something," said Amato. "I knew (crew chief) Jimmy (Prock) would give me a great car and we were just trying not to beat ourselves. The team, I just can say enough about how steady they have been all weekend. I know I had a big cheering section out there. It's also depressing when you have to go back and tell them you loss because it was your fault. We all try to do our job, and thank God we did it. This such a great place and such a great day. The weather was good and the racing was good. Scelzi is a tough guy out there and I had to step up with him and do a good job."
Defending NHRA Winston Top Fuel champion Tony Schumacher lost in the second round to Vandergriff. With his runner-up finish Scelzi regains the Winston points lead for the third time this season. Scelzi leads Schumacher by eight points with five events remaining.
"The thing that hurt Team Winston more than anything this season was the stretch of three straight first-round losses," said Scelzi, the two-time series champ. "However, we have rebounded and we rebounded in time. We've still got five races left and we've been to two straight finals. We're cautious, and even if we would have won the race, 28 points would not be near enough to hold off those other guys."
Bruce Sarver, Kurt Johnson and Matt Hines were also winners in their respective categories at the $1.9 million race at Maple Grove Raceway, the 18th of 23 events in the $45 million NHRA Winston Drag Racing Series. Funny Car driver Sarver, from Bakersfield, Calif., sped down the quarter mile in his e-moola.com Pontiac Firebird in 4.993 at 303.03 to pass Ron Capps' U.S. Tobacco Chevrolet Camaro and his run of 5.063 at 293.73 for his first career victory. Before Capps, Sarver had to get by Cristen Powell, Tommy Johnson Jr., and Scotty Cannon en route to his first Funny Car final.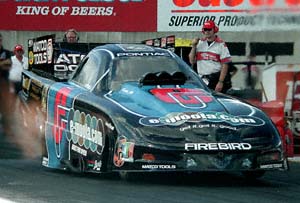 Bruce Sarver
"It hasn't sunk in yet, but it's a pretty cool feeling" said Sarver. "I'm ready to have some fun. Drag racing has been a challenge and when you make mistakes, this drag racing will humble you instantly, and I have been humbled a lot. We work hard, we play hard. We have a great people and I couldn't be happier than where I am at. It's a dream come true. Sarver drives for team owner Alan Johnson, who is also the crew chief and owner of the Team Winston Top Fuel team as well.
John Force and Jerry Toliver, one-two in the Winston Funny Car points standings respectively, were both eliminated in the first round. Due to Force earning more qualifying points, he extended his lead over Toliver to 226.
Johnson, from Lawrenceville, Ga., covered the distance in his AC Delco Chevrolet Camaro in 6.885 at 200.14 to defeat his father, Warren, and his GM Goodwrench Pontiac Firebird's pass of 6.914 at 200.14 for his fourth Pro Stock victory of the season. He had not won more than three events in one season. Johnson has now met his father in the finals 12 times, winning three. He also defeated his father here in 1993.
"Boy you hate to upset your dad," said Johnson. "But if I would have gone and not done a good job he wouldn't have been proud of me. When we ran here in '93 it was door handle to door handle. I remember that night vividly because you could see the flash bulbs coming from the crowd and I didn't have much experience racing at night and I still have that memory in the back of my mind. To come here seven years later and race your dad again, I probably won't have that opportunity seven years from now. I am just glad we have the resources to get to the final and put ourselves into that position. It's pretty tough to do."
With the win Johnson climbed back into second place in the points standings. He now trails the leader, Jeg Coughlin Jr., by 363 points.
Three-time series champ Hines, from Trinidad, Colo., won his 26th career Pro Stock Motorcycle event atop his Eagle One Suzuki when he made a pass of 7.184 at 182.58 to outrun Team Winston Suzuki rider Angelle Seeling and her run of 7.244 at 178.57. During qualifying, Seeling lowered the track record for elapsed time to 7.156.
Hines rode past Hector Arana, Steve Johnson, and Geno Scali before defeating Seeling in the final. There are two events left in the season for the competitors in the two-wheel category and Seeling currently holds a 138 point lead over Hines.
"(Seeling) bike was definitely running quick this weekend and she definitely put a shot out there in qualifying," said Hines. "We had a bracket bike this weekend and we took the six-speed out of the bike because we blew it up at the last race. We decided to come here with a five speed because that is what we used last year and we knew we could go fast. Right now we are going to try and win the last two races and do some testing for next year. The championship is Angelle's to lose. She really didn't lose that many points this weekend. I was hoping she would go out in the first round but that didn't happen
The NHRA Winston Drag Racing Series continues with the 12th annual Advance Auto Parts Nationals, Sept. 28-Oct. 1, at Heartland Park Topeka.
MOHNTON, Pa. -- Sunday's final results from the 16th annual Keystone Nationals at Maple Grove Raceway. The $1.6-million race is the 18th of 23 events in the $45-million NHRA Winston Drag Racing Series:
Top Fuel -- Joe Amato, 4.626 seconds, 310.27 mph def. Gary Scelzi, 4.639 seconds, 312.78 mph.
Funny Car -- Bruce Sarver, Pontiac Firebird, 4.993, 303.03 def. Ron Capps, Chevy Camaro, 5.063, 293.73.
Pro Stock -- Kurt Johnson, Chevy Camaro, 6.885, 200.14 def. Warren Johnson, Pontiac Firebird, 6.914, 200.14.
Pro Stock Bike -- Matt Hines, Suzuki, 7.184, 182.58 def. Angelle Seeling, Suzuki, 7.244, 178.57.
Federal-Mogul Dragster -- Jeanie Booz, 5.666, 251.49 def. Jeff Wilson, 9.197, 87.67.
Federal-Mogul Funny Car -- Frank Manzo, Dodge Avenger, 5.586, 257.48 def. Tony Bartone, Chevy Camaro, 5.589, 257.83.
Comp Eliminator -- Jerry Arnold, Dragster, 8.926, 114.63 def. Stephen Szupka, Dragster, foul.
Super Stock -- Norman Hall, Pontiac Firebird, 10.300, 127.45 def. Anthony Bertozzi, Pontiac Grand Am, 9.454, 138.14.
Stock -- Tom Dauber, Chevy II, 11.784, 110.97 def. David LeBrun, Chevy Camaro, foul.
Super Comp -- Mitch Smith, Dragster, 8.920, 162.10 def. Michael Sullivan, Dragster, 8.887, 160.96.
Super Gas -- Brian Folk, Chevrolet Cavalier, 9.919, 146.34 def. George Stack, Chevrolet Monte Carlo, 9.895, 154.97.




NHRA: 10 Most Recent Entries [ top ]

Apr 18- Haney Headed for NHRA Pro Mod with Summit Racing on His Side
Apr 18- HOUSTON - Richie Crampton Enjoying Early-Season Success Heading to 31st Annual NHRA SpringNationals
Apr 18- 2018 Mustang Cobra Jet Celebrates 50th Anniversary of Racing Legend with Quickest
Apr 18- New Ford Mustang Funny Car Scheduled to Debut In 2019 NHRA Mello Yello Season Opener
Apr 16- HOUSTON - Fact Sheet
Apr 16- HOUSTON - After Early-Season Mishap Funny Car's Jonnie Lindberg Looks to Get On Track