Tue, 12 Sep 2000, 10:20 AM



Success a Second Time Around for Dick LaHaie



By Mickey Schultz



Before beginning our main story on Dick LaHaie, lets turn to this weekend's Keystone Nationals at Maple Grove Raceway, near Reading, Penn., an event at which Dick LaHaie enjoyed much
success
as a driver. In the late 80s, LaHaie advanced to the Top Fuel final round three times. In 1986, he defeated Don Garlits. The following year, it was back-to back wins when he bested the late Gary Ormsby. Finally, in 1988, LaHaie had to settle for the runner-up spot as Darrell Gwynn took the win light. To learn more about the career of Dick LaHaie, we invite you to continue reading.
Success is defined by Webster's NewWorld Dictionary as the gaining of wealth, fame, rank, etc. or a favorable outcome or result. No matter how you define it, Dick LaHaie is enjoying success a second time around. He enjoyed success as a driver; now he is enjoying success as a tuner.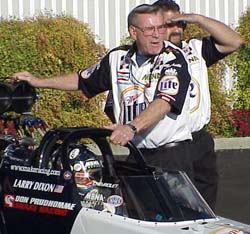 Larry Dixon
In 1958, LaHaie spent all the money he had at the time - - $785 - - to purchase a brand new Corvette engine with a four-speed transmission. He put the engine under the hood of a '53 Ford Coupe and a career was born. After five years of running gas cars, stock cars, gas coupes and sedans, LaHaie decided that if he was to make any money at his new found career he needed to have a fuel car. So he built one, a fuel-modified roadster. Fuel dragsters followed close behind. "It was in the middle 1960s that I raced my first Top Fuel dragster and drove those until I retired in 1991. I drove all my own stuff from 1958 until 1991. I drove them myself, maintained them and was crew chief. Back then (in the early days of his career) you didn't just go buy stuff, if you wanted something, you had to go make it," said LaHaie, reflecting on his humble beginning in the sport of drag racing.
Even after a thirty-three year driving career, that included a NHRA Winston Top Fuel championship in 1987, you could never get LaHaie to label himself as a success. If you ask him to rate himself as a driver, he will answer that he was adequate. "Gosh it's kind of hard to even think about rating myself because I never ran a full NHRA nationals event schedule until 1986. My cars always made money. I made a considerable amount of my living off my race car but I did it in a different way. I would run the AHRA races and the UDRA and I would match race the thing (car). Then if there was enough money that I wasn't going to hurt the income in any way I would go to a national event or two. It was like that for so many years," says LaHaie, still hedging on a rating.
"I think that I was an adequate driver," added LaHaie. "I was able to get a car down a race track no matter what the conditions were. A lot of that came from me running the UDRA circuit and so many match races and stuff like that." LaHaie's peers and contemporaries would probably differ with his assessment of adequate. While hating to see him go, they all breathed a sigh of relief when LaHaie's driving career ended abruptly in 1991. In a span of a little over four years, LaHaie had gone full circle - - from independent driver to a highly sponsored ride, winning the championship with financial backing from the Miller Brewing Company and then back to being an independent. One day he was a driver, the next day he decided to hang it up.
After spending a considerable amount of money out of his own pocket trying to keep his now independent team running, LaHaie woke up one morning and said, "I don't even know why I'm doing this. It's not that I have this burning desire to run up and down the race track anymore. I already did that for so many years - - thirty-three I guess it was. It was right after Indy of '91 and I said, 'you know guys, I'm not going to do this anymore.' And that was it." Well not quite it. A new career was waiting for LaHaie - - that of hired tuner.
"It (being a tuner) was something that I had to get used to," LaHaie said of his new job. "I wasn't used to standing on the starting line. In fact, the first time I took the job with the Kalitta race team, I didn't even know where to stand up there (at the starting line). I'm standing up there thinking: 'where am I supposed to be?', 'What do I need to look at?'. Before, I was always in the car."
"I guess one of the biggest thrills I got was when Scott (Kalitta) put a big number up on the board shortly after I had joined the team and I hear this big roar from the crowd. I'm looking around to see what's going on. Well, it was the numbers we had put up on the scoreboard. That's what they were all screaming about. I had never heard that because, as a driver, I was always at the finish line in the race car. It's an entirely different situation when you're a crew chief compared to being a driver," said LaHaie on his first few races as crew chief and tuner.
During his tenure with the Kalittas, 1993 through the spring of 1997, he adapted well to his new position. With Scott handling the driving duties, LaHaie and team won back-to back Winston championships (1994 and 1995) and finished second in 1993 and 1996. They also won the prestigious Budweiser Classic, a special race-within-a race event with a $100,000 payout to the winner.
Regarding the two Winston championships, which he labels as the highlight of his tuning career thus far, LaHaie said, "They were pretty decisive championships. We didn't back into anything by any means. In that two year period, I think we won eleven or twelve races, won the Winston special event deal at Rockingham and the Bud Classic one year and so forth. We were definitely a player most of the time."
In 1998, he moved his tuning knowledge to the team of Doug Herbert. He quickly put the Herbert program back on track, but a new opportunity with Snake Racing, headed by the legendary Don "the Snake" Prudhomme, had LaHaie scheduled to join Larry Dixon, driver of Prudhomme's Miller Lite Top Fuel Dragster at the start of the 2000 season. When Herbert released LaHaie after the 1999 national event at Brainerd (Minn.) International Raceway, it enabled LaHaie to immediately join the Miller Lite team and get a jump on the 2000 season, producing a win at the next-to-the-last event of '99.
In retrospect, the results of the 1999 season, for Dixon, were riddled with inconsistency and the team did not live up to preseason expectations. But LaHaie has seemingly righted the ship and the LaHaie magic is at work. The Miller Lite Dragster has been to the final round five times in the 17 events contested thus far this season. Dixon has won two.
Three of the parameters that LaHaie tries to establish for each run are: 1.) a safe ride for the driver; 2.) not to hurt parts; and 3.) that you always make it from point A to point B - - starting line to the finish line - - each run. It's a philosophy with LaHaie.
"It's all preparation. It isn't just me. I mean, it's the crew and the way they follow my way of thinking. We all must be on the same page and we stay focused. The crew and the driver and I must be one. We must not let one's ego get in the way of common sense. We all like to go out and run quick and fast and win races and stuff but you can't do it every time. I found out over the years, if it goes down the race track you've got a lot more chance of winning that round than if it smokes the tires or blows up or something like that," said LaHaie, as he reviewed his winning philosophy.
LaHaie takes losing personally. He said, "Anytime we get beat I'm very disappointed. I take it personally from the standpoint that I feel that I could have stood on it a little bit more or had a little more clutch in it. It's hard to lose. I'm not a very good loser. We were in the final round for the couple of races prior to Columbus and I've been kicking myself in the hind end that we didn't win either of those races. I feel it is my fault because it is my responsibility to try to make the Miller Lite dragster run quicker and faster than our opponent in the other lane."
But through it all, LaHaie remains modest. Ask him to rate his tuning abilities and you get the same evasive answer that you got when you asked the same question about his driving abilities.
"I don't rate myself at all on any of this stuff. To be truthful about it, I've never even thought about it. I must be pretty good because these people pay me an awful lot of money to do this and I've had some success at it… there must be some sort of magic that I bring to a team," said LaHaie.
There it was, that word "success." No matter how you define it, Dick LaHaie has been a success as both a driver and a tuner.




NHRA: 10 Most Recent Entries [ top ]

Apr 19- HOUSTON - Friday Schedule
Apr 19- Tige Boats Named Presenting Sponsor of E3 Spark Plugs NHRA Pro Mod Drag Racing Series Portion of NHRA SpringNationals
Apr 19- HOUSTON - Previous Success, Early Win has Funny Car's Courtney Force Excited
Apr 18- Haney Headed for NHRA Pro Mod with Summit Racing on His Side
Apr 18- HOUSTON - Richie Crampton Enjoying Early-Season Success Heading to 31st Annual NHRA SpringNationals
Apr 18- 2018 Mustang Cobra Jet Celebrates 50th Anniversary of Racing Legend with Quickest
Apr 18- New Ford Mustang Funny Car Scheduled to Debut In 2019 NHRA Mello Yello Season Opener
Apr 16- HOUSTON - Fact Sheet
Apr 16- HOUSTON - After Early-Season Mishap Funny Car's Jonnie Lindberg Looks to Get On Track