Sun, 10 Sep 2000, 12:18 PM



Pedregon, Kalitta, Coughlin and Seeling Winners



Courtesy of NHRA Communications



At MATCO Tools Spring SuperNationals



ENGLISHTOWN, N.J. --
Cruz Pedregon won his 22nd career national event Saturday at the rain-delayed 31st annual Matco Tools Spring Supernationals presented by Racing Champions at Old Bridge Township Raceway Park.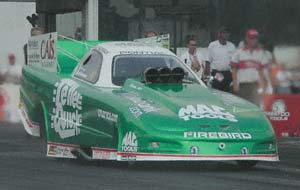 Cruz Pedregon
Pedregon, from Camarillo, Calif., limped his Pontiac Firebird down the track in 6.543 seconds at 124.18 mph to defeat rival John Force and his Ford Mustang in a tire-smoking Funny Car finale. The victory was Pedregons first since the '98 Matco Tools Supernationals in Houston. Force lost traction at the start and peddled his car to a pass of 7.010 at 217.98.
"This win makes it all worth it, said Pedregon." "Winning like this gives me a chance to make a statement to potential sponsors, which we are constantly looking for. I'm just trying to win and I'm glad that I don't have to answer to anybody, I'm not going to apologize for running the car the way I did. A win's a win and this win just makes it better."
Pedregon achieved the victory by driving past Terry Haddock, Cristen Powell and Ron Capps before his meeting with Force.
Doug Kalitta, Jeg Coughlin, and Angelle Seeling were also the winners in their respective categories at the $2 million race, originally the eighth of 23 events in the $45 million NHRA Winston Drag Racing Series.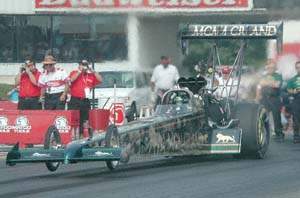 Doug Kalitta
Kalitta, from Ypsilanti, Mich., won his third event of the year when he covered the distance in 4.637 at 313.29 to hold off Gary Scelzi's Team Winston dragster and his time of 4.639 at 313.66 in the split-second final. The margin of victory between Kalitta and Scelzi was a mere .007 of a second.
" I was pretty surprised, said Kalitta." "I didn't see Scelzi next to me and I haven't figured out how to look for that win light after the finish line, so when everybody started running towards me after I pulled off the track I knew something good happened." Kalitta had to defeat Doug Herbert, Tony Schumacher and Larry Dixon before facing Scelzi in the final. With the victory, Kalitta advanced to fifth place in the NHRA Winston points standings and only two points behind Kenny Bernstein who resides in the fourth position.
Jeg Coughlin, from Columbus, Ohio, won his eighth NHRA national event this season in his Oldsmobile Cutlass. His pass of 6.943 at 198.41 was just enough to hold off Greg Anderson who went 6.988 at 195.76.
" It feels great to pull a win off in front of all these fans, said Coughlin." "We knew we had to be on our best behavior today, so we went out there and did it. With Ron Krisher going out early it made us feel better and it stretched our points lead a little more, we love it."
Coughlin defeated Kurt Johnson, Tom Martino, and Darrell Alderman before meeting Anderson in the final. With the win, Coughlin leads Ron Krisher by 381 points going into the next event.
Seeling, from New Orleans, won her fifth Pro Stock Motorcycle final round this season on her Suzuki GSXR, covering the distance in 7.250 at 179.44. Seeling defeated Reggie Showers, Clarence Markham and Geno Scali to the title.
"Actually, going up against these guys is just as nerve racking as facing Hines or Antron Brown, Seeling said." "It took a lot of relaxing, a lot of concentration and a lot of focus, cause these guys are just as good as anybody and I'm glad I was able to win it."
Her 14th career victory puts her ahead of defending series champion Matt Hines by 157 points.
The next NHRA Winston Drag Racing Series event is the 16th annual Keystone Nationals at Maple Grove Raceway in Reading, Pa., Sept. 14-17.




NHRA: 10 Most Recent Entries [ top ]

Mar 16- GAINESVILLE - Top Alcohol Funny Car Eliminations Ladder
Mar 16- GAINESVILLE - Top Alcohol Funny Car Final Qualifying, Session #2 Order
Mar 16- GAINESVILLE - Friday Wrap Up
Mar 16- GAINESVILLE - Competition Eliminator Eliminations Ladder
Mar 16- GAINESVILLE - Top Alcohol Funny Car Qualifying Notes, Final Session
Mar 16- GAINESVILLE - Competition Eliminator Final Qualifying, Session #2 Order
Mar 16- GAINESVILLE - Top Fuel Harley Qualifying, Session #2 Order
Mar 16- GAINESVILLE - Top Fuel Harley Qualifying Notes, Session #2
Mar 16- GAINESVILLE - Top Fuel Qualifying, Session #2 Order
Mar 16- GAINESVILLE - Top Fuel Qualifying Notes, Session #2