Thu, 7 Sep 2000, 01:24 PM



Toliver "Lays the Smack Down"



By Susan Wade



CLERMONT, Ind. --
Blame it on greed.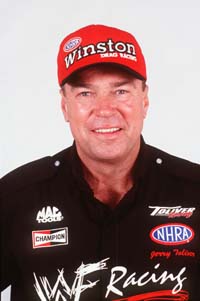 Jerry Toliver
It's why NHRA Funny Car driver Jerry Toliver is on a not-so-funny late-summer skid. He's not talking about being greedy himself. Rather, it's a spiral of selfishness the World Wrestling Federation-sponsored team owner thinks is just as ugly as the one that has body-slammed him out of the Winston points lead in less than a month.
Who's greedy? Some track owners, he said.
"You want to know why we're in a slump? We've been on junk tracks in junk weather. Granted, the conditions have been the same for everyone. But we generally excel at good tracks," Toliver said.
His slide started at Denver, where he qualified seventh and lost to Bruce Sarver in Round 2. Force eliminated Toliver in the semifinals on the way to a win at Seattle. Finally, a DNQ at Sonoma cost him the points lead, and he couldn't reclaim it with a No. 15 qualifying spot and a first-round loss to Del Worsham at Brainerd.
So where does greed come into play? Here's Toliver's logic:
"In Denver, there's no air. So there's less downforce and less horsepower. Sonoma - junk. Seattle - worse junk. Those race tracks, Seattle and Sonoma, are a total disgrace. They're not what the NHRA is about. I'll say in defense of Sonoma, Bruton Smith bought the track and is going to have it redone by 2002.
"But," Toliver said, "those track owners are milking the fans to put on a shitty show. Screw those guys. We bring the cars, and people want to see us haul ass. They take the money and don't put it back into the facility to bring it up to NHRA standards so these cars can run to their potential. It's greed."
In Seattle, track operator Jim Rockstad has said he has no plans to invest any more money into the facility, because his lease expires Dec. 31, 2001. He said he has sunk $2 million of his own during the years into the Kent, Wash., site. A spokesman for track owners Dan and Joe Fiorito have said that contractually they cannot make track improvements until Rockstad is gone. They and NHRA President Tom Compton have indicated Seattle fans will see major changes by the 2002 Northwest Nationals.
Regardless of what dragstrip owners are doing, the bumpy stretch of road continued for Toliver at Indianapolis Raceway Park. His No. 13 qualifying spot for Monday's U.S. Nationals. It was a lucky 13, in a sense, for he was bumped from the field Sunday during the Budweiser Shootout and had to use the final qualifying session to slip into the 16-car field. His 5.05 elapsed time bumped Dean Skuza, who was sixth in points, despite seven first-round exits this season. But the luck turned sour again, as he lost to Tony Pedregon in the first pairing of the first round.
Meanwhile, chief rival John Force is on a roll of three consecutive victories and is 160 points ahead of Toliver in pursuit of a record-tying 10th NHRA Winston Funny Car championship. He was the No. 2 qualifier, and was looking to add a $50,000 "double-up bonus" from the NHRA if he claims his fourth U.S. Nationals title. He beat Del Worsham in the first round with a 5.00 e.t. (304.32 mph), then lost to Toliver's teammate and eventual event winner Jim Epler.
Nevertheless, Force, who has won eight events this year and extended his career-record victories to 89, regards Toliver as a crafty and dangerous opponent. That's why he remarked before the Budweiser Shootout finals, where he faced Toliver tag-team partner Jim Epler, "I've gotta keep that $100,000 away from Jerry Toliver. I've gotta keep him down while he's down." Then, after his fifth Shootout triumph, Force said, "I love Jerry. I'm proud of him that he got that Person of the Year thing (Car Craft Magazine's award to the individual who has made the most positive impact on NHRA drag racing in the previous year). But 100-grand really fuels ya."
And for Force or Toliver, that's need, not greed.




NHRA: 10 Most Recent Entries [ top ]

Apr 24- CHARLOTTE 1 - Steve Torrence Enjoying Four-Wide Success Heading to NGK Spark Plugs NHRA Four-Wide Nationals
Apr 24- CHARLOTTE 1 - Fact Sheet
Apr 24- Kalitta Motorsports Welcomes NASCAR Stars to the SealMaster Track Walk in Charlotte
Apr 24- zMAX Dragway Celebrates 10th Anniversary
Apr 24- CHARLOTTE 1 - NGK Spark Plugs NHRA Four-Wide Nationals Brings 40,000 Horsepower Thrill Show to zMAX Dragway
Apr 23- HOUSTON - Lucas Oil Drag Racing Series Wrap Up The NHRA Lucas Oil Drag Racing Series Wrap Up
Apr 23- CHARLOTTE 1 - J.R. Todd Aiming for Two Four-Wide Racing Wins in 2018
Apr 23- Mid America Dragway Joins NHRA Member Track Network
Apr 23- HOUSTON - Special Awards
Apr 23- HOUSTON - Sunday Video