Mon, 4 Sep 2000, 08:52 PM



Schumacher, Epler Among NHRA U.S. Nationals Winners



Courtesy of NHRA Communications



CLERMONT, Ind. --
Tony Schumacher regained the NHRA Winston Top Fuel points lead Monday, winning the NHRA U.S. Nationals for the first time in his career.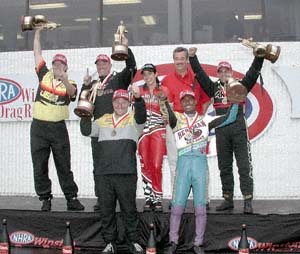 U.S. Nationals winners celebrate
Jim Epler, Jeg Coughlin, Antron Brown and Bob Panella also celebrated their first-ever U.S. Nationals victories in their respective pro categories at the $2.6 million race, the most prestigious event in the $45 million NHRA Winston Drag Racing Series.
Schumacher, from Park Ridge, Ill., earned the automatic win when journeyman finalist Gary Clapshaw fouled at the start. With the victory - the fourth of the season and fifth of his career -- he moved 69 points ahead of closest championship rival Gary Scelzi, who lost in the first round. "There's still seven races to go, so it's still wide open," Schumacher said. "I'm glad to get the lead back, but we're going to have a battle until the end, that's for sure."
Schumacher, who defeated Doug Herbert, Larry Dixon and Kenny Bernstein in earlier rounds, covered the Indianapolis Raceway Park quarter-mile in 4.644 seconds at 316.90 mph in his U.S. Army dragster as Clapshaw turned on the red-light.
Schumacher takes point lead.
"This was an intense win," said Schumacher, who posted a runner-up finish at this event in 1996 during his first-ever Top Fuel race. "The team worked extra hard this weekend. I just got in the car and did what I had to do. We're happy to get this win in our first race for the U.S. Army. We're definitely gaining momentum."
Shirley Muldowney, who made a return to the U.S. Nationals for the first time since 1989, lost to first round opponent Doug Kalitta in the most exciting side-by-side race of the day. Muldowney pulled away from Kalitta at the start, but her Goosehead.com dragster's front wheels started to lift off the ground near mid-track. When she let off the throttle, the car slammed down to the track, causing damage to the front wheels. As she tried to steer the hobbled dragster to the finish it veered toward the centerline, eventually crossing it.
"We had him, that's for sure," said a disappointed Muldowney. "It's too bad because we wanted to win that one really bad. Still, we had a great weekend and a lot of fun, and that's what's important."
Epler, from Phoenix, drove his WWF Racing Chevy Camaro to his second Funny Car win of the season, clocking a 5.017 at 285.41, while Whit Bazemore's Kendall Camaro lost traction and posted a 5.968 at 197.19.
"It feels good to get another shot at winning this race and finally get the job done," said Epler, a runner-up here one year ago. "As a driver you always dream about winning this race. I've been racing for a long time and winning the U.S. Nationals has always been high on my list. This has been a great year for me as a driver to work with Jerry Toliver and the folks at WWF. This is a huge win for me -- a career-building win."
John Force lost in the second round but managed to extend his Winston points lead to 196 over Jerry Toliver, who lost in the first round.
Coughlin, from Columbus, Ohio, extended his Winston points lead in Pro Stock with his seventh victory of the season, and 17th of his career. He used a holeshot start in his Oldsmobile Cutlass and ran a 6.968 at 196.96 to defeat Ron Krisher's Pontiac Firebird, which ran a quicker, but losing 6.927 at 197.59.
With the win, Panella increased his Winston lead to 129 over the event's top qualifier, Randy Daniels, who lost in the first round.
Brown, who recently relocated to Indianapolis, earned more than $35,000 with his third Pro Stock Motorcycle victory of the season. Brown, who added a $10,000 NHRA double-up bonus to his weekend winnings of $25,000, rode his Troy Vincent-owned Suzuki to a 7.268 at 181.03, defeating John Smith, who posted a 7.354 at 181.45 while subbing for Dave Schultz on the Sunoco Suzuki.
"To win the U.S. Nationals is unbelievable," Brown said. "To win the Nationals and the Holley Duel and the big bonus is awesome. It's hard to take it all in at the same time. This weekend is the highlight of my career."
Seeling, who lost to Smith in the semifinals, maintained her Winston points lead over Matt Hines, who lost in the other semifinal.
Stockton, Calif.'s Panella extended his Winston lead in Pro Stock Truck with a victory over John Coughlin in an all Chevy S-10 final round. Panella ran a track record 7.535 at 176.86 to overcome a holeshot start by Coughlin, who ran a slower 7.622 at 176.63. It was Panella's fourth victory of the season.
"This was an important win for us," said Panella, the '98 runner-up at this event. "We finally figured this deal out and the truck started to pick up today in eliminations. We let this race get away from us two years ago. I'm glad we made the most of the opportunity this time around. I hate that Randy (Daniels) went out early, but I enjoy having that comfort zone in the point standings."
The next NHRA Winston Drag Racing Series event is Sept. 9 at Englishtown, N.J., for completion of the rain-delayed Matco Tools Spring SuperNationals at Old Bridge Township Raceway Park.
Monday's final results from the 46th annual NHRA U.S. Nationals at Indianapolis Raceway Park. The $2.6 million race is the 17th of 23 events in the $45 million NHRA Winston Drag Racing Series:
Top Fuel -- Tony Schumacher, 4.644 seconds, 316.90 mph def. Gary Clapshaw, foul.
Funny Car -- Jim Epler, Chevy Camaro, 5.017, 285.41 def. Whit Bazemore, Camaro, 5.968, 197.19.
Pro Stock -- Jeg Coughlin, Oldsmobile Cutlass, 6.968, 196.96 def. Ron Krisher, Pontiac Firebird, 6.927, 197.59.
Pro Stock Bike -- Antron Brown, Suzuki, 7.268, 181.03 def. John Smith, Suzuki, 7.354, 181.45.
Pro Stock Truck -- Bob Panella Jr, Chevy S-10, 7.535, 176.86 def. John Coughlin, S-10, 7.622, 176.63.
Federal-Mogul Dragster -- Jay Meyer, 5.497, 254.23 def. Dave Hirata, 6.308, 207.69.
Federal-Mogul Funny Car -- Frank Manzo, Dodge Avenger, 5.676, 253.14 def. Tony Bartone, Chevy Camaro, 5.640, 255.29.
Comp Eliminator -- Jeff Taylor, Chevy Camaro, 8.326, 133.39 def. Joey Tanksley, Dragster, foul.
Super Stock -- Scotty Richardson, Pontiac Firebird, 10.257, 127.78 def. Herbie Null, Chevy Camaro, foul.
Stock -- Jim Schaechter, Chevy Malibu, 12.184, 104.60 def. Scott Welborn, Chevelle, 11.822, 112.08.
Super Comp -- Glenn Julius, 8.867, 163.81 def. Tony Collier, foul.
Super Gas -- Jerry DeBusk, Ford Probe, 9.902, 154.12 def. Barbara Harrison, Chevy Vega, 9.913, 142.57.




NHRA: 10 Most Recent Entries [ top ]

Apr 24- CHARLOTTE 1 - Steve Torrence Enjoying Four-Wide Success Heading to NGK Spark Plugs NHRA Four-Wide Nationals
Apr 24- CHARLOTTE 1 - Fact Sheet
Apr 24- Kalitta Motorsports Welcomes NASCAR Stars to the SealMaster Track Walk in Charlotte
Apr 24- zMAX Dragway Celebrates 10th Anniversary
Apr 24- CHARLOTTE 1 - NGK Spark Plugs NHRA Four-Wide Nationals Brings 40,000 Horsepower Thrill Show to zMAX Dragway
Apr 23- HOUSTON - Lucas Oil Drag Racing Series Wrap Up The NHRA Lucas Oil Drag Racing Series Wrap Up
Apr 23- CHARLOTTE 1 - J.R. Todd Aiming for Two Four-Wide Racing Wins in 2018
Apr 23- Mid America Dragway Joins NHRA Member Track Network
Apr 23- HOUSTON - Special Awards
Apr 23- HOUSTON - Sunday Video