Sun, 3 Sep 2000, 10:54 PM



Force Wins Budweiser Shootout at U.S. Nationals



Courtesy of NHRA Communications



Kalitta, Johnson take Top Qualifying Honors at 46th annual NHRA U.S.



CLERMONT, Ind. -
Nationals John Force scored his fifth career Budweiser Shootout victory Sunday at the 46th annual NHRA U.S. Nationals at Indianapolis Raceway Park.
Doug Kalitta, Tommy Johnson Jr., Mark Osborne, Angelle Seeling and Mike Coughlin will lead their respective pro categories into tomorrow's 11 a.m. eliminations at the world's most prestigious drag race. The $2.6 million race is the 17th of 23 events in the NHRA Winston Drag Racing Series.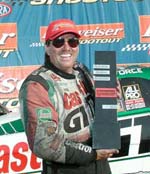 Force wins Budweiser Shootout.
The nine-time NHRA Winston champion outran Jim Epler to claim the $100,000 winner's share in the lucrative special event that showcases the eight quickest Funny Car competitors from the last year.
Force, who earned close victories over Del Worsham and teammate Tony Pedregon in the first two rounds of the Shootout, powered his Castrol GTX Ford Mustang to a 4.996 at 307.72 in the final. Epler's WWF Chevy Camaro lost traction and limped to the runner-up finish in 8.075 at 105.05.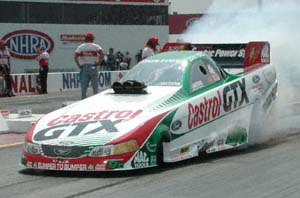 John Force
Should Force win tomorrow, he could pocket an additional $50,000 'double-up' bonus from the NHRA, bringing his total winnings for the weekend to more than $235,000. The 51-year-old Yorba Linda, Calif. driver earned the 'double-up' bonus in 1993 and '96.
"I'm happy to win and keep that money away from Toliver's team," said Force, who also earned Budweiser Shootout titles in 1987, '90, '93 and '96. "All the money from this race goes to my guys as a bonus for all their hard work. I think it's going to be a great race tomorrow. The guys are pumped up. We look forward to giving the fans a great race."
Kalitta, from Ypsilanti, Mich., earned his first No. 1 qualifying position of the season in Top Fuel, clocking a 4.622 at 310.84 in his MGM Grand dragster. Ironically, Kalitta will face three-time Winston champion Shirley Muldowney in the first round.
"I'm sure Connie (Kalitta, team owner and crew chief) will definitely want to win that one," said the younger Kalitta, a two-time winner this season. "It's going to be a nervewracking round, but first rounds are usually that way. We're going to approach it just like any other race. You have to win the first one before you can win it all." Muldowney, making a return to NHRA competition for the first time since 1997, became the only female to win this event in 1982 when she outran Connie in an emotion-filled final. The elder Kalitta - a former partner of Muldowney's -- played a significant role in launching her driving career in the 1970s. Their relationship eventually soured and the two went their separate ways, yet continued to meet many times on the racetrack in head-to-head competition throughout the '80s. She is definitely up for renewing the old rivalry.
"That sounds good to me," said Muldowney with a smile, one of three females qualified in Top Fuel and one of five set to race in pro competition tomorrow.
Muldowney, known for her crafty maneuvers at the starting line, is not intimidated by her quicker first round counterpart. "Don't count me short," added Muldowney, who anchored the 16-car field with a 4.779 at 309.42 in her Goosehead.com dragster. "I've been here before. Anything can happen. Last week I beat (Tony) Schumacher twice (in a match race). We're going to get aggressive and just go for it. It'd be nice to beat Kalitta, but it'll be a hard car to beat."
Ottumwa, Iowa's Johnson earned his first top qualifying effort of the season in Funny Car, driving his Hofmann Racing Pontiac Firebird to the top of the 16-car order with a 4.963 at 301.27.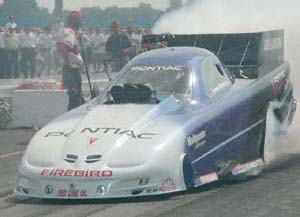 Tommy Johnson
Johnson will face Whit Bazemore in the opening round in a rematch of a first round meeting earlier this season at Seattle. "Actually, Whit owes me one," said Johnson, who upset Bazemore at SIR. "The order was reversed in Seattle and I beat him. I'm sure he'll want some revenge but we're going to try and not let that happen."
Johnson says as far as he's concerned there's really no clearcut favorite heading into Monday.
"I think it's going to be a pretty wide open race," said Johnson, a two-time winner last season. "There's really not been anyone that's gone out and proved that they've got the dominating car so far this weekend. There could be some surprises."
Osborne, from Abingdon, Va., took the top spot in Pro Stock, posting a 6.976 at 196.39 in a Pontiac Firebird.
Seeling, from New Orleans, earned her fourth No. 1 Pro Stock Motorcycle effort of the season and first at Indy, covering the distance in 7.322 at 181.47 on her Team Winston Suzuki.
Coughlin, from Columbus, Ohio, set a track record for elapsed time in claiming the No. 1 qualifying position in Pro Stock Truck. The defending U.S. Nationals winner recorded a 7.605 at 176.49 in a Chevy S-10.
Sunday's round-by-round results for the Budweiser Shootout at the 46th annual NHRA U.S. Nationals at Indianapolis Raceway Park. The $239,000 bonus event showcases the top eight Funny Car drivers during the last year.
ROUND ONE -- Tony Pedregon, Ford Mustang, 5.114, 285.71 def. Jerry Toliver, Pontiac Firebird, 5.124, 289.57; Jim Epler, Chevy Camaro, 5.053, 295.21 def. Ron Capps, Camaro, 5.732, 170.54; John Force, Mustang, 5.103, 298.80 def. Del Worsham, Firebird, 5.506, 221.78; Dean Skuza, Dodge Avenger, 5.105, 302.69 def. Whit Bazemore, Camaro, 5.145, 296.76;
SEMIFINALS -- Epler, 5.084, 296.44 def. Skuza, 5.120, 295.79; Force, 5.014, 303.64 def. Pedregon, 5.037, 293.79;
FINALS -- Force, 4.996, 307.72 def. Epler, 8.075, 105.05.




NHRA: 10 Most Recent Entries [ top ]

Apr 24- CHARLOTTE 1 - Steve Torrence Enjoying Four-Wide Success Heading to NGK Spark Plugs NHRA Four-Wide Nationals
Apr 24- CHARLOTTE 1 - Fact Sheet
Apr 24- Kalitta Motorsports Welcomes NASCAR Stars to the SealMaster Track Walk in Charlotte
Apr 24- zMAX Dragway Celebrates 10th Anniversary
Apr 24- CHARLOTTE 1 - NGK Spark Plugs NHRA Four-Wide Nationals Brings 40,000 Horsepower Thrill Show to zMAX Dragway
Apr 23- HOUSTON - Lucas Oil Drag Racing Series Wrap Up The NHRA Lucas Oil Drag Racing Series Wrap Up
Apr 23- CHARLOTTE 1 - J.R. Todd Aiming for Two Four-Wide Racing Wins in 2018
Apr 23- Mid America Dragway Joins NHRA Member Track Network
Apr 23- HOUSTON - Special Awards
Apr 23- HOUSTON - Sunday Video