Sun, 3 Sep 2000, 08:16 PM



"The Big Red Machine"



By Susan Wade



Jim Epler



CLERMONT, Ind. --
It looked like the latest electronic entertainment craze.
But the hand-held Christmas Tree practice device was no toy to NHRA Funny Car driver Jim Epler. "I came over from boat racing, and when I first started driving Funny Cars, my focus was just to get the car down the track. Then that thing became everything," he said, nodding to the starting device. In this sport, where fortunes flower or fizzle in fraction-of-a-second increments, the edge at the starting line is critical. And with unparalleled parity in the category, Funny Cars are beginning to behave more like Pro Stock cars in that respect.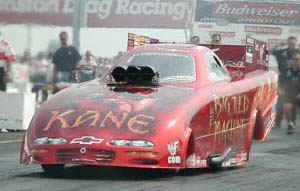 Jim Epler
Epler has had more consistent reaction times as this season has progressed. He had hoped the hand-eye coordination exercise would pay off in Sunday's $100,000 Budweiser Shootout and Monday's final eliminations for the NHRA's 46th annual U.S. Nationals at Indianapolis Raceway Park.
It didn't in the Shootout. His plans went up in smoke early in the final run against John Force, who hasn't lost to Epler since the 1994 Slick 50 Nationals at Houston. Force drove his Castrol Ford Mustang to a 4.99-second elapsed time at 307.72 miles per hour.
Epler, driver of the WWF-sponsored 2000 Chevy Camaro nicknamed "The Big Red Machine," denied fellow Camaro driver Ron Capps a third consecutive Shootout victory. He won their first-round matchup with a sparkling 5.05 e.t.(295.21 mph) and used a 5.08/296.44 to beat Dean Skuza in the semifinals.
Epler still has a chance to put his reaction-time work to use. And it was Force who taught him the latest lesson about that. Epler's semifinal loss to the nine-time NHRA Winston champion in the previous race -- Aug. 20 at Brainerd - was a reminder that a good reaction time can be worth an extra 40 points.
"The key to a Funny Car is getting it to go fast early. If you can run 240-250 (miles per hour) at half-track, you'll usually be all right the rest of the way," said Epler, who sat No. 9 with a final qualifying session to go.
All the talk about the Christmas Tree seems appropriate, even in the hot, muggy conditions in Indianapolis. It was at this race a year ago that Epler received the biggest gift ever on his wish list: a first-class, well-funded, professionally promoted ride.
Jerry Toliver Racing expanded to a two-car team at IRP last September, rather than waiting until 2000. What made it seem like Christmas for Epler was that it came on the heels of two straight dramatic engine explosions at Seattle and Sonoma.
"It was like starting a whole new career, with the quality of people and equipment," Epler said. "I had never sat in the car before, and we made it to the finals. (He lost to Frank Pedregon.) In '99, I had the second-most points of anybody in the second half of the season. I went from out of the top 10 to sixth." It was his first Winston top-10 finish since 1994.
"It makes me appreciate it a whole lot more. I didn't know it could be like this," he said. "But those incidents (at Seattle and Sonoma) made me fearless. I've been in just about every situation in a Funny Car, and I know what I can get by with. You have to respect these cars. They can come up and bite you."
He had agreed to join Toliver Racing at the start of the 2000 season, but "it just sped things up a bit," Epler said. "But we're good for Jerry, too." He certainly has been, especially of late.
Rival Del Worsham, who operates a two-car outfit himself, said he figured Toliver could win the Winston series championship if he could perform well throughout the summer races. But Force earned three consecutive victories (Seattle, Sonoma, Brainerd), while Toliver's DNQ at Sonoma and first-round exit at Brainerd cost him the points lead. Then "The Rock" driver had to slip into the U.S. Nationals field (13th) in the final qualifying session after being bumped during the opening round of the Budweiser Shootout.
During that rough patch for Toliver, Epler has met Frank Pedregon in the Seattle semifinals, rebounded from a first-round defeat at Sonoma to reach the Brainerd semifinals and advance in the Shootout. That left him in fifth place, just 74 points behind Capps and 110 away from No. 3 Tony Pedregon.
"My goal is to be in the top three. So these next two races are big," Epler said, referring to the Matco Tools Spring Supernationals in Englishtown, N.J. He put the Big Red Machine into the No.1 qualifying spot with a 4.947 elapsed time (278.06 mph) and will face Capps in the opening round of eliminations in the event postponed from late May because of rain.
Top Fuel driver Joe Amato remarked during the Winston Showdown that "if you get the right crew chief, all hell can break loose." Epler said he's a believer. He credits his own tuner, John Stewart, for helping the WWF team scramble the status quo.
"That's as it should be. It's a team, but the crew chief is so important. He can make you or break you.
"John has an amazing story," Epler said. "He was the youngest guy to drive a Top Fuel dragster, but he found out his real love was to turn wrenches. His crew loves him, and they work great together. I never had anything like that."
If he sticks with this exciting Toliver tag team, Jim Epler will have a hard time remembering what it was like before.




NHRA: 10 Most Recent Entries [ top ]

Apr 19- HOUSTON - Friday Schedule
Apr 19- Tige Boats Named Presenting Sponsor of E3 Spark Plugs NHRA Pro Mod Drag Racing Series Portion of NHRA SpringNationals
Apr 19- HOUSTON - Previous Success, Early Win has Funny Car's Courtney Force Excited
Apr 18- Haney Headed for NHRA Pro Mod with Summit Racing on His Side
Apr 18- HOUSTON - Richie Crampton Enjoying Early-Season Success Heading to 31st Annual NHRA SpringNationals
Apr 18- 2018 Mustang Cobra Jet Celebrates 50th Anniversary of Racing Legend with Quickest
Apr 18- New Ford Mustang Funny Car Scheduled to Debut In 2019 NHRA Mello Yello Season Opener
Apr 16- HOUSTON - Fact Sheet
Apr 16- HOUSTON - After Early-Season Mishap Funny Car's Jonnie Lindberg Looks to Get On Track