Sat, 2 Sep 2000, 10:28 PM



Brown Scores $15,000 Win in Holley Pro Stock Dominator Duel



Courtesy of NHRA Communications



CLERMONT, Ind. -
Antron Brown earned $15,000 for winning the Holley Dominator Duel for Pro Stock Motorcycle Saturday at the 46th annual NHRA U.S. Nationals at Indianapolis Raceway Park.
Brown, Cory McClenathan and Tommy Johnson Jr. remained qualifying leaders, while Mark Osborne and Randy Daniels moved to the No. 1 position in their respective categories at the $2.6 million race, the 17th of 23 events in $45 million NHRA Winston Drag Racing Series.
Brown, from Chesterfield, N.J., used a holeshot start to outrun fellow Suzuki rider Angelle Seeling in the final round of the $50,000 special event. Brown, who rides a motorcycle owned by Philadelphia Eagles cornerback Troy Vincent, clocked a winning run of 7.343 at 180.91, overcoming Seeling's quicker run of 7.327 at 179.73.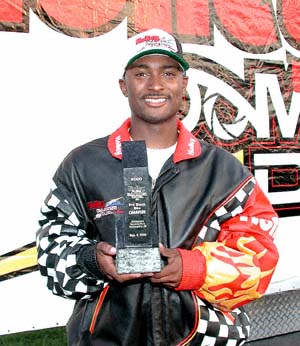 Antron Brown
"All three rounds were tough, that's why it's called the Holley Dominator Duel," said Brown, who beat teammate Tony Mullen and three-time defending winner Matt Hines to advance to the final in the eight-bike field that features the quickest Pro Stock Motorcycle competitors from the last year. "There were no gimme rounds out there today. In the final with Angelle we were about even at half-track and then my front wheel started to pull ahead on the back half of the track. That was the best feeling. It's awesome just being here at Indy. To win this race is pretty special because there's a lot of riders who try for a whole career to win this and never do it." Should Brown win Monday's eliminations he will pocket an additional $10,000 bonus from the NHRA, bringing his total weekend earnings to more than $35,000 - the largest single race purse for the two-wheel category.
"I'm not going to think about all that money," said Brown with a grin. "We're just going to focus on each round and see what happens at the end of the day. The main thing is to stay consistent. That's what you must do to win races out here."
In Top Fuel, no one improved on McClenathan's 4.655 at 317.57 from Friday's session. Shirley Muldowney, making a return to NHRA competition at this event, is qualified 14th with a 4.779 at 306.53.
Johnson remained at the top of the Funny Car lineup with a 4.963 at 301.27 in a Pontiac Firebird.
Osborne, from Abingdon, Va., topped the Pro Stock order with a 6.976 at 196.39 in a Pontiac Firebird.
Brown's Friday best of 7.324 at 182.70 continued to lead Pro Stock Motorcycle qualifying, while Seeling moved into the second spot with a run of 7.327 at 179.73.
Grantsboro, N.C.'s Daniels moved to the front of the Pro Stock Truck starting grid, driving his Chevy S-10 to a 7.625 at 176.67.
Pro qualifying continues Sunday with sessions at 10:45 a.m. and 4:45 p.m. In other scheduled racing, Ron Capps will try for a third consecutive $100,000 Budweiser Shootout victory in the special bonus event for qualified Funny Car competitors.
CLERMONT, Ind. - Saturday's results from the $50,000 Holley Dominator Duel for Pro Stock Motorcycle at the 46th annual NHRA U.S. Nationals at Indianapolis Raceway Park.
ROUND ONE -- Craig Treble, Suzuki, 7.381, 179.44 def. Ron Ayers, Suzuki, 7.605, 174.77; Antron Brown, Suzuki, 7.370, 180.79 def. Tony Mullen, Suzuki, 7.370, 180.52; Angelle Seeling, Suzuki, 7.344, 179.54 def. Steve Johnson, Suzuki, 7.521, 170.56; Matt Hines, Suzuki, 7.365, 181.94 def. Geno Scali, Suzuki, 7.423, 173.74;
QUARTERFINALS -- Brown, 7.345, 178.00 def. Hines, 7.402, 181.20; Seeling, 7.342, 180.77 def. Treble, 7.435, 175.50;
FINAL -- Brown, 7.343, 180.91 def. Seeling, 7.327, 179.73.




NHRA: 10 Most Recent Entries [ top ]

Apr 18- Haney Headed for NHRA Pro Mod with Summit Racing on His Side
Apr 18- HOUSTON - Richie Crampton Enjoying Early-Season Success Heading to 31st Annual NHRA SpringNationals
Apr 18- 2018 Mustang Cobra Jet Celebrates 50th Anniversary of Racing Legend with Quickest
Apr 18- New Ford Mustang Funny Car Scheduled to Debut In 2019 NHRA Mello Yello Season Opener
Apr 16- HOUSTON - Fact Sheet
Apr 16- HOUSTON - After Early-Season Mishap Funny Car's Jonnie Lindberg Looks to Get On Track