Sat, 2 Sep 2000, 05:02 PM



Schumacher Promoted to "The Sarge"



By Susan Wade



CLERMONT, Ind. -
Tony Schumacher, sent to a military school as a rebellious adolescent, is talking about "building a better community, building a better America."
He's telling high-school students to stay in school, stay off drugs, stay committed to their dreams. He's in the Army now. As an honorary sergeant.
The defending NHRA Winston Top Fuel champion has U.S. Army written all over him. And the black-and- gold dragster uncamouflaged Friday in his pit at the 46th annual U.S. Nationals at Indianapolis Raceway Park.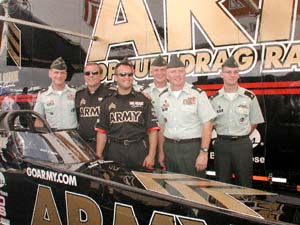 Tony and the Army team.
With Sergeant Major Jack Tilley on hand, proudly saluting this partnership of technology and triumph and peppering his speech with enthusiastic "Hoo-ah!"s, the Don Schumacher Racing Team announced a multi-year sponsorship deal with the U. S. Army. It broke a 20-year absence from drag-racing involvement for the Army, which enjoyed four championships in the past with Don Prudhomme. "This car screams Army. The power, the commitment . . . that's what you see in the Army. That's what you see in this race car," Tony Schumacher said of his new ride, dubbed "The Sarge."
With the Army agreement, Exide relinquished its primary sponsorship of Tony Schumacher's car and transferred its funding to the team's second dragster - driven by Top Fuel rookie Melanie Troxel - for the remainder of the season.
Don Schumacher said Troxel , who turned 28 Thursday, "is on board for three and a half years." However, he said he is unsure of Exide's commitment past the November finals in Pomona, Calif. "We have adequate funding in place right now," he said.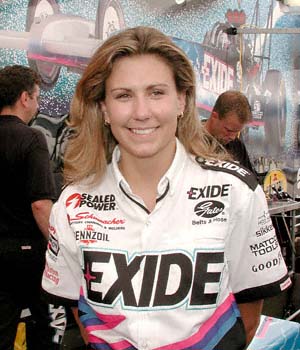 Melanie Troxel
Schumacher added that Jimmy Prock, who has tuned Joe Amato's dragster the past four seasons, will join the team as Troxel's crew chief in 2001. Dan Olson will continue as crew chief for Tony Schumacher, although he will tend to both cars for the next seven races.
Don Schumacher said Troxel will drive the back-up car the team introduced during the middle of last year, one that ran a 4.57 e.t. and 327-mph in Texas. Troxel was second-fastest during recent pre-Nationals testing.
In renewing its NHRA investment, the Army also enlisted as primary sponsor of the NHRA's 11-year-old Youth & Education Services program, which offers career opportunity fairs, education day at the track and educational plans for teachers. Schumacher wasted no time in shouldering his share of the promotional load. He spoke to about 500 local high-schoolers, conveying his excitement for the $45 million Winston Drag Racing Series, as well as his new association with the Army.
"If you want something bad enough, you can get it. No excuses," he said. Although he warned that "there's nothing easy about this" racing, he related his 12-year march from an '86 Trans Am bracket racer to Top Fuel titlist.
After expressing a youthful fantasy to fly the Army Apache helicopter parked nearby, Schumacher explained how it feels to drive a dragster at more than 300 miles an hour.
"We go from zero to 100 in eight-tenths of a second. Let's put it this way: If you were sitting at a stop light and you got hit by a semi traveling at 100 miles an hour, that'd knock you 100 miles an hour in one second. The difference is you wouldn't be expecting it. I am," Schumacher said. Inspired by motivators straight from the Pentagon, Schumacher said rival Gary Scelzi knows just what to expect from him.
As for Scelzi, the current points leader and two-time Winston Series champion from whom Schumacher wrested the championship, he said, "We're going to have him drafted if he gets too close to the championship."




NHRA: 10 Most Recent Entries [ top ]

Mar 22- LAS VEGAS 1 - Defending Funny Car Winner Tommy Johnson Jr. Excited for Four-Wide Racing
Mar 22- NHRA Northwest Nationals Tickets on Sale Now
Mar 21- LAS VEGAS 1 - Fact Sheet
Mar 21- LAS VEGAS 1 - Event Preview
Mar 20- Strong Stable of Contending Pro Stock Racers Vie for Final Starting Position for K&N Horsepower Challenge
Mar 20- GAINESVILLE - Special Awards
Mar 20- GAINESVILLE - Lucas Oil Drag Racing Series Wrap Up
Mar 19- GAINESVILLE - Sunday Video
Mar 18- GAINESVILLE - Pro Mod Sunday Wrap Up
Mar 18- GAINESVILLE - Sunday Wrap Up