Sat, 20 Oct 2001, 08:55 AM



Force, Bernstein, Edwards and Panella Led the Way at NHRA O'Reilly Fall



Courtesy of NHRA Communications



ENNIS, TEXAS --
Nationals John Force moved one step closer to a record 11th Winston NHRA Funny Car title with yet another steller performance.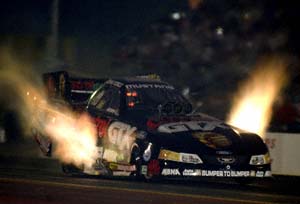 John Force
Driving his Castrol GTX Ford Mustang, Force set both ends of the track record with a 4.758-second run at 322.69 mph during the second session of qualifying for the 16th annual NHRA O'Reilly Fall Nationals at Texas Motorplex. If the time stands through two rounds of qualifying on Saturday, it will be Force's seventh No. 1 qualifying spot of the season.
Kenny Bernstein, Mike Edwards and Bob Panella led their respective categories at the $1.9 million race, the 22nd of 24 events in the $50 million NHRA Winston Drag Racing Series.
Force needs to run as many rounds as Whit Bazemore to clinch the Winston title. Bazemore, second in the Winston season points standings, is currently in fourth place of the qualifying order after a 4.833-second run at 319.14 mph. Force has a record 98 career wins, and is looking to clinch his ninth straight Winston title.
"We thought the record could be set with these conditions at this time of year," Force said. "We got after it, don't get me wrong. But (co-crew chief) Austin Coil didn't push it. He wasn't planning on a .75. He was looking for a low .80 or .82 to get some points. I thought, 'Where'd that come from?' (Co-crew chief) Bernie Fedderly said the track would take anything we could throw at it. It hit all the right grooves, the tires stuck."
Bernstein leads the Top Fuel category with a 4.577-second run at 326.56 mph in the Budweiser King Dragster.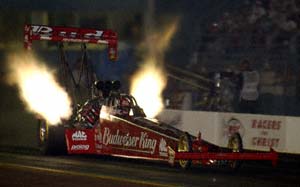 Kenny Bernstein
"Anytime you can grab the No. 1 spot, especially in the evening, that seems to be, obviously, the key to the thing," Bernstein said. "I really didn't think it was going to hold. There are seven or eight cars, maybe even 10 cars, which can run those numbers. I was really surprised it held, and we had more in it than that. We're real happy."
Edwards was the quickest in the Pro Stock category with a 6.872 run at 200.62 mph in his Young Life Chevy Cavalier. Edwards has qualified No. 1 four times this season and has collected one win in three final round appearances.
"We have been real hit and miss this season," Edwards said. "We need to get more consistent, especially on Sundays. The track really came around in the second session. The shade covered part of the track and that really helped our car."
Panella set an elapsed-time track record with a 7.470-second run at 180.57 mph in his Bob Panella Motorsports Chevy S-10 to lead the Pro Stock Trucks. Panella has four No. 1 qualifying performances this year and has two wins in four final round appearances.
Pro qualifying continues at noon and 3:15 p.m. today. Final eliminations begin at 10:30 a.m. on Sunday.




NHRA: 10 Most Recent Entries [ top ]

Apr 20- HOUSTON - Top Fuel Qualifying, Session #1 Order
Apr 20- HOUSTON - Top Fuel Harley Qualifying, Session #2 Order
Apr 20- HOUSTON - Funny Car Qualifying, Session #1 Order
Apr 20- HOUSTON - Top Fuel Harley Qualifying Notes, Session #2
Apr 20- HOUSTON - Top Fuel Qualifying Notes, Session #1
Apr 20- HOUSTON - Funny Car Qualifying Notes, Session #1
Apr 20- HOUSTON - Pro Stock Qualifying, Session #1 Order
Apr 20- HOUSTON - Pro Modified Qualifying, Session #1 Order
Apr 20- HOUSTON - Pro Stock Qualifying Notes, Session #1
Apr 20- HOUSTON - Pro Modified Qualifying Notes, Session #1