Thu, 8 Jun 2000, 09:28 AM



Muldowney Withdraws From IHRA Series



ARMADA, Mich. --
This morning four-time World Champion Shirley Muldowney and her husband, crew chief Rahn Tobler, formally announced their withdrawal from this year's IHRA Summit Drag Racing series following the Amalie Oil Summer Nationals scheduled for June 18-20 at Cordova Dragway in Cordova, Illinois.
Muldowney cited a number of reasons for the decision, the most prominent being that goracing.com would not be renewing its sponsorship agreement for 2001.
Action Performance Companies, Inc., the parent company of goracing.com, recently announced that the Web site would be changing from a content to an e-commerce only site, effective immediately. Goracing.com had been carrying racing results and news, but is now carrying only ordering and product information on the Action Performance Companies extensive line of diecasts, apparel and other racing collectibles.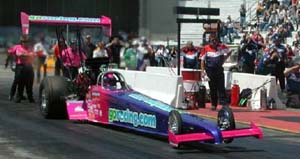 Shirley launches hard.
"We've had a long, exceptionally pleasant agreement with Action Performance and goracing.com," Muldowney said. "We are particularly appreciative that Fred Wagenhals (Action president and CEO) called and gave us the news personally. We're certainly not happy about this, but we understand why the decision was made from the business standpoint.
"We've been racing with Action Performance's backing since 1996, and each year they've been increasingly generous and supportive. The truth is that without their support I don't think we could have raced at all in the last two or three years.
"We're going to run the Amalie Oil Summer Nationals at Cordova for several reasons, not the least of which is our on-going relationship with track manager Scott Gardner. We've also already confirmed our travel plans as well as the travel plans of our crew, and we've also geared up to go out on a winning note. I wasn't happy about being the runner-up at last weekend's Mopar Canadian Nationals in Grand Bend, and think we can make it to the winner's circle in our last IHRA appearance, which will definitely be at Cordova later this month."
Tobler also referred to certain IHRA policies and procedures that have dissuaded the team from participating further. Among their concerns is the "Black Flag" rule, which negates successful qualifying runs and also results in a deduction of 15 points if a car leaves any oil on the racing surface. Tobler also numbers among their concerns the IHRA purse structure and, most importantly, the lack of consistency in the interpretation of the rules and structure of the events.
"It was a tough decision for Shirley and I to stop participating in the series, but in our current financial situation I don't see that we had much choice," he added. "We appreciate all of the support and cheers we've received from the our loyal fans throughout the years, but make no mistake about it, we're still drag racing. We're going to finish out the season with some match race appearances as we continue the search for new sponsorship backing, and I'm hopeful that we'll be able to compete on the national event level again before the season ends."




IHRA: 10 Most Recent Entries [ top ]

Mar 21- 2018 IHRA Summit Sportsman Spectacular Series on April 20-22
Feb 26- Weather-Related Construction Delays Postpone IHRA Xtreme Raceway Park Opener
Feb 16- IHRA Summit Sportsman Spectacular Schedule Announced
Feb 15- New York Track Finds Value for Racers with IHRA Agreement
Feb 15- IHRA Summit Sportsman Spectacular Debut Only One Month Away Now is the Time to Pre-Enter
Feb 15- Summit Texas Location is a Racers' Paradise
Feb 15- Canadian Track Makes Large Commitment to IHRA Drag Racing
Jan 27- Mid-Michigan Destination Joins IHRA Family
Jan 27- Mississippi Track Reaches Sanctioning Agreement
Jan 16- Michigan Track to Host IHRA Summit Sportsman Spectacular