Tue, 16 Oct 2001, 01:07 PM



Reher-Morrison and George Marnell Team Up for A Winning Combination



Courtesy of Jeff Romack, GM Racing Communications



ENNIS, Texas --
NHRA Pro Stock drag racing is one of the most competitive forms of motorsports in the world. Qualifying fields of 16 cars are sometimes separated by less than four hundredths of a second. To win in Pro Stock you need good, reliable horsepower. So this year, when George Marnell was looking for a winning engine combination on his black Pontiac Grand Am, his search began and ended at Reher-Morrison.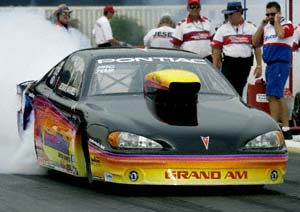 George Marnell
"When I went looking for horsepower my first stop was Reher-Morrison," said Marnell. "I talked to David (Reher) and Bruce (Allen), and we've always got along real well personally, and I just thought it would be great if we started working together. So we began renting motors from them right after Pomona. It took us a little bit of time to adapt to their power curve because all of the engines out here are a little bit different. They all make similar power at the end, but some of them make power down low, and some have more torque and torque bends that requires a different setup on the car.
"We started the season with a new car. By having to adapt new power to it, that gave us another variable we had to work through before we finally got a handle on the car. As we started getting things sorted out, the car started performing better and better to the point where we now feel we have a racecar that can compete with anybody."
After a disappointing DNQ at his hometown event in Las Vegas, Marnell's season began to steadily improve. He's qualified in the top half of the field at seven races including his first career No. 1 at the Pontiac Excitement Nationals in Columbus, Ohio.
"There hasn't been any one particular race where things turned around," said Marnell. "It's not like all of a sudden we reached a point where we decided to start trying hard. We put everything we have into this program and it hurt me personally when we didn't qualify at Las Vegas. Through hard work and perseverance we found a setup that we could be competitive with."
Driving skill, coupled with a well-tuned racecar took Marnell to his first career national event victory at Memphis on September 23. And at the series' last race in Reading, Pa., the 51-year-old Pro Stock veteran drove to a career-best elapsed time of 6.817 seconds and a career-best speed of 202.06 mph.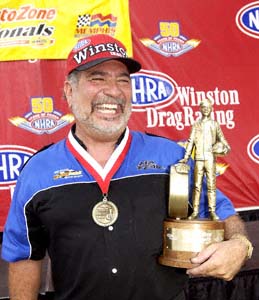 Marnell won Memphis.
"I'm still on a high, personally, from the Memphis win," said Marnell. "To me it's very fulfilling from a racing standpoint. As a driver and team owner I want to do as much as I can for the program, and it's really good for all of us to know we we're winners - that we can go out and be competitive with anybody. I think we've been competitive for a long time, but to go out there and win a race, that means something very, very special. It's something I've wanted for a long time and I'm riding on a high right now. It's an absolute confidence builder. Now we know that we can get the job done."
The relationship between Marnell and Reher-Morrison has been mutually beneficial. After qualifying their new Pontiac Grand Am No. 1 at the season opener in Pomona, Reher-Morrison was facing the very real possibility of having to park their car due to the lack of sponsorship and financial support.
"Financially, we were struggling to generate enough money to run the car," said Bruce Allen. "We had some potential sponsor interest and we thought we'd at least keep going until we either landed a sponsor or it went away. Then we started running good, put ourselves in a position to win races and that really made it difficult to walk away.
"The lease program we have with George has allowed us to continue to race and form the transfer of information that's available to all of us. We can see how they run and gauge where we need to be, and they can see where we are and gauge likewise."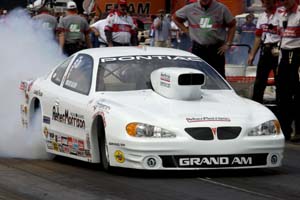 Bruce Allen
It's been a banner year for Bruce Allen and the Reher-Morrison team. After 21 events, Allen is currently fifth in the Pro Stock points standings and looking for his best season since '97 when he finished fourth.
The Reher-Morrison Grand Am driver won at Brainerd, posted top qualifying honors at four events, has been in the top half of the field at 13 races and won 23 rounds of eliminations.
"At this particular point, we're right about where I thought we should be," said Allen. "I thought we could finish in the top five, and even though there're still three races to go, we're there now. I thought we'd win a couple of races and we won at Brainerd. We still have some chances left, but we lost some good opportunities too. Nonetheless, from being in a position financially where we didn't know if we could even race all year to where we are now, we're right on target for what I thought we could do."
In addition to the success achieved by Allen in '01, Reher-Morrison powered racecars, and that includes Marnell's Grand Am and Mike Edwards' Cavalier, have qualified No. 1 six times and scored two wins in four final rounds.
"At Memphis, George beat us in the semifinals," said Allen. "At Chicago, we lost first round to Mike Edwards. Our customers get just as good equipment as what we're using ourselves. Not only does that give us credibility but we can feel good about what we're doing.
"Sometimes, maybe we don't have as good a race as they do, but the upside is that if your customer runs good, then it's good for the shop and it's good for the business. In this situation where we're unsponsored and we're using that revenue to run the team, it's a win-win situation - but only if they run good."
Both Marnell and Allen will battle at the remaining three races to solidify strong points finishes. Allen is just seven points behind fourth-place Jeg Coughlin Jr. and 15 points behind third-place Edwards. Marnell is in 12th place, 54 points behind 10th-place Brad Jeter.
"You can never be overconfident," said Marnell, "but I feel pretty good about our ability to run strong the rest of the season. We're on a good roll, we have a good program and everybody's doing their job.
"Reher-Morrison power has made us look good and we've made them look good. It's been a good relationship for both sides. We couldn't have had the success we've had without their horsepower, and I'd like to think we've contributed to their program and their success as well."




NHRA: 10 Most Recent Entries [ top ]

Mar 21- LAS VEGAS 1 - Event Preview
Mar 20- Strong Stable of Contending Pro Stock Racers Vie for Final Starting Position for K&N Horsepower Challenge
Mar 20- GAINESVILLE - Special Awards
Mar 20- GAINESVILLE - Lucas Oil Drag Racing Series Wrap Up
Mar 19- GAINESVILLE - Sunday Video
Mar 18- GAINESVILLE - Pro Mod Sunday Wrap Up
Mar 18- GAINESVILLE - Sunday Wrap Up
Mar 18- GAINESVILLE - Pro Mod Championship Points
Mar 18- GAINESVILLE - Bonus Points
Mar 18- GAINESVILLE - Championship Points