Wed, 17 Oct 2001, 12:43 PM



Say Goodbye To Those Maple Grove Records!!



By Bob Frey



I know some folks will call me wacky (so whatís new?), but remember all of those records that were set at Maple Grove two weeks ago? Well, if the weather cooperates, they should all be history by the end of this weekend in Dallas. Why? Well, historically, the Texas Motorplex is one of the fastest tracks on the circuit, due in large part to the all-concrete surface. Not only that, but since it is one, continuous surface, there are no transition points on the track to cause the cars to bump, jump, or move around. With that in mind, if the weatherman cooperates, this could be a very fast event.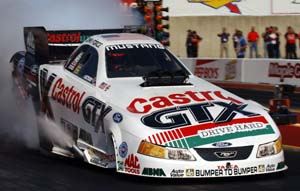 John Force
One thing that is for sure, the Funny Car championship race could end in Texas.
Did you know
that
John Force
could clinch his 11
th
Winston title this weekend? All he has to do is match
Whit Bazemore
round by round and the championship is his. Since John already leads Whit by 285 points, and he needs to leave Texas with at least a 277 point margin, the scenario is easy, just qualify, and go as many rounds as Whit does and John will be an 11-time champion. Of course, this is one of Johnís favorite tracks and, with it being so fast and everything, it could be another John vs. Whit final round.
Did you know
that John has wrapped up the title here twice before? He did it in 1995 and 1999. Of course, he also hit the wall against
Cruz Pedregon
in the finals in 1992 and, virtually, lost the title here, tooÖ.Over the past nine races, Bazemore and the
Matco Tools
car has been the better of the two on the track, winning 25 rounds to Johnís 22.
Did you know
that, during that time, Whit has been the top qualifier six times to Johnís three? Plus, he has been to more finals than John over those nine races, set more top speeds and won just as many races as the champ. Now, if only he could have started the season out a little stronger. Of course, he did open the season with a first round win over John, but then he dropped five decisions in a row to the champ and they will come back to haunt him. But it has been a great year in the Funny Car class, hasnít it?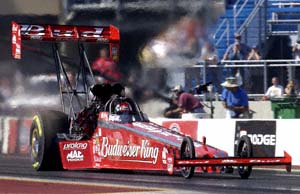 Kenny Bernstein
Top Fuel should continue to be exciting although nobody can clinch anything in Dallas.
Kenny Bernstein
and
Larry Dixon
would like to add to their pointís totals as the season winds down and, from where I sit, this is a much more critical event for Larry than it is for Kenny. Oh, sure, they both could use the points, but Larry canít afford to give up any more ground to "The King." If Larry were looking for a good track to close the gap on Kenny, Dallas would be the one.
Did you know
that in the last four years, Kenny has been beaten in the first round at the Motorplex each time? And the streak extends to six first round losses over the past seven years. Plus, Kenny has never won a Top Fuel race at the "Plex." He did win a Funny Car event, but that was way back in 1986 when he beat
Tom McEwen
in the finals. On the bright side of things,
did you know
that Kenny clinched his one and only Top Fuel title here in 1996? And that came at the same event where it was announced that
Gary Scelzi
would take over the driving chores for the Johnson familyÖ.Larry hasnít exactly been running over the competition in Dallas, either.
Did you know
that, over the past six years, he has only gone past the second round on two occasions at the fall race here? So, it may be a survival of the fittest kind of weekend for the title hopefuls. Of course, you have to like both Scelzi and
Mike Dunn
at a "high horsepower" track like this one. Mike has won here in both fuel classes, winning in Funny Car in 1990 and in the dragster class in 1993.
Did you know
that when Mike won the í93 event over
Scott Kalitta
it clinched the championship for Eddie Hill? Plus, at that race, Mike came from the sixteenth qualifying spot to win the race, and thatís the last time that has happened in Top Fuel. Scott, who once qualified in both top fuel and funny car at the same event here, came back the next year and won enough rounds to eliminate
Don Prudhomme
from title contention and claim his first Winston title. So, as you can see, a lot of titles have changed hands in Texas. Did I mention that Gary Scelzi wrapped things up here last year?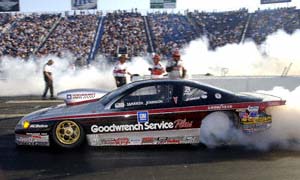 Warren Johnson
The Pro Stock class is beginning to look like nobody wants to win it.
Warren Johnson
and
Jim Yates
, the only guys with a shot to take the crown, just keep leaving rounds and points on the table. Ironically, both have wrapped up championships here in the past, although they wonít do it this year. Unlike Bernstein, who has struggled here, Warren loves this track.
Did you know
that he has been in the finals eight times at the fall race here? Plus, in 1998 and í99 he beat Yates in the finals. I guess thatís only fair since Jim beat him the year before to win it en route to the championship. If you need one more reason to think that Warren may have an advantage here, how about this? Since 1993, either Warren or
Kurt
has made it to the finals in Dallas, and that includes í93 when they raced each other. But, with all of the 6.70 runs that were thrown out in Reading at the last race,
did you know
that Warren Johnson didnít make any of them? And thatís amazing. At a track that would take all the power that you could give it, Warren couldnít give it enough, and he lost in the first round.
Did you know
that, at that event, the eventual winner,
Troy Coughlin
, became the first Pro Stock driver in history to run in the 6.70 range on four, consecutive rounds? How about a 6.77, 6.78, 6.76 and 6.76 for a dayís work? Of course, he needed that in the final round when
Tom Martino
strapped a .443 reaction time on him. If you told me that Troy would make up six-hundredths on the track, I may have taken that bet. Tommyís .443 r/t in the finals was, ironically, his worst of the day. He had times of .403, .431 and .429 in the first, three rounds and thatís pretty impressive stuff. Still, it wasnít enough. Troy, who is thinking of running a Pro Mod car next year, will probably be joined by a third brother in a Pro Stock car at Las Vegas, but Iím getting ahead of myself. More on that later.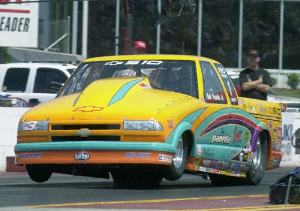 Bob Panella
The trucks come to the "Big D" for their next to last race, and three drivers have a shot at the last, Pro Stock Truck title.
Bob Panella, Randy Daniels
and
Greg Stanfield
could all win it, but not without some help this weekend. That help could come from
Mike Coughlin
, the hottest guy in the class right now, or, possibly,
Todd Patterson
. Like each of the other pro classes, qualifying will be very important, with the contenders trying to stay away from each other in the early rounds. Panella may be feeling a little bit like K.B. here, since he has never won a race at the Motorplex. In fact,
did you know
that, in the three years that theyíve run the trucks in Dallas, Bob hasnít even made it to a final round? This would be a good time to change that, wouldnít it?
The sportsman classes will also be a big part of the race this weekend, and no class will have more attention on it than the Federal Mogul Dragsters. When Rick Santos beat Mark Hentges this past weekend in Oklahoma, did you know that he moved into a virtual tie with Mark in the point standings? If they both show up in Dallas, it should be very exciting. Of course, Mark can only block, since he is out of races, while Rick, believe it or not, still has two national events left to claim. If Santos wins one of his next, two national events, itís all over. Of course, the other classes, like Super Stock and Comp will be equally as exciting, with several drivers still having legitimate shots at the title. There are too many combinations to go into here, but let me just say that, as exciting as the professional classes have been this year, the sportsman categories have been just as much fun to watch. By the way, our best goes out to Shelly Howard who crashed her car at the Oklahoma race. Still, she wrapped up the Division 4 title and Iím told that sheíll be in Texas to race. She hurt her hand, but not much else (other than the car), and thatís the good news. Sheís having a great year and we all hope to see her thereÖSo letís all go to Texas, pray for some good, cool weather, watch the records fall and cheer for all the competitors. Who ever wins, it should be a lot of fun this weekend. See ya thereÖ




NHRA: 10 Most Recent Entries [ top ]

Apr 20- HOUSTON - Pro Modified Qualifying Notes, Session #2
Apr 20- HOUSTON - Top Fuel Qualifying, Session #1 Order
Apr 20- HOUSTON - Top Fuel Harley Qualifying, Session #2 Order
Apr 20- HOUSTON - Funny Car Qualifying, Session #1 Order
Apr 20- HOUSTON - Top Fuel Harley Qualifying Notes, Session #2
Apr 20- HOUSTON - Top Fuel Qualifying Notes, Session #1
Apr 20- HOUSTON - Funny Car Qualifying Notes, Session #1
Apr 20- HOUSTON - Pro Stock Qualifying, Session #1 Order
Apr 20- HOUSTON - Pro Modified Qualifying, Session #1 Order
Apr 20- HOUSTON - Pro Stock Qualifying Notes, Session #1