Mon, 12 Jul 2004, 12:11 PM



A Man Without a Country



By Jim Luikens


Photo copyright 2004 Auto Imagery, Inc., BME Photography & Jim Luikens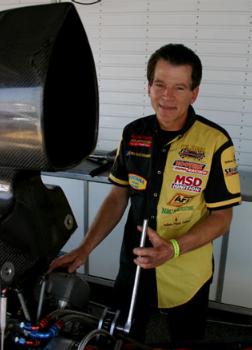 Keith Stark
Keith Stark was ecstatic when he first heard that the IHRA was going to allow injected nitro cars to compete in its Top Fuel program. As a long-time injected nitro proponent he couldn't wait to begin converting his NHRA car to the more liberal IHRA specifications. However, a funny thing happened before he could get his car completed. This is the story of Keith Stark, a 35-year drag racing veteran who suddenly finds himself like a man without a country.
What Keith didn't (and couldn't) foresee when he began making plans and ordering parts to convert his car from NHRA to IHRA specs last year was the significant improvement in the IHRA Top Fuel fields this year. The increased car count and corresponding decrease in elapsed times, especially bump spot times, has meant that every Top Fuel qualifying position at every IHRA race this year has been claimed by a supercharged Top Fueler.
No less than seven different injected Top Fuel competitors have attempted to qualify at the five IHRA national events that have been held so far this year. Despite their best efforts (including some that have participated in more than one race) they have all come up far short of making any field. As a result Keith, and every other injected fueler, now find themselves in an awkward position. Their cars are no longer legal for NHRA competition nor competitive enough to compete in the IHRA.
Needless to say, this is not exactly a position that Keith would have aspired to be in after 35 years in racing. As the son of Lloyd Stark, an early-day Sprint Car racer, Keith got his start in racing at just 14 years of age. He began building a 1956 Chevrolet to compete in the D/Modified Production class even though he knew he couldn't race it until he was 16. The car served as a learning tool for Keith and he occasionally won some rounds with it while he learned.
Before long the desire to go quicker and faster crept into his consciousness and he moved up to big-block powered A/MP where he continued his racing education. Like every racer, Keith always wanted to go faster and faster. He saw his next big chance in 1980 when the NHRA split their Pro Comp Eliminator into separate Alcohol Dragster and Alcohol Funny Car Eliminators.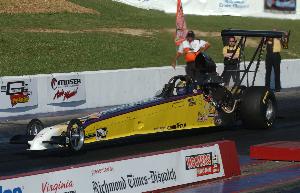 Stark at Richmond.
Keith began his Pro Sportsman racing career by competing with a B/AD (or Blown Alcohol Dragster as it was known then) in UDRA competition. The United Drag Racers Association was primarily a regional association that mimicked the NHRA rules. Racing with the UDRA taught Keith a number of things that he would need to know later in his career, like how to deal with between rounds maintenance and racing at night. His partner, Steve Flaherty, and St. Louis resident Howard Poeping were also a big help at this point in his career as Keith climbed yet another learning curve.
A Chevrolet man through and through, Keith chose a Rodeck engine with an 871 supercharger to power his B/AD. The Rodeck was simply an all-aluminum aftermarket version of the popular semi-hemi big-block Chevrolet engine. Escalating his racing involvement he then sold that car and purchased turnkey one of the premier B/ADs of the day, Steve Levy's Safeway Sandblasting Special. This car was also Chevrolet powered, but instead of the familiar Rodeck it had an Arias Chevrolet Hemi engine for power.
When he was considering buying the Safeway Sandblasting car, which was California-based, he and his father, along with his brother Greg traveled to the Fremont, California NHRA WCS event to watch the car perform. When it went all the way to the final round at that race the deal was sealed. Keith, his family and his crew ran the car with some success for two years before it was replaced by their first ever, brand-new race car, a Mike Spitzer built streamliner.
The streamliner was hard to work on and it was only campaigned for one season. The car was sold when he received a reasonable offer for it and replaced by a more conventional dragster. By now Keith was racing in the NHRA as well as with the UDRA and doing quite well on both circuits. This car is the first one that he converted to the injected nitro combination before eventually selling it as well. Dale Armstrong, Bob Brooks and Gene Adams were valuable contributors in helping Keith learn the intricacies of an injected nitro combination.
Next he purchased a brand new Don Long chassis, which had originally been built for Kenny Bernstein. The car had never been run and, at first, Keith had no success in getting the chassis to work. He finally had the chassis cut off from the foot box forward and replaced all of the tubing with a design that was a duplicate of his last Spitzer car. This proved to be a dam-breaker as the car immediately came alive. At Dallas that year it recorded an unheard of 5.63 second elapsed time and went on to be the runner-up at the event to Chuck Baird.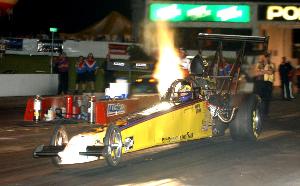 Stark lights up night sky.
The car picked up again the next year when a fan showed Keith a video of his car going down the track. In the video fuel could clearly be seen siphoning out of the injectors. Armed with this information Keith had Mike Spitzer build him his first air scoop. The car improved again and again, first to a 5.59 at 252 miles-per-hour and then to a 5.49 at 264 mph. The 1996 season-ending event, as always, was at Pomona, California. Here Keith capped his year by running an astounding 5.38 seconds at 270 miles-per-hour in his semi-final round win.
Finally, all of the years of frustration and experimentation were paying off but the racing gods had a different story ending in mind for that day and, in the final, Keith was shut off on the starting line when his engine developed a fuel leak. This relegated him to the runner-up position for the event and a 2nd place finish in the 1996 points chase. To this day that remains his highest national points finish. Despite the disappointment of the moment it was obvious that he now possessed a very potent engine combination.
For the next season Keith felt that everything was in place for a serious run at the World Championship. With the quickest and fastest T/AD on the planet and adequate backing from Albert Clark a banner year was envisioned. That plan only got as far as his first race of 1997, the Gatornationals. A horrifying accident resulted in Keith barrel rolling down the track when his chassis broke in front of the rear end housing. The most extensive of his many injuries were to his hands and arms. As of now Keith has endured 28 hand operations and he has five or six yet to go. Starting with zero usage from either hand, Dr. Bill Kleinman of the Indiana Hand Center has managed to rebuild Keith's hands to the point that he now has 100% use of his right hand and 40% use of his left hand.
"My accident," as he refers to it, changed his life. It put a heavy burden on Janie, his loving wife, and he lost his job at Bill Smith Auto Parts, a job that he had held for more than 10 years. Keith is grateful for the help that he received from DRAW and admits he could never have made it without their help. As he slowly began to recover he realized that he had to race again. When he gingerly broached the subject with his wife she was understanding and encouraged him to get started on building another car.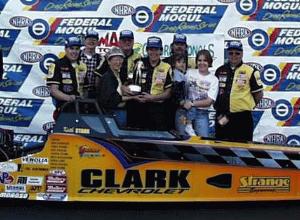 Stark celebrates Gainesville win.
One year later Keith returned to Gainesville Raceway with a score to settle. This time he went all the way to the final round where he faced Jay Payne, the very person he had been matched against on the fateful run. The story ended differently as Keith won the event and set low elapsed time for the weekend as well. Keith's dad, who was later to die in 1999, was there to see the victory after the horror of the previous year, which he had witnessed as well. It would be impossible to put into words the emotions everyone felt that day.
Since that day there have been good days and bad days. In addition to his 28 hand surgeries Keith has won drag racing's biggest event, the US Nationals, in NHRA's 50th Anniversary Year. He 's won the Joliet National Event, his home track, in back-to-back years. His best elapsed time is 5.26 seconds and he's recorded a best top speed of 275.96 mph in NHRA trim.
Keith Stark is the first to admit that he's been truly fortunate. He's had the support of a great wife, been blessed with great sponsors and crew members over the years and had a chance to live his dream. Now's he's ready for the next chapter in his racing career. Hopefully this man, who's given so much, endured so much and pioneered so much, can find a place to race his dragster.




IHRA: 10 Most Recent Entries [ top ]

Dec 03- Historic Mo-Kan Dragway Reaches Multi-Year Agreement with IHRA
Oct 24- Summit SuperSeries Champions Crowned at IHRA Summit SuperSeries World Finals
Oct 24- Summit Racing Equipment Renews Commitment to IHRA Summit SuperSeries in 2020
Oct 08- Beacon Dragway Chosen as IHRA Division 2 Track of the Year
Oct 08- London Dragway Emerges With Win at IHRA Division 2 Summit Team Finals
Oct 08- Xtreme Raceway Park Named IHRA Division 4 Track of the Year
Oct 07- Pine Valley Raceway Captures IHRA Division 4 Summit Team Finals Win
Oct 03- Beaver Springs Dragway Named IHRA Division 3 (North Stars) Track of the Year
Oct 03- Dragway 42 Repeats as IHRA Division 3 (North Stars) Champions
Sep 19- Muncie Ends US 131 Winning Streak at IHRA Division 5 Summit Team Finals