Sun, 14 Oct 2001, 01:34 PM



Bybee & Payne Win in Final Southeast Division Event of Season



Courtesy of NHRA Marketing



BRISTOL, Tenn. --
In the final NHRA Federal-Mogul Southeast Division event of the season, Billy Bybee and Jay Payne took the wins in Federal-Mogul Dragster and Federal-Mogul Funny Car at Bristol Dragway.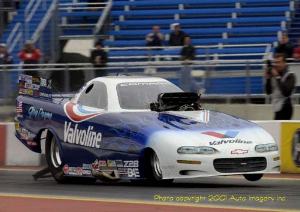 Jay Payne
Bybee almost missed the opportunity to compete in the final due to technical problems with his dragster. The McLean, Texas, resident and his crew were able to prep the dragster in time and have a 5.630 second, 254.33 mph pass to defeat Bill McCornack of Lexington, Ky.
Earlier in the day, Bybee set a new track record with a 5.531 second, 258.14 mph pass.
In the Federal-Mogul Funny Car final, Von Smith of Oak Ridge, Tenn., had his best time of the weekend, but Payne edged Smith with a 5.750 second, 247.61 mph pass for the win lights.
"Jay is just running great right now, he's got his act together," said Smith. Payne came into the event having won the last two Southeast divisional events, and has three divisional and national event wins overall this season. The current division points leader is also second in points nationally, and is the defending NHRA Southeast Division Champion in his class.
With plenty of experience in the winner's circle, the Federal-Mogul Funny Car racer was rather calm before the final. "Everything is great," said Payne. "I expect a good run in the final."
With the win, the Claremont, Calif., resident forces Smith to win in Las Vegas, to win the Southeast Division Federal-Mogul Funny Car title. The Las Vegas Motor Speedway will host the final NHRA Federal-Mogul Drag Racing Series divisional event of the year, Nov. 2-4. This will be the last chance for racers across the country to gain points for divisional and national championships.
Winners in other categories are Brian Browell of Lafayette, Ind., in Comp; Woody Adcock of Columbus, Ga., in Super Stock; Bill Howell of Aiken, S.C., in Stock; Gary Trumble of Ormond Beach, Fla., in Super Comp; John Michaels of Oakdale, N.Y., in Super Gas; and Mike Giuliano of Wantagh, N.Y., in Super Street.
The following are Saturday's elimination results from the NHRA Federal-Mogul Drag Racing Series at Bristol Dragway:

FEDERAL-MOGUL DRAGSTER
Semi-Finals
Bill McCornack, 5.712, 246.26 def. Marty Thacker, 5.849, 237.21
Billy Bybee, 5.769, 235.72 def. Artie Allen, 5.751, 243.63

Final
Billy Bybee, 5.630, 250.92 def. Bill McCornack, 5.660, 250.92

FEDERAL-MOGUL FUNNY CAR
Semi-Finals
Jay Payne, '01 Camaro, 5.758, 246.71 vs. BYE
Von Smith, '00 Corvette, 5.870, 246.71 def. Steve Harker, 6.648, 151.60

Final
Jay Payne, '01 Camaro, 5.750, 247.61 def. Von Smith, '00 Corvette, 5.806, 248.34

COMP
Brian Browell, Lafayette, Ind. '97 Chevy, D/D, 7.853 seconds, 131.33 mph def.
Larry Pritchett, Clarkrange, Tenn., '98 Grand Am, D/SM, BROKE

SUPER STOCK
Woody Adcock, Columbus, Ga., '82 Firebird, GT/HA, 11.018 seconds, 120.29 mph def.
Wayne Hayes, Elgin, S.C., '56 Belair, SS/OA, 18.757, 41.07

STOCK
Bill Howell, Aiken, S.C., '70 Mustang, B/SA, 10.958 seconds, 116.59 mph def.
Randy Parker, Four Oaks, N.C., '85 Camaro, L/SA, 12.440, 104.50

SUPER COMP
Gary Trumble, Ormond Beach, Fla., '00 Worthy, 8.995 seconds, 157.61 mph def.
Sherman Adcock Jr., Columbus, Ga., '00 Ray Miller, 9.021, 152.35

SUPER GAS
John Michaels, Oakdale, N.Y., '70 Nova, 9.985 seconds, 137.60 mph def.
Mark Payne, Waynesboro, Va., '96 Beretta, 9.984, 149.48

SUPER STREET
Mike Giuliano, Wantagh, N.Y., '67 Camaro, 11.015 seconds, 133.65 mph def.
Mike Griggs, Ocala, Fla., '67 Chevy, 10.989, 125.05






NHRA: 10 Most Recent Entries
[ top ]
Apr 20
-
HOUSTON - Pro Modified Qualifying Notes, Session #2
Apr 20
-
HOUSTON - Top Fuel Qualifying, Session #1 Order
Apr 20
-
HOUSTON - Top Fuel Harley Qualifying, Session #2 Order
Apr 20
-
HOUSTON - Funny Car Qualifying, Session #1 Order
Apr 20
-
HOUSTON - Top Fuel Harley Qualifying Notes, Session #2
Apr 20
-
HOUSTON - Top Fuel Qualifying Notes, Session #1
Apr 20
-
HOUSTON - Funny Car Qualifying Notes, Session #1
Apr 20
-
HOUSTON - Pro Stock Qualifying, Session #1 Order
Apr 20
-
HOUSTON - Pro Modified Qualifying, Session #1 Order
Apr 20
-
HOUSTON - Pro Stock Qualifying Notes, Session #1