Mon, 8 Oct 2001, 01:49 AM



Records Fall While Scelzi, Force, Coughlin and Savoie Win at Maple Grove



Courtesy of NHRA Communications



MOHNTON, Pa. -
Raceway John Force inched closer to his 100th career win by defeating Whit Bazemore at the Pep Boys NHRA Nationals presented by Greased Lightning for his 98th NHRA Funny Car national event win. Force's Castrol GTX Ford Mustang needed a blast of 4.792 seconds at 312.06 mph to outrun Bazemore's pass of 4.832 at 318.54.
Gary Scelzi, Troy Coughlin and Angelle Savoie also won their respective categories at the $1.9 million race at Maple Grove Raceway, the 21st of 24 races in the $50 million NHRA Winston Drag Racing Series.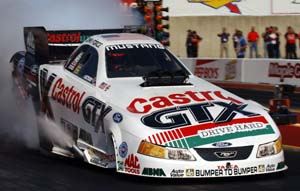 John Force
Force redeemed himself after losing to Bazemore at last weekend's NHRA Nationals outside of Chicago. In the process, Force also earned the maximum 138 NHRA Winston points by qualifying No. 1, setting the national record and winning the race in his pursuit to win an unprecedented 11th NHRA Winston championship.
"We're excited to get the (national elapsed time) record, that's important to us," said Force, the winningest driver in NHRA history. "That's more Austin Coil, Bernie Fedderly and my team. To them it is more personal to get the records. To me it's points to not give them that edge."
Force led a parade of national records by capturing the Funny Car elapsed time record at 4.731 during qualifying. Force used runs all in the 4.70 range to defeat Bob Gilbertson, Dean Skuza, Johnny Gray and finally Bazemore.
"Coil said, 'Do you realize we ran 77's all day?'," Force said. "This track was very impressive. We never thought the national record could be set here. We figured it would be Dallas. Conditioners were excellent."
By gaining back the extra 20 points Bazemore earned by establishing the national record in Joliet, Ill last weekend, Force extended his NHRA Winston points lead over Bazemore to 285.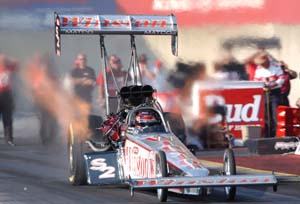 Gary Scelzi
Scelzi's second Top Fuel victory of the season and 25th of his career came when his Team Winston dragster gained the starting line advantage over opponent Kenny Bernstein and blasted down the track in 4.511 seconds at 317.19 mph. Bernstein's Budweiser King dragster couldn't make up the difference, running 4.528 at 319.67.
"I stole something from the starting line because last year I lost in the final by three thousands," Scelzi said. "I was going to steal whatever I could steal from Kenny. I definitely did that. Honest to God, I was a little surprised when I saw the win light come on in the left lane."
Scelzi saved his best pass for the last round after beating Steve Smith when he broke, surviving a peddling contest with Tony Schumacher and another tire smoking battle with Mike Dunn before outrunning Bernstein. Scelzi moved up to third place in the NHRA Winston Top Fuel points, but the runner-up finish keeps Bernstein in the lead, 58 points ahead of second place Larry Dixon
Coughlin's first career victory came when his Jeg's Mail Order Chevrolet Cavalier was able to make up the starting line advantage by Tom Martino, running 6.768 at 203.40 while Martino's Century 21 Pontiac Grand Am ran 6.847 at 200.59. After nine attempts in the final, Coughlin finally captured his first career victory that always seemed to elude him. Coughlin's three brothers have all won NHRA national events in either Pro Stock or Pro Stock Truck and Coughlin was the last of the family to join that elite company.
"It's another family milestone for us," said Coughlin, the 2001 Winston Showdown winner. "All three of my brothers and myself have won major events as a professional driver. There is nothing like it. We're just really excited with it and can't wait to go on to the next one."
Coughlin becomes the 13th different Pro Stock driver to win an NHRA national event in 2001. Coughlin defeated Kurt Johnson, Tom Hammonds, Jeg Coughlin before meeting Martino in the final. Warren Johnson, Jim Yates and Kurt Johnson all lost in first round upsets but Warren Johnson still leads the NHRA Winston Pro Stock points standings, 134 ahead of Yates.
The cool autumn temperature and dry air allowed the Pro Stock cars to blow away the national records. Jeg Coughlin earned an extra 20 Winston points by establishing the NHRA e.t. record with a pass of 6.750. Mark Osborne inked his name in the record book by obliterating the Pro Stock speed record by running 204.35.
Savoie, the defending NHRA Pro Stock Motorcycle champion, picked up the 21st win of her career and sixth this season. Savoie's Team Winston Suzuki was quicker than Steve Johnson's K&N Filters Suzuki, running a 7.099 at 185.84 to a 7.168 at 184.98. Although Savoie qualified eighth, her worst of her career, she was able to defeat Shawn Gann, Matt Hines, Antron Brown and finally Johnson.
"We looked back at our races before and we noticed that in Houston we had to race Antron Brown, Matt Hines and Shawn Gann and we won that race," said Savoie, the winningest female driver in NHRA history. "I just realized that I had four final rounds today rather than just one. It was kind of backward today since Steve (Johnson) and I usually meet in the first round. I tried to stay focused and not care about who was in the other lane. It was difficult but I did it."
This is Savoie's third trip to the winner's circle at Maple Grove after finishing the runner-up to Hines at last year's event. Although Antron Brown is Savoie's closest competitor in the NHRA Winston Pro Stock Motorcycle points, Savoie was more impressed with her win over Hines.
"The win over Matt was bigger than anything else today," Savoie said. "I was happy to beat Antron because he is a tough competitor. To beat Matt after he had set the national record. I was the total underdog."
Although Hines lost in the second round to Savoie, he left Maple Grove Raceway with another record to his credit. Hines broke into the 7.0 second range with a 7.092 run against Joe DeSantis in the opening round of eliminations. Hines now becomes the only NHRA Pro Stock Motorcycle competitor to break into the7.0 range, the 7.1 range (1999 Keystone Nationals, Reading Pa.) and the 7.2 range (1997 Virginia Nationals, Dinwiddie, Va.).
The next NHRA Winston Drag Racing Series event is the 16th annual O'Reilly Fall Nationals, October 18-21 at the Texas Motorplex in Ennis, Texas.
Sunday's final results from the 17th annual Pep Boys NHRA Nationals presented by Greased Lightning at Maple Grove Raceway. The $1.9 million race is the 21st of 24 events in the $50 million NHRA Winston Drag Racing Series:
Top Fuel -- Gary Scelzi, 4.511 seconds, 317.19 mph def. Kenny Bernstein, 4.528 seconds, 319.67 mph.
Funny Car -- John Force, Ford Mustang, 4.792, 312.06 def. Whit Bazemore, Pontiac Firebird, 4.832, 318.54.
Pro Stock -- Troy Coughlin, Chevy Cavalier, 6.768, 203.40 def. Tom Martino, Pontiac Grand Am, 6.847, 200.59.
Pro Stock Bike -- Angelle Savoie, Suzuki, 7.099, 185.84 def. Steve Johnson, Suzuki, 7.168, 184.98.
Federal-Mogul Dragster -- Mark Hentges, 5.338, 265.22 def. Rick Santos, 5.293, 266.11.
Federal-Mogul Funny Car -- Frank Manzo, Dodge Avenger, 5.615, 255.48 def. Bob Newberry, Avenger, 11.068, 75.86.
Comp Eliminator -- Dave Northrop, Oldsmobile Cutlass, 7.751, 172.65 def. Richard Schonberger, Pontiac Firebird, 9.191, 147.62.
Super Stock -- Peter Biondo, Pontiac Firebird, 10.088, 119.45 def. Dan Fletcher, Chevy Camaro, 9.958, 128.10.
Stock -- Bob Letellier, Pontiac Chevy Nova, 11.551, 112.49 def. Mickey Whaley, Chevy Camaro, 11.799, 98.59.
Super Comp -- Rod Fuller, 8.883, 167.82 def. Ron Erks, foul.
Super Gas -- Ed Alessi Jr., Pontiac Catalina, 9.901, 138.67 def. Ricky Hall, Chevy Camaro, 9.887, 149.08.




NHRA: 10 Most Recent Entries [ top ]

Apr 20- HOUSTON - Friday Wrap
Apr 20- HOUSTON - Saturday Schedule
Apr 20- HOUSTON - Top Fuel Qualifying, Session #2 Order
Apr 20- HOUSTON - Top Fuel Qualifying Notes, Session #2
Apr 20- HOUSTON - Pro Stock Qualifying, Session #2 Order
Apr 20- HOUSTON - Funny Car Qualifying, Session #2 Order
Apr 20- HOUSTON - Pro Modified Qualifying, Session #2 Order
Apr 20- HOUSTON - Funny Car Qualifying Notes, Session #2
Apr 20- HOUSTON - Pro Stock Qualifying Notes, Session #2
Apr 20- HOUSTON - Pro Modified Qualifying Notes, Session #2