Tue, 9 Oct 2001, 09:04 PM



Well, Here We Go Again!



By Bob Frey



After the race at
Maple Grove
this past weekend, I feel like I could just run the same article that I wrote after the Chicago event and be done with it. After all, the superlatives would be the same, the record-bashing would be similar and the description of it as one of the best races ever would apply. Only the names of the winners would change, but, other than that, the two races were almost identical, that is, fast, exciting, lots of upsets and plenty of records. There were, and Iím still counting, about 80 career best efforts turned in at Maple Grove. As a fan, you really couldnít have asked for more. My only real problem is where to begin?
Bernstein vs. Scelzi
I guess Iíll start with the Top Fuel class, where
Gary Scelzi
surprised
Kenny Bernstein
in the finals. I say, "surprised," because everyone thought that, of the two drivers in the final round, Kenny had the better car. And, after smoking the tires in the two, previous rounds, Iím not sure that Gary didnít agree with that assessment. Still, in the final round, Gary grabbed a slight lead off the line and never looked back. He ran a 4.511 to beat Kenny, and,
did you know,
that that was the exact, same elapsed time that Kenny ran in the second round when he beat
Larry Dixon
? And,
did you know
that Kennyís 4.528 in the final round was his slowest time of the entire day? And,
did you know
that Garyís run was his quickest of the entire weekend. Timing!! Even with the runner-up finish, Kenny did gain ground on Dixon and he heads into the final three races with a 58 point lead over Larry. Like the Chicago race, by the way, the Top Fuel elapsed time record did not fall at Maple Grove, while the speed mark did.
Did you know
that, with all of the excitement around
Tony Schumacherís
333.08 mph pass in qualifying, it was Kenny Bernstein who left the track with the speed record? The "King of Speed" ran 332.18 in qualifying and backed it up with a 329.58 mph pass in his win over Dixon to claim the record. Too bad for Kenny that you donít get any points for the speed mark. But then, I guess thatís good for Larry, isnít it? The win over Dixon was so close, that Kenny won the
Motel 6
"Who Got The Light" award.
Did you know
that this is only the second time this season that a dragster driver has won it?
Doug Kalitta
got the honor at Chicago earlier this year.ÖHistorically, Kenny and Gary couldnít have been more evenly matched in final rounds.
Did you know
that they were 4-4 against each other in final rounds for their careers prior to this weekend, and 1-1 this year? Well, I guess the advantage belongs to Gary now, doesnít it?ÖIíd be remiss if I didnít mention the outstanding performance by
Scott Weis
at Maple Grove. For the second, straight week, the independent driver from Ashland, Virginia, pulled a major upset in round one, only this time, he parlayed it into a semi-final appearance. So far this year,
did you know
that Scott has beaten Gary Scelzi,
Mike Dunn, Darrell Russell
and
Doug Kalitta
? And, he gave Kenny a scare in the semis this week, too. Nice going to Scott and his entire team!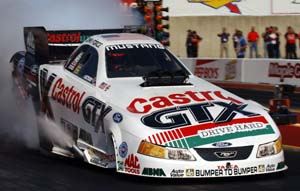 John Force
The Funny Car class was simply awesome at Maple Grove. For the second, consecutive week, a driver took home 138 points in the FC class, and that doesnít happen very often. This time, though, it was
John Force
who turned the trick, beating
Whit Bazemore
in another, classic, final round. The two drivers, who qualified #1 & 2, were the class of the field, and they certainly didnít disappoint the fans in the final. John ran a 4.792 to beat Whitís 4.832. Like Kenny, Whit saved his worst, for last.
Did you know
the 4.832 was his slowest time of the day? Of course, John would have been hard to beat since he ran another 4.7 second time, making it four for the day, and thatís the first time thatís ever been done. Johnís performance just continues to add to his legacy as the best, Funny Car driver ever. The win, his 98
th
, means he has a shot at hitting number 100 before the year is over. And then itís off to the dragster class. Wait, did I say that? Anyway,
did you
know
that John was also the first driver to run in the 4.8 second range, and that he did that eight times at the same event, four in qualifying and four in eliminations? In July of 1996, he set the record at 4.889 in Topeka after making every run of the weekend in the 4.8 zone. That was another 138 point week for the champ, and just another part of his great legacy. With the win, John can now clinch his 11
th
Winston title at the next race in Dallas. Weíll have more on that next weekÖ.Whitís
Matco Toolsí
team certainly doesnít have anything to be ashamed of. Sure, they came to Maple Grove to win, but their performance and determination made it a very exciting, thrilling weekend for all of us, and they left with a 4.732 best, just a tick behind the champÖ
Dean Skuza
almost upset Force in the second round, running a 4.811 in a losing effort. Still, itís the best that the
Mopar, Cornwell Tools
team has looked in a while and thatís good for them, and the class. Look for an announcement from them very soon about 2002, and it doesnít include a dragster.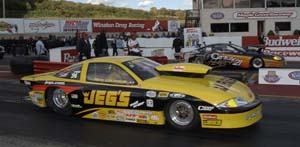 Coughlin vs. Martino
The Pro Stock record book took a huge beating in Pennsylvania, with
Jeg Coughlin
and
Mark Osborne
lowering the elapsed time and raising the speed marks respectively. Jeg, using a
Steve Schmidt
motor, took the E/T mark with a stunning 6.750, while Osborne in the
Mopar
, ripped off a 204.35 mph run that was good enough for a piece of history and the recordÖ I told you last week that the experts said weíd have the first, 6.7 Pro Stock run at Maple Grove, well, even the experts didnít think weíd have so many of them.
Did you know
that the record-setting time of a week ago, the 6.801 by
Kurt Johnson
in Chicago, would have gotten you the #8 qualifying spot at the Grove? Number 8. And, for the second, straight week, the driver who set the record wasnít around for the final run. This time, it was a first-time winner,
Troy Coughlin,
using an in-house motor from the
Jegís camp
,
who grabbed the gold with a come-from-behind win over
Tom Martino
. Iím sure you know that Troy is the 13
th
different winner in Pro Stock this year, and thatís a record. But
did you know
that, coming into this race, Troy had won a grand total of
one
round all year long? One! Now I find that amazing. And I find this amazing, too.
Did you know
that, when Troy won the race from the 14
th
qualifying spot, it meant that as many #14 qualifiers had won in Pro Stock this year as #1 qualifiers? Really! Only
Mike Edwards
and
Warren Johnson
have gone from the top spot to the winnerís circle so far this year, while
Jim Yates
and Troy have now won when starting 14
th.
The win avenged Troyís earlier loss to Martino in the finals in Columbus back in 1997, Troyí s first, professional final round appearance. Now, every member of the Jegís family has won an NHRA national event in the pro classes except, believe it or not, Jeg senior. Go figure..Ö.Speaking of Yates, he failed, again, to take advantage of Warrenís early exit, losing himself in the first round. That means that W.J. goes into the last, three races of the year with a 134 point advantage. Good luck, Jim. And, speaking of Warren,
did you know
that he wasnít one of the drivers who recorded their career best numbers this weekend? In fact, the "Professor" still hasnít dipped into the 6.70 zone. Wow!.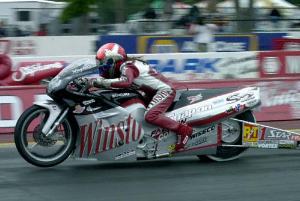 Angelle Savoie
Pro Stock Motorcycle almost produced the biggest, upset of the race, when
Steve Johnson
made it to the final round. Steve, who has toiled in the fields for years, ran very well all weekend long, and almost got his first win when he ran a career best of 7.168 in the finals against
Angelle Savoie
.
Did you know
that this was the fifth, final round of Steveís career and the second at Maple Grove? Ironically, he lost here in 1995 to
John Myers,
but then, Tom Martino and
Dan Fletcher
also lost in the finals at Maple Grove in í95 and they lost, again, in 2001. Now, I donít know if thatíll make Steve fell any better, but itís an interesting little stat. Angelle beat an all-star lineup this weekend, including
Shawn Gann
,
Matt Hines
and
Antron Brown
before facing Johnson. And, while she didnít qualify 14
th
like Troy Coughlin did, her #8 starting berth was the worst of her career.
Did you know
that, other than
G. T. Tonglet
in St. Louis, who won from the 13
th
spot, no driver who has qualified lower than fourth has won a motorcycle event this year?ÖMatt Hines, like Jeg Coughlin, set the national record, made history with the quickest run ever in the class, and left without a win. His 7.092 in round one means that he will, forever, be remembered as the first person to run a 7.0 at an NHRA national event on a motorcycle. Angelle became the second when she went 7.099 against Steve in the finals.
The sportsman racers sure did their part to make the Maple Grove event a memorable one. Beside the final round that featured Peter Biondo and Dan Fletcher, only their second, final round match up by the way, we had monster runs in the Federal Mogul Dragster and Funny Car classes as well. Mark Hentges, needing to win to keep his title hopes alive, avenged a couple of early season final round losses to Rick Santos, when he beat the champ on a holeshot in the finals. Like Jeg and Matt, Rick left the track with the record, but not with the trophy, and how many times has that ever happened to him? It is the first time since 1994, by my calculations, that a blown car has held the FM Dragster record. Iíll have more on that in my "From The Tower" column here on ThursdayÖ.And what can you say about Frank Manzo? After beating Paul Gill in a divisional, make-up race on Saturday, and securing his "perfect ten" for the season, Frank went out on Sunday and won, again. Plus, he blew an engine in the second round and could have just packed up and went home. But he didnít. He put a new motor in, beat Gill again in round three, and won the event over his close friend, Bob Newberry. You know, after a performance like that, Iím almost embarrassed to say that I had Frank only #20 on my top 50 driverís list. Of course, some voters didnít have him on their list at all. Shame on them!! Regardless, Iíve gotta reiterate, the Maple Grove race was spectacular, now it only remains to be seen what Dallas has in store for us.




NHRA: 10 Most Recent Entries [ top ]

Apr 18- Haney Headed for NHRA Pro Mod with Summit Racing on His Side
Apr 18- HOUSTON - Richie Crampton Enjoying Early-Season Success Heading to 31st Annual NHRA SpringNationals
Apr 18- 2018 Mustang Cobra Jet Celebrates 50th Anniversary of Racing Legend with Quickest
Apr 18- New Ford Mustang Funny Car Scheduled to Debut In 2019 NHRA Mello Yello Season Opener
Apr 16- HOUSTON - Fact Sheet
Apr 16- HOUSTON - After Early-Season Mishap Funny Car's Jonnie Lindberg Looks to Get On Track