Sat, 9 Oct 1999, 11:36 AM



Jim Dunn Selects Al Hofmann to Drive Mooneyes/Red Line Oil Firebird



Courtesy of Jeff Romack, Pontiac Racing



MILLINGTON, Tenn. --
Jim Dunn Racing has selected drag racing veteran Al Hofmann to drive the Mooneyes/Red Line Oil Pontiac Firebird for the 2000 NHRA Winston Funny Car campaign. Next season will be Dunn's 50th anniversary in the sport.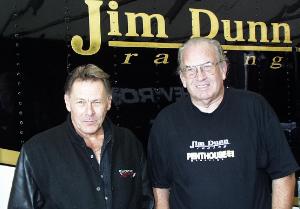 Hofmann and Dunn
"The last five or six years I've spent a lot of time training new drivers and have never really had the opportunity to run my car to its full potential," said Dunn. "Next year is my 50th anniversary in the sport and I want to win the championship, it's as simple as that. Al Hofmann is a proven driver. I can pull all the corks out and have confidence knowing that he can win races without destroying equipment. A new driver doesn't have that experience. We have two brand new chassis for next year, new motors and a full war chest. The Mooneyes/Red Line Oil Pontiac Firebird will be ready to race."
Jim Dunn is one of the original pioneers of NHRA Drag Racing. He began his career in 1950 as a competitor when the popularity of the sport was just starting to take hold on local strips throughout Southern California.
Over the years, Dunn has accumulated numerous wins and held performance records as both a driver and a crew chief. He won the 1972 Supernationals in Ontario, Calif., the 1981 World Finals in Irvine, Calif., and was runner-up at the 1981 U.S. Nationals in Indianapolis. He finished 10th in the NHRA Winston Funny Car standings in 1981.
After retiring from driving in 1990, Dunn's career continued to flourish as a respected crew chief, technical advisor and car-owner. He wrenched cars to numerous victories throughout the decade including the 1997 Big-Bud Shootout in Indianapolis, the 1998 Pontiac Excitement Nationals in Columbus, Ohio and this year's U.S. Nationals in Indianapolis. His Red Line Oil Firebird is currently fourth in the Winston Funny Car standings and is one of only four cars to qualify at every race this season..
Dunn and Hofmann
During his 12-year NHRA Funny Car career, Al Hofmann has won 15 races and competed in 31 final rounds. His best season was in 1995 when he won five events and finished second in the Winston standings. His last win was at the 1998 AutoZone Nationals at Memphis Motorsports Park. In addition to his victory last year at Memphis, Hofmann was runner-up at the 1998 Advance Auto Parts Nationals in Topeka, Kan.
"Jim Dunn and I have been racing a long time," said Hofmann. "He respects what I can do as a driver and I surely respect what he can do as a crew chief and owner. I think it's going to be great for both of us. With Mooneyes as the major sponsor along with Red Line Oil and Pontiac, I really feel that we have a legitimate shot at the championship. I know how good Jim Dunn's race cars can run when he has the funding to do it. This is his 50th anniversary and it's going to be an honor driving his car.."




NHRA: 10 Most Recent Entries [ top ]

Apr 24- CHARLOTTE 1 - Steve Torrence Enjoying Four-Wide Success Heading to NGK Spark Plugs NHRA Four-Wide Nationals
Apr 24- CHARLOTTE 1 - Fact Sheet
Apr 24- Kalitta Motorsports Welcomes NASCAR Stars to the SealMaster Track Walk in Charlotte
Apr 24- zMAX Dragway Celebrates 10th Anniversary
Apr 24- CHARLOTTE 1 - NGK Spark Plugs NHRA Four-Wide Nationals Brings 40,000 Horsepower Thrill Show to zMAX Dragway
Apr 23- HOUSTON - Lucas Oil Drag Racing Series Wrap Up The NHRA Lucas Oil Drag Racing Series Wrap Up
Apr 23- CHARLOTTE 1 - J.R. Todd Aiming for Two Four-Wide Racing Wins in 2018
Apr 23- Mid America Dragway Joins NHRA Member Track Network
Apr 23- HOUSTON - Special Awards
Apr 23- HOUSTON - Sunday Video