Wed, 20 Nov 2002, 02:11 PM



ĎTis The Season To Go Golfing!!



By Bob Frey


Photo copyright 2002 Auto Imagery, Inc.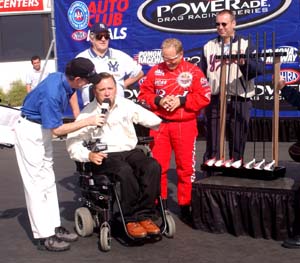 Darrell presents Kenny golf clubs.
You may all be wondering what race car drivers, owners, crew members and the like do during the off-season. Well, as much as theyíd like to have you believe that they all work hard getting ready for next year, the truth is that most of them go golfing. Some went last week in California and the rest of them will be playing this weekend in Florida. Last week, in Santa Maria, California, several racers and lots of community members got together for the 6th annual
Blaine Johnson Memorial Golf Tournament
. With
Ron Capps
,
Bruce Sarver, Jim Head
and that noted golfer,
Alan Reinhart
in attendance, they raised over $40,000 for the Allan Hancock College industrial arts program, a program that was near and dear to the late Blaine Johnson. Hereís a tip of the cap to all who participated and, especially, to the entire Johnson family, a family that just continues to give back to the community. Itís folks like them that make our sport so great. A special thanks, also, to Don Prudhomme and Ron Capps who donated a hospitality visit to the Skoal pits at one of the national events next year. That little item, along with a couple of tower suite passes which were donated by NHRA, brought about $7,000 at the auctionÖ.Well, if you missed that affair, you can still tee it up this weekend in Florida as
Darrell Gwynn
and his family host their annual get together. With the proceeds of this tournament going to the
Miami Project
to cure paralysis, and with Darrell supporting it and promoting it, itís bound to be a hit. Since A.R. canít make it down to Florida in time for the tourney, Iím sure the caliber of golf will be a little bit higher than it was in California!! Still, we wish Darrell and is family all the best as they, too, epitomize everything thatís good about this sport. After all heís been through, Darrell continues to help others and give back to the community and thatís a great thing. No wonder heís in the
Drag Racing Hall of FameÖ.
By the way, both of those teams, the
Alan Johnson Toyota
team and the Darrell Gwynn
New York Yankees
team have told me that they are moving forward in preparation for 2003. Itís no secret that both teams could use a little extra financial help and letís hope that they get it. Contrary to popular opinion, I was told that Darrell, if he comes back, will have the support of the New York Yankees again in 2003. Now that I think of it, isnít it the 100
th
anniversary for the Yankees next year? Think of the tie-ins that could be worked out for that celebration.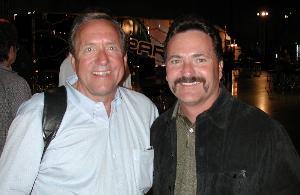 Don and Gary
Another Funny Car team, the
Dean Skuza
one, has also told me that, "You can quote me, we will be back next year." Thanks, Dean, because there had been a lot of speculation, especially when it was learned that they wonít be part of the Mopar team in 2003. Dean has always been successful and he is one of the more marketable commodities out there, so look for this Cleveland Indianís fan to land on his feet. Hey, how about an Indians- theme car to battle the Yankees on their 100
th
anniversary? Just a thought. And Dean, why not bring back the "word of the day" in your interviews? I loved it. Platypus was my favorite, by the wayÖ.
Gary Scelzi
told me that he enjoyed two great days of testing in Las Vegas in the Oakley car. "I ran my personal best in a Funny Car," he said. "4.86 and we did it a couple of times." Gary was ecstatic after the session that included about five runs and he said that he,
Mike Neff
and all the guys got along famously. Gary hasnít sounded this happy since he got the ride with Alan Johnson in í97. Heís off to the chassis shop to get a new car fitted for him and, with
Scotty Cannon
and
Whit Bazemore
as team mates, and with the strong support of
Don Schumacher
and
Oakley
, Iím telling you, 2003 could be the best year ever in the Funny Car class. And, mark my words, you havenít heard the last announcement from this team yet. As we say in the television biz, "Stay tuned, thereís more to come!"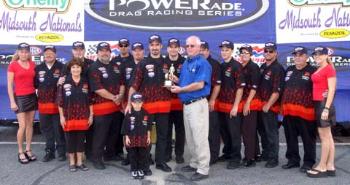 Race Girl team won best-appearing.
Since I mentioned a couple of Funny Car teams, how about a little info on some dragster teams for 2003? First of all, congrats to
Yuichi Oyama
for his performances this year.
Did you know
that he improved on his career best effort at each race this season?
Mike Strasburg,
with the
B & J Transmission
car, also had a great year, making steady progress at each and every event and thatís about all you can expect from a team, isnít it? Both Yuichi and Mike, by the way, finished the season by adding to their career bests at Pomona. Yuichi ran 318.24, the fastest speed of his rookie season, while Mike went 4.705 to record his best elapsed time in his initial year in the classÖ.
Scott Weis
, who beat
Larry Dixon
in the first round at Pomona, also ended the year by recording the best speed of his career, a strong 319.52 mph blast. Scott told me that he and the team will definitely be returning for the 2003 season, with continued sponsorship from the folks at
Race Girl
sportswear. They did have
Lucas Oil
on the car for a while this year and letís hope that
Forest Lucas
and his company decide to stay with the team next season. This is another one of the good, young teams in the TF ranks and they are a nice addition to the field, a Top Fuel class that should be even stronger next year than it was in 2002. Plus, any team that wears flames on their uniform shirts is OK with me!!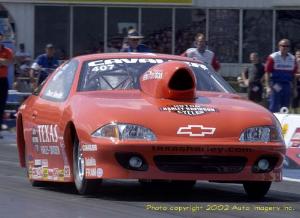 Don Smith
I noticed a few interesting things about the Pro Stock class after all was said and done this year. One thing that was apparent, a lot of the teams from the Pro Stock Truck class were switching over to the car category.
Mike Corvo, Randy Daniels, Charlie Greco,
Don Smith, Greg Stanfield, Mark Whisnant
and others all made the jump in 2002. And, while they had varying degrees of success, I think you can look for all of them to step up next year, including
Bob Panella
, who will probably drive a second car for the team that already includes
Scott Geoffrion
and owner,
Hurley Blakeney
ÖHereís one interesting little stat,
did you know
that Don Smith has already recorded a 200 mile per hour run in his Pro Stock career and that
Bob Glidden
has never done that? I donít know about you, but I find that amazingÖ
Warren Johnson
, who had just one win this year, his worst season since 1990, has now gone 17 races without a victory, and thatís a huge drought for the "Professor." Warrenís 26 round wins was also his lowest total since way back in 1987, a year when he also finished 4
th
in the points. Having said that, those of us who follow Pro Stock religiously know that W.J. usually follows a "down year" with a spectacular one, so donít be too surprised if he wins it all next yearÖ.
Jeg Coughlin,
who went to four consecutive finals coming into Pomona, missed the chance to join a very elite club when he went out in the second round.
Did you know
that it has been five years since a Pro Stock driver went to five final rounds in a row? And,
did you
know
that, in the entire history of Pro Stock, only two drivers have ever won five races in a row?
Ronnie Sox
and
Bob Glidden
, two pretty fair racers, are the only guys to win five straight in the thirty-two year history of Pro Stock. Amazing, isnít it?
Now, in the sportsman ranks. From what I hear, thereís going to be a new addition in the Division 1 alcohol funny car ranks next year. Letís see, how can I put this? If my sources are correct, a certain driver, whoís dad is a legend and one of NHRAís Top 50 drivers of all time, is about to be announced as the driver for an alky funny car that will compete against Frank Manzo and the rest of the D-1 boys. In fact, heíll be competing in one of Frankís recent cars. Since no formal announcement has been made yet, I can say no more. But as Frank, Bob and Paul would say to anyone who wants to race in Division 1, "come on down!" Good luck to this driver and his car owner, who, by the way, has a very interesting story of his own to tellÖ.Still in the alky classes, did you know that when Steve Gasparrelli won the Finals in Pomona, it was his third national event win? Whatís so interesting about that you say? Well, did you know that his dad, Lou, also won three national events? Whatís so interesting about that you say? Well, did you know that two of Steveís wins came at the NHRA Finals in Pomona, while two of Louís wins came at the Winternationals at Pomona? Now thatís interesting.
Finally, our thoughts and prayers go out to Kurt Damron, Mike Archbold and Bill Fredrick who were all injured in an accident at Kurtís Undercover Chassis shop last week. While Mike and Bill did suffer some burns, Kurt is, by far, the most seriously injured of the three, and from what I hear, he may be in the hospital for up to two months with burns over fifty percent of his body. If youíd like to show Kurt how much you care, and to let him know that youíre thinking about him, why not drop a card to him c/o Undercover Chassis, 3609 W. Main Street, Leesburg, Florida 34785. I know it will mean a lot to him and, for all the good things he has done for so many racers, it would be a nice gesture on our part, especially at this time of the year. Get well, Kurt!!


NHRA: 10 Most Recent Entries
[ top ]
Apr 22
-
HOUSTON - Top Fuel Round 1 Eliminations
Apr 21
-
HOUSTON - Sunday Schedule
Apr 21
-
HOUSTON - Saturday Video
Apr 21
-
HOUSTON - Saturday Wrap Up
Apr 21
-
HOUSTON - Super Stock Class Eliminations Finals
Apr 21
-
HOUSTON - Funny Car Qualifying, Session #4 Bonus Points
Apr 21
-
HOUSTON - Total Qualifying Bonus Points
Apr 21
-
HOUSTON - Funny Car Eliminations Ladder
Apr 21
-
HOUSTON - Funny Car Final Qualifying, Session #4 Order
Apr 21
-
HOUSTON - Top Fuel Qualifying, Session #4 Bonus Points