Fri, 5 Oct 2001, 07:16 PM



He's Just An Average Joe. I Mean, Wayne!!



By Bob Frey



I often write stories about drag racers who have turned in superior, record-breaking performances. And I love those tales about guys who have overcome great obstacles to race and win on the national level. But you know, for every one of those stories, there are, literally, thousands of guys and gals who are just your average people, working folks who go about their daily lives just waiting for the weekend so they can race. And, while they may not have that one, spectacular moment in their career to talk about, they are the folks who make this a great sport. Wayne Meli is just such a guy.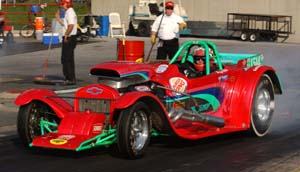 Wayne Meli
Wayne Meli is a 47-year-old racer who has been drag racing for most of those years. "I built my first car when I was 13 years old," he said, "and Iíve been racing, more or less, ever since." Now I know that I said Wayne is an average guy, but, when I look at some of the cars that he has raced, there really isnít anything "average" about them. "I bought a 1960 Chevy for about 25 bucks," he said almost apologetically. "Then I junked the car, took the motor out and put it in a í55 Chevy that my aunt gave me and went to the races." The car also had a set of bucket seats from a Pontiac Bonneville, weighed about 4,000 pounds and fit, neatly into the old Modified Production class. To quote Wayne, "it was an interesting car." Yeah, a car just like your average guy would run!
After racing that car for a couple of years at Atco Dragway, and the old Strato-Rods drag strip that was run by the U.S. Air Force at McGuire Air Force Base in New Jersey, (and where I once announced), Wayne decided that it was time to step up. So, he came up with a í58 Studebaker with a flathead engine and door handles that were so big they were actually off an old storm door that Wayne just happened to have handy. Oh, did I mention it was a Studebaker truck? Just another average car. Or, to quote Wayne, "it was real state-of-the-art." As the years progressed, Wayne "built a lot of junkers," but he stayed involved in the sport. Then, as the years progressed, he really did step up, with a 1967 Chevelle SS, with a 396 cubic inch engine and 375 horsepower, that he ran in the bracket classes at both Atco and McGuire. Plus, it became a fixture at some of the early Super Chevy races as well as at some of the muscle car events of that era.
In the late Ď80ís, Wayne bought a Chevy Monza that had been run and crashed earlier in the year. "I spent ten months putting it together and then I raced it in Super Gas, Super Street and in some bracket classes. I had some success with it." Which, I believe, brings us up to his present car, a gorgeous 1927 Ford Roadster that runs in Super Gas. Wayne saw the car advertised in National Dragster and decided that this would be his next ride. I mean, itís no Studebaker, but it would have to do. With its unique, pink and green paint job, it isnít hard to find Wayneís car in the pits. "Thatís the color it was when I bought it," he told me, "and I liked it so I left it alone." In addition to the color, the car has the best of everything, including a 454 engine, all the electronics, a beautifully chromed roll cage, and the rest of the stuff that goes into todayís, average Super Gas car. And Wayne, a self-taught mechanic, does all of the work on the car himself. "Other than the trans, which Joe "D" built (referring to New Jerseyís Joe DiPasquale), I do all the work myself It runs well and I freshen it up every winter."
Wayne, like so many other drag racers, wishes that he had more time to go to the track, but, right now, heís happy working as the manager at Morganís Tire Service in Burlington, New Jersey (no exit!), where he has been for about two years, now. "As much as Iíd like to be racing more," he said, "Iím very fortunate to have a good job. I grew up with Harold and Paul Morgan, we went to school together, and Iím glad that I can help them out." The Morgan Tire Service, by the way, is a full service shop that has 13 bays, and handles between fifty and sixty jobs a day. And, now that heís working for his old classmates, Wayne realizes that his dad was right when he said that a good education would, eventually pay off. Actually, one of Wayneís best stories is about his days in school. "My sister was a teacher at the school I was attending, so I told all my buddies to take her class and that Iíd put in a good word for them." Whether he did that, or not, Wayne never told me, but he day say that his sister flunked him in class. "I was always day dreaming, thinking about racing, and I just figured sheíd give me a good mark. Well, I was wrong. And when I told my dad that my sister flunked me, he said, "She didnít flunk you, you did.í" You gotta love dadís, donít you?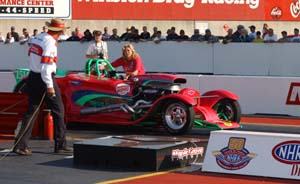 Judy giving last minute instructions.
For a guy who has never won a national event, or made the finals for that matter, I wondered what attracted Wayne to the sport, and why he has stayed in it so long. "I love the spirit of the folks, the challenges of the sport and all the friends that Iíve made over the years. I just love everything about it." Today, as he sits in the pits at Maple Grove waiting to make another time run in Super Gas, Wayne tells me that his daughter and his sister will be at the races this weekend. Yes, the same sister. And his wife, Judy, will be there, as always, on the starting line, helping him stage and cheering him on. "My daughter wants to race, in fact, she has two licenses, Super Comp and Gas. Heck, I can remember when she was learning to ride a bicycle, " he said. "Sheís going to college right now, and Iíll encourage her to race, but she knows that her education comes first." Like I said, you gotta love dads. I just hope she doesnít have her aunt for a teacher!
It will be interesting to see how Wayne does this weekend, but, even if he doesnít win, heíll be there helping his friends, and bench-racing with them. "We have a lot of fun when weíre at the track, guys like Pete Church, Benny Saia and a few others," Wayne said, "I love Ďem all. We bust on each other, but these are my friends." For a guy who sent out "Proud To Be American" buttons to dozens of his pals last week, I can honestly say that weíre proud to have guys like Wayne Meli in this sport. Nice, average guys who have contributed so much to the history of drag racing. "Iíll do it Ďtil I canít do it any more. Being at the track is the best stress-reliever there is." Hey, for a guy who ran a Studebaker truck, how much stress can there really be?




NHRA: 10 Most Recent Entries [ top ]

Apr 21- HOUSTON - Sunday Schedule
Apr 21- HOUSTON - Saturday Video
Apr 21- HOUSTON - Saturday Wrap Up
Apr 21- HOUSTON - Super Stock Class Eliminations Finals
Apr 21- HOUSTON - Funny Car Qualifying, Session #4 Bonus Points
Apr 21- HOUSTON - Total Qualifying Bonus Points
Apr 21- HOUSTON - Funny Car Eliminations Ladder
Apr 21- HOUSTON - Funny Car Final Qualifying, Session #4 Order
Apr 21- HOUSTON - Top Fuel Qualifying, Session #4 Bonus Points
Apr 21- HOUSTON - Pro Stock Qualifying, Session #4 Bonus Points