Fri, 5 Oct 2001, 10:49 PM



Track Records Fall as Scelzi, Densham, Yates and Savoie Climb to No. 1



Courtesy of NHRA Communications



At the Pep Boys NHRA Nationals presented by Greased Lightning



MOHNTON, Pa. --
after Friday Qualifying Autumn conditions gave way to numerous track records at the 17th annual Pep Boys NHRA Nationals presented by Greased Lightning as Gary Scelzi thrilled the capacity crowd Friday with a quarter-mile run of 4.544 seconds at 320.40 mph in Top Fuel. Mike Dunn's first qualifying attempt established the Top Fuel track speed record at Maple Grove Raceway at 326.40 mph.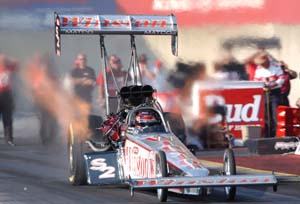 Gary Scelzi
Gary Densham, Jim Yates and Angelle Savoie also led their respective divisions at the $1.9 million NHRA Winston Drag Racing event outside of Reading, Pa. The Pep Boys NHRA Nationals was originally scheduled to run at Maple Grove Raceway Sept. 13-16. After the terrorist attacks on Sept. 11, the NHRA postponed the event until this weekend.
Scelzi has five top qualifying positions to his credit already in 2001 and if his elapsed time can hold through Saturday, it will be his sixth of the season and 34 for his career. Despite Team Winston reaching the winner's circle only once this season, Scelzi is confident he and crew chief, Alan Johnson, are poised to finish the season strong.
"We have been watching a lot of videos of our car at home," said Scelzi, the defending Winston Top Fuel champion. "We've been watching the ultra slow motion of the ESPN show and watching exactly what the tires are doing. Whatever he (Johnson) is doing, I don't know if it is cured, but I feel a whole lot better."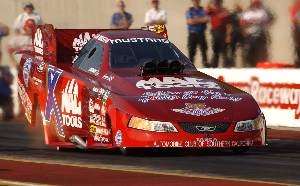 Gary Densham
Densham set the Funny Car track record for elapsed time during the second qualifying session, posting a 4.833 at 307.79. If Densham's Auto Club Ford Mustang can hold on to the top spot through Saturday, it will be his second pole of his career. NHRA officials scheduled two day sessions for Friday anticipating cooler temperatures for this weekend. Anticipating the weather to cool off on Saturday, Densham expects the NHRA national records to fall.
"We always want to go faster," said Densham. "If it (the track) will hold a 4.83 today with the sun out, can you image how fast it will be when it gets to be 58 or 60 degrees? It will be a mineshaft, because the track itself has already proved to be quite good. You get a little cloud cover and little coolness on it and you are going to see national event record numbers again "
Yates topped the Pro Stock division with a run of 6.832 at 201.07 in his Splitfire/Peak Pontiac Grand Am. Yates' first round pass established the track record for elapsed time.
Savoie's Suzuki led the Pro Stock Motorcycle field with a pass of 7.208 at 188.36. Qualifying continues Saturday at 11:00 a.m.




NHRA: 10 Most Recent Entries [ top ]

Apr 18- Haney Headed for NHRA Pro Mod with Summit Racing on His Side
Apr 18- HOUSTON - Richie Crampton Enjoying Early-Season Success Heading to 31st Annual NHRA SpringNationals
Apr 18- 2018 Mustang Cobra Jet Celebrates 50th Anniversary of Racing Legend with Quickest
Apr 18- New Ford Mustang Funny Car Scheduled to Debut In 2019 NHRA Mello Yello Season Opener
Apr 16- HOUSTON - Fact Sheet
Apr 16- HOUSTON - After Early-Season Mishap Funny Car's Jonnie Lindberg Looks to Get On Track