Mon, 1 Oct 2001, 11:43 AM



Bernstein, Bazemore Among Winners at NHRA Nationals at Route 66 Raceway



Courtesy of NHRA Communications



JOLIET, Ill. -
Kenny Bernstein regained the lead in the Winston Top Fuel championship chase on Sunday with a victory at the inaugural NHRA Nationals.
Whit Bazemore, Warren Johnson and Taylor Lastor also won in their respective categories at the $1.9 million race, the 20th of 24 events in the $50 million NHRA Winston Drag Racing Series.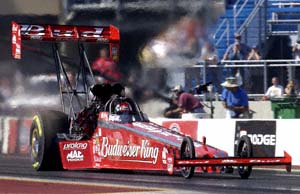 Kenny Bernstein
Bernstein drove his Budweiser King dragster to a 4.569-second elapsed time at 322.04 mph, beating Darrell Russell at Route 66 Raceway. Russell's Amato Racing dragster lost traction before mid-track and finished with an 8.731 at 89.05.
"It's nice to be in the lead," said Bernstein. "It's miserable chasing because it doesn't seem like you are ever going to get there. You work so hard as the team has at the last two races but only gain a little because Dixon's car has run so well. They have a great race team over there. We have a great race team over here and it's going to be a battle as it has been the entire year. (Crew chief) Tim Richards is phenomenal. He is really sharp and knows his stuff. He has experience and knowledge and makes it a blast to be around. Larry (Dixon, driver Miller Lite dragster) is doing a great job driving and (crew chief) Dick LaHaie has been there too and has a lot of experience. This is a lot of fun for the fans. With four races to go, there's going to be more emphasis put on it. Likely, it will go down to Pomona."
Bernstein now leads Dixon by 14 points in the standings. Dixon lost to Bernstein in the semifinals 4.545 to 4.578, falling out of first place for the first time since June. It was Bernstein's 60th career victory, 30 in Top Fuel, and second win at Route 66 Raceway. Bernstein collected four Funny Car titles from 1985-89.
Bazemore beat Funny Car points leader John Force for the first time in four career final round meetings. Bazemore earned the win with a 4.823 run at 320.92 in his Matco Tools Pontiac Firebird. Force turned in a 4.875 run at 312.93 in his Castrol GTX Ford Mustang, losing in the finals for the fifth time this season. It was Bazemore's third win in six finals. With only four races left in the 50th anniversary season of the NHRA, Force has a 244-point lead and is closing in on a record 11th Funny Car title. Bazemore picked up 41 points and is second in the standings. Bazemore got 20 bonus points this weekend after setting the national E.T. record with a 4.750 run. He also set the national speed record, but bonus points are not given for speed. Bazemore was clocked at 325.45 during his first-round win over former team owner Chuck Etchells (4.764 to 7.664).
"It came down to Force in the final," said Bazemore. "We knew if we didn't make any mistakes, we'd meet him in the final. We were prepared for that. Still, it's one of the hardest rounds I've ever had. It was fair and good sportsmanship on both sides and a good, clean, drag race. We're fortunate. We have a great running car and the team did an outstanding job. I'm just glad to be a part of it and to be the guy that's aggravating (the Force team) sometimes, on and off the track. It's exciting. In the points, we are going to do the best we can. If they happen to get beat a few times in the first round, who knows? We can't control them. All we can do is what we did this weekend. That's what we have to do to have a chance."
Tony Pedregon beat Ron Capps in the first round action, 4.773 to 4.813 in the quickest side-by-side Funny Car race in NHRA history.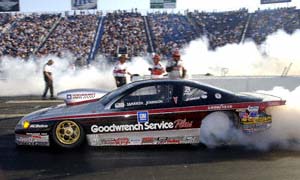 Warren Johnson
Johnson earned his 87th career win, sixth of the season, in Pro Stock. Johnson used a 6.832 run at 201.70 in his GM Goodwrench Grand Am to beat Darrell Alderman, who posted a 6.852 at 201.97 in the Team Mopar Neon RT.
Johnson said the key to victory was data transferred to his car from his son Kurt's national record-setting Chevy Cavalier. Kurt, the No. 1 qualifier with the record run of 6.801 at 202.70, lost to Mike Edwards on a holeshot in the quarterfinals.
"We didn't find the setup this weekend as quickly as Kurt did," Warren said. "Once we plugged his setup into our Grand Am, it was as consistent as you could get. I think we're really onto something." Lastor turned in a 7.390 run at 181.40 in his Texas Racing Engine Chevy S-10 to beat Greg Stanfield in Pro Stock Truck. Stanfied went 7.444 at 181.91 in his DBP Enterprises S-10.
"I knew it was going to be a tough final because Greg is a good racer, he never leaves the door open," said Lastor of his second career victory. "I knew it was going to be rough because I was gritting my teeth. We brought out a new truck and we're just trying to win races. We're not in the hunt for the championship, so winning races is the next best thing."
The next NHRA Winston Drag Racing Series event is the rescheduled Pep Boys NHRA Nationals presented by Greased Lightning, Oct. 4-7 at Maple Grove Raceway in Reading, Pa.
Sunday's final results from the Inaugural NHRA Nationals at Route 66 Raceway. The $1.9 million race is the 20th of 24 events in the $50 million NHRA Winston Drag Racing Series:
Top Fuel -- Kenny Bernstein, 4.569 seconds, 322.04 mph def. Darrell Russell, 8.731 seconds, 89.05 mph.
Funny Car -- Whit Bazemore, Pontiac Firebird, 4.823, 320.97 def. John Force, Ford Mustang, 4.875, 312.93.
Pro Stock -- Warren Johnson, Pontiac Grand Am, 6.832, 201.70 def. Darrell Alderman, Dodge Neon R/T, 6.852, 201.97.
Pro Stock Truck -- Taylor Lastor, Chevy S-10, 7.398, 181.91 def. Greg Stanfield, S-10, 7.444, 181.40.
Federal-Mogul Dragster -- Keith Stark, 5.351, 268.92 def. Shelly Howard, 5.667, 249.30.
Federal-Mogul Funny Car -- Frank Manzo, Dodge Avenger, 5.640, 253.56 def. Bob Newberry, Avenger, 11.575, 71.18.
Comp Eliminator -- Mike Saye, Oldsmobile Cutlass, 8.921, 143.47 def. David Billingsley, Cutlass, 7.769, 176.95.
Super Stock -- Brad Zaskowski, Chevy Camaro, 10.252, 129.54 def. Sal Biondo, Pontiac Trans Am, 10.685, 120.88.
Stock -- Randy Shepard, Chevy Camaro, 10.632, 119.51 def. Nick Folk, Camaro, 11.932, 99.60.
Super Comp -- Scotty Richardson, Dragster, 8.912, 144.33 def. Rob Slavinski, Dragster, 8.880, 172.25.
Super Gas -- Jarod Bowman, Chevy Corvette, 9.889, 132.26 def. Tom Hubbard, Ford Falcon, 9.874, 131.95.




NHRA: 10 Most Recent Entries [ top ]

Apr 24- CHARLOTTE 1 - Steve Torrence Enjoying Four-Wide Success Heading to NGK Spark Plugs NHRA Four-Wide Nationals
Apr 24- CHARLOTTE 1 - Fact Sheet
Apr 24- Kalitta Motorsports Welcomes NASCAR Stars to the SealMaster Track Walk in Charlotte
Apr 24- zMAX Dragway Celebrates 10th Anniversary
Apr 24- CHARLOTTE 1 - NGK Spark Plugs NHRA Four-Wide Nationals Brings 40,000 Horsepower Thrill Show to zMAX Dragway
Apr 23- HOUSTON - Lucas Oil Drag Racing Series Wrap Up The NHRA Lucas Oil Drag Racing Series Wrap Up
Apr 23- CHARLOTTE 1 - J.R. Todd Aiming for Two Four-Wide Racing Wins in 2018
Apr 23- Mid America Dragway Joins NHRA Member Track Network
Apr 23- HOUSTON - Special Awards
Apr 23- HOUSTON - Sunday Video