Tue, 2 Oct 2001, 11:04 PM



Thanks Whit, and John, and Kenny and, Well, Everybody!



By Bob Frey



As much as it's getting to be a bit redundant, the race this past weekend was about as good as you're going to get. I know, it seems like I've been saying that every week lately, but it's true, the NHRA Nationals at Rt. 66 Raceway was spectacular. As a fan, could you ask for any better final round matchups than
Whit Bazemore
against
John Force
, and
Warren Johnson
against
Darrell Alderman
? Of course, the Top Fuel final was pretty good, too, but it paled in comparison to the drama of the semi-final race between
Kenny Bernstein
and
Larry Dixon.
Then there was the case of the quickest Pro Stock car and truck both losing before the final rounds, and, well, you get the idea.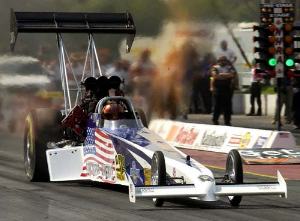 Scott Weis
I guess the best place to start is in the Top Fuel category. As great as the race was, and as fast as the track was,
did you know
that Top Fuel was the only professional class where the record wasn't broken? It reminds me of the 1999 Gatornationals, when eight out of a possible ten national records were set. At that race, like the Rt. 66 event this weekend, only the Top Fuel mark was not broken. Still, the racing was magnificent, and it even featured a stunning, round one upset.
Scott Weis
, carrying the red, white and blue on the side of his car, beat
Mike Dunn
when the driver of the
New York Yankees'
car smoked the tires in the first round.
Ken Veney
, crew chief for Dunn, was heard to remark as he came off the track after the run, "Can you believe that?" No, Ken, nobody could, except, perhaps, the Weis family. The loss kept Mike from winning the 300
th
round of his career….Even though he didn't win, Mike did qualify number one, set low elapsed time and top speed in the class.
Did you know
that this was the seventh time in his career that Mike has accomplished that goal? And,
did you know
, that only twice (Brainerd 1999, and Houston this year) did he win the race when he won all of the statistical categories?….Kenny Bernstein is now the point's leader in Top Fuel. Kenny, with his semi-final win over Larry Dixon, and his final round victory over
Darrell Russell
, is 14 points ahead of Larry. While not exactly a huge lead, as Kenny said, "It's better to be in the front, than in second place."
Did you know
that the win was the 60
th
of Kenny's, great career, and that those wins are now evenly split between his Funny Car and Top Fuel years? Yep, the "King" has now won 30 racers in each class, and he is in third place on the all-time list of
both
Funny Car and Top Fuel wins. Congratulations, Kenny.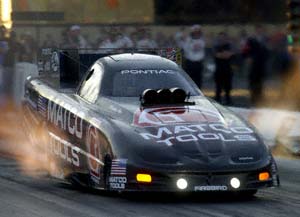 Whit Bazemore
I mentioned the fact that Mike Dunn swept the "numbers game" in Joliet, well,
did you
know
that each of the pro classes featured one driver who dominated all of the statistical categories? Whit Bazemore in Funny Car,
Kurt Johnson
in Pro Stock and
Mike Coughlin
in the truck class, all were number one, and all of them set low elapsed time and top speed in their respective classes. How often does that happen, you might ask? Well,
did you
know
the last time that four pro classes featured performances like that was back at Indy in 1999? Of course, the goal is to win the race, and, as you do know, at Rt. 66, only Whit managed to do that. At Indy in '99,
Warren Johnson
and
Matt Hines
both hit a "grand slam," that is, they not only won the number's game, but they won the race, too…Whit escaped Joliet with 138 points, the most a professional racer can get at one race. He lowered the national record to a blistering 4.750 and upped the speed mark to 325.42.
Did you know
that he is only the third driver, since 1993, to hold the E/T record in Funny Car? John Force, of course, and
Cruz Pedregon
are the other two. Whit did set the speed record earlier in his career, but this is the first time that he has ever held the elapsed time mark. And you know what? Some experts, including me, think that mark could get lowered this week in Maple Grove. Stay tuned…Whit's grand slam, by the way, was his second in the last, three races. Pretty impressive…Whit wasn't the only guy would had a shot at the mark this past weekend. Force,
Tony
and
Frank Pedregon
and
Tim Wilkerson
all were threatening to break the old record, which was set at Joliet in the spring. Now raise your hand if you remember the 1987 race in Dallas, when
Mark Oswald
, Mike Dunn and John Force all held the record at one time or another during the weekend. Oh, I almost forgot,
Ed McCulloch
was the guy who held it last, and he escaped Dallas with the mark at 5.336 that year….With the win, Whit trimmed a few more points off of John's lead, and he now trails by 244 with four races, or sixteen rounds of competition remaining, He won't catch John, but it sure won't be for lack of trying. I salute the entire
Matco Tools
team and thank them for making the last few weeks of the year very exciting in Funny Car….This was the first time that Whit ever beat John in a final round, and it marks the second time in as many weeks that John Force lost to someone in the finals for the first time.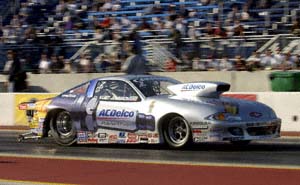 Kurt Johnson
Kurt Johnson was the guy who set the record in Pro Stock at Joliet, and, he was also the guy who was upset in the second round by
Mike Edwards
. It's the third time in his career that K.J. has set the elapsed time record, and, ironically, it's the third time that he didn't win the race when he set the record. Since he did get both ends of the mark (6.801 – 202.70), it's the first time since 1994 that Warren hasn't held the speed mark. How rare is it for W.J. not to be the fastest guy in the class? Well,
did you know
that Kurt is only the fourth driver other than Warren to hold the speed record since 1991?
Bob Glidden,
and both of the
Dodge Boys
, Darrell Alderman and
Scott Geoffrion
, were the others to do it. Even though he got bumped off of the national record's page, Warren did win the race, and he all but locked up his sixth, Winston title in the process. Sure, I know that he's only 135 points ahead of
Jim Yates
, but would you like to try to make up seven rounds on the "Professor" with only four races to go? I didn't think so. Plus, after borrowing some tune-up tips from his son (honest), Warren went out and ran low elapsed time of the last, three rounds of competition on Sunday. And, believe it or not, some of the experts, including
Alan Reinhart,
think that the Pro Stock mark will fall, again, this weekend in the Grove. Can you say 6.70? By the way,
did you know
that at the 1992 Maple Grove event all of the professional records were shattered? All of 'em.…
Tom Hammonds
, who officially is now an ex-NBA player, made the field at Joliet and he is looking forward to coming to Maple Grove, where he qualified for his first race in 1997.
Did you know
that Tom was competing in his 13
th
event that year, it was the 13
th
annual Keystone Nationals, he qualified on September 13
th
and he ended up in, you guessed it, 13
th
place?…The quickest field in NHRA Pro Stock history (6.844 bump), saw some pretty big-name drivers on the sidelines before the first round.
Jeg Coughlin, Mark Pawuk, Allen Johnson
and
Richie Stevens,
among others, all failed to make the cut. The first alternate, by the way, was
Hurley Blakeney
, who vows to run 6.40 this weekend in
Hurley Blakeney
his Comp car. Most of the experts, including
Lewis Bloom
, think that he'll do it. Should be fun….Both John Force and Warren Johnson now have competed in 997 rounds of competition at NHRA national events. That means that one of them, or both, could become the first guy in NHRA history to race in 1,000 rounds this weekend. If you want to see how they got to that 1,000 plateau, check out my other column entitled,
"Batting 1,000"
here on
Drag Race Central
. Wouldn' t it be interesting if both of them made it to the finals this weekend? That would mean that John would be the first to reach 1,000, and Warren would be the first to go over 1,000. Think about it!
Frank Manzo, who also hit a grand slam this weekend, all but locked up his 7th World Championship with his win in Joliet. Frank, who ran his record to a very impressive 46 – 21 in final rounds, beat his friend and rival Bob Newberry in the finals. Did you know that this was the 11th time that the two have faced off in the money round, and that Frank has won nine of those meetings? When checking the history of these two, great racers, I came up with a little something that might surprise you. Did you know that Bob Newberry has actually been in more final rounds than Frank Manzo? That's right, Bob has been in 70 championship rounds to Frank's 67. Hey, I know Frank has all of those championship rings, but anytime you can be better at anything than Frank, it's worth bragging about, don't you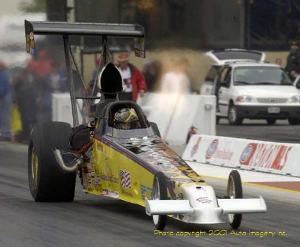 Keith Stark
think?…Only
Brandon Bernstein's
number one qualifying spot kept
Keith Stark
from hitting his own, grand slam in Joliet. Keith was the number two qualifier in the Federal Mogul Dragster class, he set low elapsed time, top speed and he broke the existing class record. The mark now stands at 5.302, breaking the old standard that was set by
Mark Woods
at the Winston Finals in 1999….And, finally, congratulations to
Brad Zaskowski,
for turning 21 years old and winning his first national event all on the same weekend. Brad won Super Stock with a stick shift car, and he had to beat some pretty good racers to do it, including former World Champion,
Sal Biondo
, in the finals. Nice going and happy birthday, Brad. By the way, since I told his dad I would check it out,
did you know
that Brad is only the 6
th
driver, whose last name begins with the letter "Z," to win an NHRA national event? The biggest winner is
Ron Zoelle
, who went 5-0 in his final round appearances. And, I guess that covers everything from A to Z, literally, so I'll sign off and hope to see you in Maple Grove, where the records will surely fall.


NHRA: 10 Most Recent Entries
[ top ]
Mar 21
-
LAS VEGAS 1 - Fact Sheet
Mar 21
-
LAS VEGAS 1 - Event Preview
Mar 20
-
Strong Stable of Contending Pro Stock Racers Vie for Final Starting Position for K&N Horsepower Challenge
Mar 20
-
GAINESVILLE - Special Awards
Mar 20
-
GAINESVILLE - Lucas Oil Drag Racing Series Wrap Up
Mar 19
-
GAINESVILLE - Sunday Video
Mar 18
-
GAINESVILLE - Pro Mod Sunday Wrap Up
Mar 18
-
GAINESVILLE - Sunday Wrap Up
Mar 18
-
GAINESVILLE - Pro Mod Championship Points
Mar 18
-
GAINESVILLE - Bonus Points