Sun, 30 Sep 2001, 12:13 AM



Bazemore Sets National Funny Car Record to Lead NHRA Nationals Qualifying



Courtesy of NHRA Communications



Dunn, Johnson and Coughlin also Earn Top Qualifying Honors at Route 66



JOLIET, Ill. --
Whit Bazemore led a parade of national record performances Saturday to close qualifying for the inaugural NHRA Nationals at Route 66 Raceway near Chicago.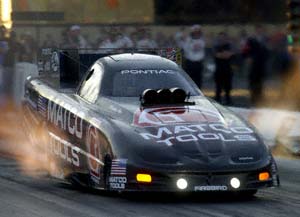 Whit Bazemore
Mike Dunn, Kurt Johnson and Mike Coughlin also will lead their respective pro categories into Sunday's 11 a.m. eliminations at the $1.9 million race, the 20th of 24 events in the $50 million NHRA Winston Drag Racing Series.
Bazemore powered his Matco Tools Pontiac Firebird to a national record time of 4.750 seconds at a track record speed of 323.27 mph to lead the 16-car order. John Force clocked a career-best elapsed time of 4.756 seconds to take the second spot.
It is the first time Bazemore has held the elapsed time national record in his career. He is the only other driver besides Force and Cruz Pedregon to hold the national elapsed time record since 1993.
"This is a dream come true," said Bazemore, who used a 4.774 second run Saturday to back-up the record-breaking 4.750 within one percent as required by NHRA rules. "When you first start racing all of the guys on top seem so far ahead of where you are. It seems virtually impossible to get to that level. It's taken a while. You always have doubts, but the team knew where we were and we were pretty confident going up there today. It's a real tribute to (crew chief) Lee Beard and the entire team. Our car has been consistent and tunable."
It is Bazemore's sixth No. 1 effort in the last eight races. He will face former team owner Chuck Etchells in the first round as he tries to keep his hot streak going and cut into Force's Winston points lead.
"I think the car is running really well and we feel confident about (Sunday)," said Bazemore, who won at Route 66 Raceway in 1998. "The performance in this field is incredible. When we faced Al Hofmann in the first round at Indy, it was the closest round we had all day. It forces you to be really focused no matter who you are facing."
Dunn claimed his fourth No. 1 qualifying position of the season in Top Fuel, driving his Yankee dragster to a 4.511 at 326.95. Dunn, a winner at Route 66 Raceway in '99, will face Scott Weis in the first round.
"We didn't think the No. 1 would stand," Dunn said. "We had a good run and luckily it held on. Obviously guys like Gary Scelzi, Larry Dixon and Kenny Bernstein are guys that all have a shot."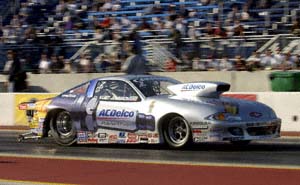 Kurt Johnson
Johnson logged a national record performance to take top honors in Pro Stock qualifying, driving his AC Delco Chevy Cavalier to a 6.801 at 202.70. It was the first No. 1 effort of the season for Johnson, who will face Tom Hammonds in the first round. Hammonds, who announced his retirement from the NBA's Minnesota Timberwolves Friday to pursue a full-time drag racing career, qualified with a career-best 6.844 at 201.41 in a Cavalier to anchor the quickest Pro Stock field in NHRA history.
Coughlin earned his third straight top qualifying effort in as many races by speeding to a national record performance of 7.379 at 182.65 in a Chevy S-10. He'll face Scott Tidwell in the first round in an effort to become only the third driver in the history of the category to win three races in a row.




NHRA: 10 Most Recent Entries [ top ]

Apr 19- HOUSTON - Friday Schedule
Apr 19- Tige Boats Named Presenting Sponsor of E3 Spark Plugs NHRA Pro Mod Drag Racing Series Portion of NHRA SpringNationals
Apr 19- HOUSTON - Previous Success, Early Win has Funny Car's Courtney Force Excited
Apr 18- Haney Headed for NHRA Pro Mod with Summit Racing on His Side
Apr 18- HOUSTON - Richie Crampton Enjoying Early-Season Success Heading to 31st Annual NHRA SpringNationals
Apr 18- 2018 Mustang Cobra Jet Celebrates 50th Anniversary of Racing Legend with Quickest
Apr 18- New Ford Mustang Funny Car Scheduled to Debut In 2019 NHRA Mello Yello Season Opener
Apr 16- HOUSTON - Fact Sheet
Apr 16- HOUSTON - After Early-Season Mishap Funny Car's Jonnie Lindberg Looks to Get On Track