Fri, 28 Sep 2001, 08:22 PM



Batting 1,000. Or Next Up, It's Force, Johnson and Glidden.



By Bob Frey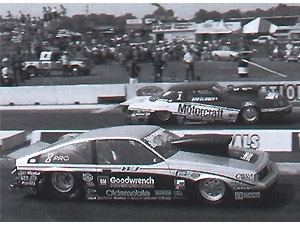 Johnson vs Glidden
In baseball, which, I am told, is our national pastime, if youíre batting 1,000, it means that you are perfect. Of course, in the long history of the sport, nobody, with more than a few at-bats, has ever actually batted 1,000, but it sounds good. "Batting 1,000" has actually become a phrase in the English language that means you are doing a very good job. But in the real world, like baseball, if you end up hitting anything around .300, youíre considered an all-star. The more I think about it, itís kind of like being a weatherman. That is, you donít have to be really good at what you do to make a lot of money, just be consistent and youíll get noticed. And then youíll make a lot of money. Now I know what youíre saying, hitting a baseball and predicting the weather are two, very difficult things to do, and youí re right. Still, wouldnít it be nice if you could be proficient 30% of the time in your job and be at the top of your game? Now before all of you baseball fans, or weatherman fans (?) write in, let me tell you why the number "1,000" got my attention.
Believe it or not, two of the top drag racers in history, John Force and Warren Johnson, are both closing in on 1,000 rounds of competition. 1,000 rounds, think about it. At four rounds per race (these days), it would take you 250 races, if you went to the final round at every event, to reach 1,000. And thatís about 10 years of racing, give or take a few. Or, to put in another way, since NHRA just celebrated its 500th race at Indianapolis, youíd have to run for a long time to hit 1,000 rounds. In fact, in the 50 years of the sport, by my calculations, nobody has ever done it before. Now, we have a chance for two guys to do it, possibly, at the same event, and I find that simply amazing.
As NHRA begins to name the top ten drivers on their list of the top 50 of all time, I can pretty much guarantee that both John and Warren will be way up there. Of course, so will the great Bob Glidden. In fact, if the three of them end up in the top five, it wouldnít surprise me a bit. There has been, as you might expect, a lot of controversy over who belongs in the top 10, and, who doesnít. Who should be number one, and who shouldnít. Well, as a public service, and to help you make up your mind based on the facts, I just thought Iíd give you a little info about the top three winners in NHRA history, not to put one above the other, but just to put each of their great careers in perspective.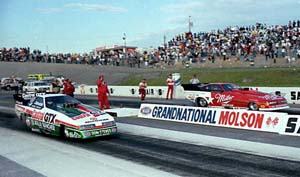 John Force
Currently, John Force is the all-time leader with 97 national event wins. Warren Johnson, who just passed Glidden, is second with 86 and Bob, who hasnít raced since the end of 1996, is still third, with 85 wins. John won his 97 titles in a span of 355 races (first race until the present time). Warrenís 86 wins have come in 381 events, and Bobís 85 wins came over a span of 317 races (first race until last race). For the purpose of these stats, a "race" included any event at which the driver competed, whether he qualified or not. Of course, between the three of them, you wonít find a lot of DNQís. Still, it means that John wins a race in every 3.66 starts, Warren wins on the average of once in every 4.43 starts while Bob visited victory lane every 3.73 times that he competed at an NHRA event.
In the other key, statistical departments, nobody matches Warrenís power, not John, not Bob, nobody! W.J. has qualified #1 at 125 different events. John, the best in the fuel classes, has been #1 on 105 occasions, while Mr. G. sat atop the field 102 times. But get this, Warren has set top speed at an incredible 191 races, or just about 50% of the time that he competes. Now thatís showing a lot of power. Glidden set top speed 103 times, which isnít too bad, either, while John has been the fastest guy in the house 78 times. And, in the low elapsed time category, the nod, again, goes to Warren, who has also done that 125 times. John has 100 low E/Tís to his credit and Bob turned the trick 101 times. Hey, even being third in any of those categories puts these guys way ahead of anyone else in any class.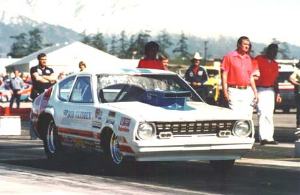 Bob Glidden
Now, back to that "1,000" number. By the end of his career, Bob Glidden had competed in 818 rounds of racing, winning 597 of them, and losing 221. That equates to a winning percentage of .730. W.J. has gone 708-285, for a total of 993 rounds and a winning percentage of .713. John is the leader in "slugging-percentage," with an amazing .750%, coming on 745 winning rounds and 248 losing ones. Imagine racing 993 rounds and winning three-fourths of them. Warren has the longest, consecutive qualifying streak in the history of the sport, making the field at an amazing, 283 consecutive races. The last time that the "Professor" failed to make a show was at the Gatornationals in 1987. Thatí s 1987! To put that in itís proper perspective, the second, longest, active streak in Pro Stock belongs to Ron Krisher at 42 in a row. John hasnít done too badly in that respect, either. In fact, he is right behind Warren with a streak of 272 races, a streak that started after the 1987 Winston Finals. According to my info, Bobís longest consecutive streak was 107 races.
Bob Glidden does still hold one record that will probably, no, make that definitely, never be broken. He won every race for a calendar year. Every one of Ďem. From Englishtown in 1978 through Columbus in 1979, Bob won every race on the NHRA schedule. Not even Warren or John can make that claim. OK, so there were only nine races in í78 and 10 in 1979, but you canít ask a guy to do much more than win everything, can you? And over that two-year, 19-race span, Bob hit a lusty .928%, winning 65 rounds and losing only 5. Wow, now thatís impressive. Johnís best 19-race span came all in one year, 1996, when he won 13 races and complied a won-loss mark of 65-6, or, .915%. Warrenís best run over that same, 19 race-period, came from the middle of 1992 through the middle of í93. He ran up a 59-7 mark over that time, or, in baseball language, he hit .894%. Not bad, huh? You know, with those three guys in the lineup, this team could give the 1927 New York Yankees a run for their money.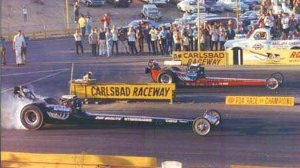 Don Garlits
The discussion over who is the best racer will go on forever, and if youíre a Bob Glidden fan, a WJ aficionado, or a John Force kind of person, none of the stats will change your mind, They will, however, put the on-track careers of three of the greatest racers in NHRA history into perspective. All three are great, and you could make a case for anyone of them being #1 on the list. Having said that, as Iíve mentioned several times on the "NHRA Heat" show this year, I voted for Don Garlits as the top guy on my list, and it didnít have anything to do with statistics. Go figure!


NHRA: 10 Most Recent Entries
[ top ]
Apr 24
-
CHARLOTTE 1 - Steve Torrence Enjoying Four-Wide Success Heading to NGK Spark Plugs NHRA Four-Wide Nationals
Apr 24
-
CHARLOTTE 1 - Fact Sheet
Apr 24
-
Kalitta Motorsports Welcomes NASCAR Stars to the SealMaster Track Walk in Charlotte
Apr 24
-
zMAX Dragway Celebrates 10th Anniversary
Apr 24
-
CHARLOTTE 1 - NGK Spark Plugs NHRA Four-Wide Nationals Brings 40,000 Horsepower Thrill Show to zMAX Dragway
Apr 23
-
HOUSTON - Lucas Oil Drag Racing Series Wrap Up The NHRA Lucas Oil Drag Racing Series Wrap Up
Apr 23
-
CHARLOTTE 1 - J.R. Todd Aiming for Two Four-Wide Racing Wins in 2018
Apr 23
-
Mid America Dragway Joins NHRA Member Track Network
Apr 23
-
HOUSTON - Special Awards
Apr 23
-
HOUSTON - Sunday Video