Thu, 27 Sep 2001, 05:31 AM



I'm Proud To Be A Drag Racer!



By Bob Frey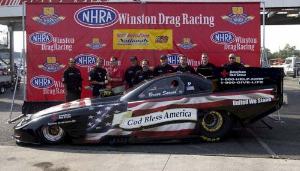 Bruce Sarver and crew.
As I wrote here two weeks ago, there are some things that are more important than racing, and thatís never been more evident than it is in these, trying times. Thatís why it was so good to see all of the red, white and blue in Memphis, and to watch all of the folks who were carrying the flags, and the pro racers who held the big flag during the pre-race ceremonies. And, thatís why it was especially nice to hear
John Force
say that he,
Gary Densham
and
Tony Pedregon
had decided to donate their
$30,000
prize money to the relief campaign and the American Red Cross. And, it was extra nice to hear the
Pro Stock
Truck Association
say that they would donate
all of their prize money
from the weekend,
$27,000
, to the relief efforts
. Darrell Gwynn
, who has certainly known his share of hard times, teamed up with the
Uniformed Fire Fighters Organization
in an effort to raise money for the families of the rescue workers who lost their lives in the disaster. And
Alan Johnson, Bruce Sarver
and all of the folks at
e-moola.com
have converted their car into the worldís fastest billboard, a 320mph promotional vehicle for the Red Cross. Theyíll make and sell a model of the car, with all the proceeds going to the Red Cross, and the entire car has been painted up, specifically to raise awareness for the relief organizations. Iím sure that others participated in their own way, but these, alone, have made me feel really proud about being a member of the drag racing community. It ís just another indication of what a great sport this is. Special thanks, for obvious reasons, to the Pro Stock Truck Association. And, letís not forget that
NHRA
donated half of the proceeds from the souvenir sales in Memphis to the relief funds, too. Plus, I understand that my pal,
Alan Reinhart
, made some really nice comments during the pre-race activities on both Friday and Sunday. Way to go, Alan. In fact, it was a nice job all around. These are just a few of the things that that I know about, and if any other teams or individuals made donations or are involved in any special promotions, Iíd love to hear about it, and Iíll publicize it here in the coming weeks.
Bernstein vs. Dixon
Kenny Bernstein
and
Larry Dixon
are going right, down to the wire this year, donít you think? The Top Fuel battle, which really hasnít been much of a battle over the past, few seasons, looks like it wonít be decided until Pomona in November. As a fan, thatís the way I like it. Of course, Larry and Kenny may feel otherwise.
Did you know
that when he raced
Jim Cavalieri
in the first round at Memphis, it was the 129
th
different driver that Kenny has faced in his career? And that is more than any, other driver has raced. By comparison, John Force has met 108 guys (or girls), while
Warren Johnson
has raced 117. Wow!!ÖLarry Dixon was the top qualifier at Memphis, and still didnít win the race, but thatís not unusual for him.
Did you know
that Larry has been #1 ten times in his career, and that heís only won twice from the top spot? He won at Brainerd a few weeks ago, and, the only other time he won from the number one spot was at Englishtown in 1995Ö.
Mike Dunn
, who made it to the semi-finals at Memphis, needs one more round win to reach 300 for his career.
Did you
know
that Mike has won 201 rounds in a dragster class and 98 in a funny car? And
, did
you know
that Mike, who has started 259 races in his career, has only failed to qualify 14 times, ten times in a funny car, and only 4 times in Top Fuel? Pretty good, huh? Mike returns to Chicago where he set the national, speed record earlier this year. Mike, is also one of the few guys who can say that they have set national records in both of the fuel classes.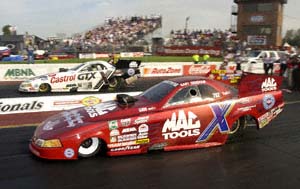 Densham vs. Force
Gary Denshamís
win was great for him, wasnít it? Although, I have to admit, he was in a tough situation, letís call it, a "no win" situation. I mean, if he beats John, folks will say that John let him win. If John beats him, those same folks will say that Gary took a "dive." Well, let me tell you, that was a great race, a 5.07 to a 5.11, and if anyone, including John Force, can fix a race thatís that close, more power to him. Letís stop the bickering and credit Gary for doing a great job. And letís give credit to John for trying to beat him.
Did you
know
that Gary Densham becomes the 74
th
, different driver to win a national event in a Funny Car? And that includes 29 guys who only won, one race in their careers. Among that group are
Gary Clapshaw
, who beat Densham in the 1995 Memphis race, and
Doug Thorley
, who won the first, ever Funny Car title at the 1967 U.S. Nationals. Gary is also the 22
nd
person to beat John Force in a Funny Car final round. Some of those others, whom you may have forgotten, include
John Collins, Tim Grose
and
John Lombardo
Ö
Bruce Sarver
, who failed to qualify at Memphis, saw his consecutive qualifying streak end at 33 races. That makes
Whit Bazemore
the holder of the second, longest streak in the class at 24 in a row. Still, thatís a far cry from the numbers that John Force has put up, isnít it? You donít know, then you didnít read last weekís column. Shame on you!!
While weíre tipping the hat, letís do so for George Marnell, who won his first race this past weekend. Did you know that, when George and Gary won, it was the first time since 1997 that two drivers won their first race at the same event? It hasnít happened in the top, three pro classes since Dean Skuza and Jeg Coughlin won together in Houston in í97. George won it the old-fashioned way, too, on holeshots. Did you know that he won three rounds with his driving? Two were obvious, and one, when he and Mark Osborne turned the exact, same, elapsed time, also goes down as a holeshot victory. Pretty cool, huh? I donít know what George and Greg Anderson have done with those cars, but itís working. Did you know that George is only the 47th driver to win an NHRA Pro Stock race? Thatís amazing, especially when you consider that there have been 451 Pro Stock titles won over the years. George is now tied with Richie Zul, Joe Lepone, Ray Allen and 13 other guys with one win. But then, George is still goingÖ.Speaking of doing well on the line, Jeg Coughlin added another holeshot win to his list for the year. Did you know that Jeggie now has 10, holeshot victories this year, and thatís more than double the amount of anybody else in the class?ÖIt will be interesting to see if Jim Yates is in Chicago this weekend. I donít know enough about his situation to know if he could, indeed, race, that is, if heíll be physically able to do it. I do know that it would be a shame to miss a race when heís this close to another title. Of course, like I said earlier, there are some things that are more important than racingÖ.Georgeís win, which came in a Pontiac, vaulted that brand into the lead in the overall, manufacturerís competition. Did you know that Pontiac has now won 101 NHRA Pro Stock races? Oldsmobile, the leader for so many years, is now second with 100 wins. And, like George, Pontiac is still going. Of course there are lots of Firebirds and Grand Ams in the winnerís circle, but did you know that even Grand Prix has one win on the tour? Kenny Delco won the Gatornationals in 1990 in a Grand Prix, and heís the only guy who can make that statement. Kenny, by the way, is one of those guys who only won once on the tour, and the Grand Prix folks thank him for it, Iím sure.
Finally, our thoughts and prayers go out to the family of Bobby Baldwin, the TF driver, who passed away this past week. Bobby was such a nice man, and a pleasure to be around. And, while he didnít race at every event, it was always a better race when he showed up. Especially that Houston race last year, when Bobby snuck in and almost left with the championship. He did manage to beat Mike Dunn, Doug Herbert and Joe Amato before losing to Cory McClenathan in the finals. Had he won, it would have been one of the biggest upsets in Top Fuel history. As it was, it still went down as one of the best days ever for the "little guys," the guys who make this sport so great. The guys like Bobby Baldwin. He is survived by his wife, Paula, and daughter, Krista. Did you know that Bobby was the son-in-law of the great, Chris Karamesines? And, did you know that Bobby will be greatly missed by all of us in the drag racing community?




NHRA: 10 Most Recent Entries [ top ]

Apr 24- CHARLOTTE 1 - Fact Sheet
Apr 24- Kalitta Motorsports Welcomes NASCAR Stars to the SealMaster Track Walk in Charlotte
Apr 24- zMAX Dragway Celebrates 10th Anniversary
Apr 24- CHARLOTTE 1 - NGK Spark Plugs NHRA Four-Wide Nationals Brings 40,000 Horsepower Thrill Show to zMAX Dragway
Apr 23- HOUSTON - Lucas Oil Drag Racing Series Wrap Up The NHRA Lucas Oil Drag Racing Series Wrap Up
Apr 23- CHARLOTTE 1 - J.R. Todd Aiming for Two Four-Wide Racing Wins in 2018
Apr 23- Mid America Dragway Joins NHRA Member Track Network
Apr 23- HOUSTON - Special Awards
Apr 23- HOUSTON - Sunday Video
Apr 22- HOUSTON - Sunday Pro Mod Wrap Up