Mon, 24 Sep 2001, 06:07 AM



Densham and Marnell Score First Career Victories at AutoZone Nationals



Courtesy of NHRA Communications



Bernstein Cuts Dixon's Top Fuel Points Lead



MILLINGTON, Tenn. --
Gary Densham and George Marnell, a couple of drag racing's most noted journeymen, scored their first career victories Sunday at the AutoZone Nationals presented by Pennzoil at Memphis Motorsports Park.
Kenny Bernstein and Mike Coughlin also were winners at the $1.9 million race, the 19th of 24 events in the $50 million NHRA Winston Drag Racing Series.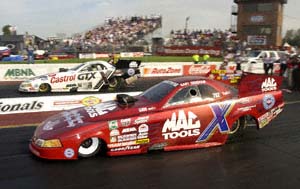 Densham vs Force
Densham, a 30-year veteran Funny Car racer, defeated John Force for his first career NHRA victory in 243 starts. Densham, 54, drove his Mac Tools/Auto Club Ford Mustang to a 5.070 second run at 290.01 mph, edging Force in a classic tire-smoking battle. Force, who increased his Winston points lead over Whit Bazemore with the runner-up effort, posted a 5.111 at 283.73 in his identically-prepared Mustang.
Densham defeated Chuck Etchells, Whit Bazemore and Ron Capps before passing Force for the opportunity to log his name in the NHRA record books as a national event winner.
"It's unbelievable," said an emotional Densham. "This team is new and we knew we would have a good chance to win. In the last few weeks Jimmy (Prock, crew chief) has come into his own with this car. It's so terrific to win this race, yet it's so hard to focus with everything that has been going on during the last few weeks. This win makes my year and my career. Now I have plans to win a whole lot more."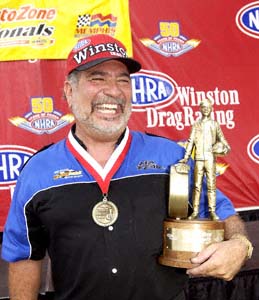 George Marnell
Marnell, 50, scored his first career Pro Stock victory, using a holeshot start in his Marnell Racing Pontiac Grand Am to defeat Mark Pawuk, also driving a Grand Am. Marnell clocked a 6.974 at 198.12 to defeat the quicker, but losing, 6.950 at 198.00 recorded by Pawuk's Summit Racing entry.
Marnell, who defeated Robert Patrick, Mark Osborne and Bruce Allen to advance to the final, was extremely emotional as well.
"It was total chaos," said Marnell, clutching his new trophy. "I was screaming so loud inside the car. This has been a dream for me for a long time. I have worked so hard for this. We finally found the combination to get to the winner's circle and hopefully we can do it again. I'm pretty happy right now."
Although he didn't compete today because of health issues, Jim Yates, the category's top qualifier, cut Warren Johnson's Winston points lead to 76. Yates earned 38 points for his automatic first round loss, giving him 1196. Johnson, who lost in the first round, has 1272.
Bernstein, 56, scored his sixth Top Fuel victory of the season and in the process cut Larry Dixon's Winston points lead to 27 by outrunning his arch-rival in an intense final round. Bernstein powered his Budweiser King dragster to a 4.682 at 308.78 to take the photo-finish over Dixon, whose Miller Lite dragster posted a 4.753 at 304.05.
Bernstein used four consecutive 4.6-second runs to march through eliminations, taking wins over Jim Cavalieri, Darrell Russell and Doug Kalitta before meeting Dixon, who also posted consistently strong performances in defeating Don Sosenka, Tony Schumacher and Mike Dunn.
In the final, Dixon left the starting line first, but Bernstein had the horsepower to chase him down. Bernstein is expecting a similar side-by-side battle in the final stretch of races as the two teams decide the Winston championship.
"We've only got five races to go and when you get down to that kind of margin it gets really tight," said Bernstein, whose only other win at Memphis came in 1989 in a Funny Car. "This is an epic battle between two really good race teams that aren't making any mistakes. If it keeps going like this it's going to come down to the last lap at the last race. I'm sure we're going to have to face that blue car a few more times before this deal is settled. It's like a heavyweight fight. One team throws a punch and connects and then the other comes back and knocks the other one down."
Coughlin, 35, successfully defended his Pro Stock Truck crown at Memphis, outrunning Bob Panella in a final round battle between Chevy S-10s. Coughlin covered the distance in 7.446 at 181.79 for his second win of the season in as many races, while Panella was a tick slower, posting a 7.447 at 182.01.
"It's cool to share the winner's circle with a couple of guys that won their first race," said Coughlin. "I was talking with Marnell and I told him that he'll never forget this day. I know I'll never forget my first win. I don't think any of us do. It was neat to see their enthusiasm. It reminds us all what we're out here for."
Panella increased his Winston points lead to 84 over Randy Daniels with the runner-up effort.
The next NHRA Winston Drag Racing Series event is the inaugural NHRA Nationals at Route 66 Raceway, Sept. 27-30.
MILLINGTON, Tenn. -- Sunday's final results from the 14th annual AutoZone NHRA Nationals presented by Pennzoil at Memphis Motorsports Park. The $1.9 million race is the 19th of 24 events in the $50 million NHRA Winston Drag Racing Series:
Top Fuel -- Kenny Bernstein, 4.682 seconds, 308.78 mph def. Larry Dixon, 4.753 seconds, 304.05 mph.
Funny Car -- Gary Densham, Ford Mustang, 5.070, 290.01 def. John Force, Mustang, 5.111, 283.73.
Pro Stock -- George Marnell, Pontiac Grand Am, 6.974, 198.12 def. Mark Pawuk, Grand Am, 6.950, 198.00.
Pro Stock Truck -- Mike Coughlin, Chevy S-10, 7.446, 181.79 def. Bob Panella Jr, S-10, 7.447, 182.01.
Federal-Mogul Dragster -- Jay Meyer, 5.461, 257.19 def. Tony Bartone, 5.636, 237.67.
Federal-Mogul Funny Car -- Frank Manzo, Dodge Avenger, 5.680, 252.05 def. Von Smith, Pontiac Firebird, 5.730, 250.18.
Comp Eliminator -- Jeff Taylor, Pontiac Grand Am, 7.962, 137.99 def. David Rampy, Roadster, foul.
Super Stock -- Jeff Taylor, Pontiac Grand Am, 8.844, 154.02 def. Peter Biondo, Pontiac Firebird, foul.
Stock -- Larry Hodge, Buick Skylark, 12.738, 103.52 def. Jim Cimarolli, Chevy Nova, foul.
Super Comp -- Doug Doll, Dragster, 8.914, 162.98 def. Todd Ewing, Dragster, 8.925, 164.79.
Super Gas -- Steve Cohen, Chevy Corvette, 9.851, 146.23 def. David Hensley, Pontiac Trans Am, foul.




NHRA: 10 Most Recent Entries [ top ]

Mar 22- NHRA Northwest Nationals Tickets on Sale Now
Mar 21- LAS VEGAS 1 - Fact Sheet
Mar 21- LAS VEGAS 1 - Event Preview
Mar 20- Strong Stable of Contending Pro Stock Racers Vie for Final Starting Position for K&N Horsepower Challenge
Mar 20- GAINESVILLE - Special Awards
Mar 20- GAINESVILLE - Lucas Oil Drag Racing Series Wrap Up
Mar 19- GAINESVILLE - Sunday Video
Mar 18- GAINESVILLE - Pro Mod Sunday Wrap Up
Mar 18- GAINESVILLE - Sunday Wrap Up
Mar 18- GAINESVILLE - Pro Mod Championship Points