Fri, 21 Sep 2001, 07:37 AM



Federal Mogul Dragster at Indy, What A Great Story



By Bob Frey



| | |
| --- | --- |
| | |
As hard as it is sometimes, I really do try to be impartial when watching the races. After all, as a journalist, Iím supposed to remain neutral, whether itís on the microphone or doing a story. Well, sometimes, you just canít help yourself. Sometimes, you just want a guy to win so badly, that youíre sure the fans can hear it in your voice, or read between the lines of an article. In no way does this ever, and I mean ever, take away from the person in the other lane, but every once in a while, you just canít help yourself. At least, I canít. And, believe it or not, sometimes, for a wide variety of reasons, there are races where you wish both guys could win. Well, for me, that was the case at Indy in the Federal Mogul Dragster final round. It featured two guys who have faced a lot of adversity and come back to be at the top of their game in a very competitive class. Iím talking about Keith Stark and Bill Reichert.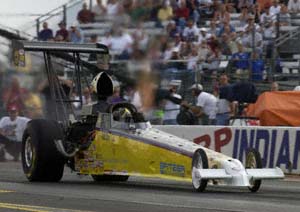 Keith Stark
For those who may not follow the class religiously, these two drivers have been extremely competitive for a number of years. To make it that much tougher for both of them to record wins, they each race out of Division 3, which has always prided itself on having some of the best dragsters in the sportsman ranks. And Keith and Bill certainly rank right up there with the best. Keith ran a blown combination for years, but over the past few seasons, he has run the injected, nitro-methane powered machines, and he has been able to run some of the best elapsed times and speeds in the history of the class. In 1996, in fact, he stunned the racing world when he logged an unbelievable 5.38 at 270.51 mph in the semi-finals at the Winston Finals. Still, with the unpredictability of the injected cars, he broke a fuel line on the burnout and never got to run Rick Santos in the final round. With all of that power and potential, Keith couldnít wait to get started in 1997.
The following year, despite all of the optimism, was the worst of times, for Keith. He crashed his car at Gainesville while racing Jay Payne. It was as bad an accident as Iíve ever seen, so bad, in fact, that today, four years later, he is still undergoing surgery to repair the damage to his hand. "I just had my 17th operation last week," he told me at Indy. "But I still have a few more to go." At least, he said, he has feeling back in the palm of his hand. "I donít have it on the top part of my hand, but I do in the palm, and thatís what you need to get a sense of whatís going on when youíre driving and steering these cars." Spoken like a real, drag racer. And, like a true racer, Keith not only came back to race a lot sooner than most people thought, but he came back to win the Gatornationals the very next year, beating, as fate would have it, Jay Payne in the finals. Unbelievable!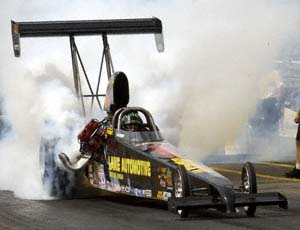 Bill Reichert
Bill Reichert, in a world thatís full of little ironies, crashed his car in 1999 when he was racing against Keith Stark. It happened in Atlanta, and those of us who saw it figured that Bill was badly hurt and would, probably, be out for a while. Well, he was battered and bruised, but he wasnít out for long. In fact, he came back at Columbus, just a few weeks later, as the Division 3 Federal Mogul All Star representative and, what did he do? Of course, he won the All Star race and then went to the finals of the national event the very next day. All, literally, just weeks after his horrendous crash in Atlanta. Talk about your real racers.
Over the course of their careers, both Keith and Bill have been very successful on the divisional and national levels. Both have been champions in Division 3, and both have been to a lot of national event final rounds. Keith has had a little more success in the win column at the big races, winning six, including Indy, out of the fifteen final rounds that heís been in. Ironically, Keithís last national event win prior to Indy this year was at Atlanta in 1998 when he beat, you guessed it, Bill Reichert. Bill, for whatever reason, canít seem to get a break on the national level. "I do real well in finals at the divisional races," he said, "but something always seems to happen in the finals at the national events. I wish I knew what it was." Whatever "it" is, it may explain Billís two-and-ten record in national event finals. Still, how many guys can say that theyí ve been to a dozen final rounds in their careers? Or raced in the finals at Indy? Or went to two, national event final rounds in a row? Or came back from such a devastating crash to not only compete, but to win? Bill can.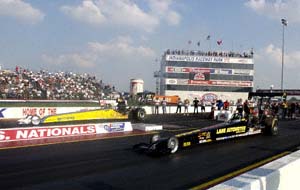 Stark vs. Reichert
When I spoke with Bill at the Division 5 pointís race in Earlville, Iowa, the week after Indy, I asked him about the switch to the injected car, and he told me that he absolutely loves it. He loves the nitro, the power, the potential, and, yes, the frustrations, that make these cars so much fun to own and operate. Keith, meanwhile, told me that the win at Indy was his most satisfying ever, even more so than the triumphant return to Gainesville in í98. "To win this is just the best thing that could happen to a racer," he said. After all heís been through, I would think just getting back on the track would be triumph enough. But then, Iím not a racer. It should be noted that Keith recorded the best run of his career at Indy, a great 5.32, and that he won the race on a holeshot. It should also be pointed out that the Indiana Hand Center, the facility that has operated on Keith, and done such a wonderful job with his recovering, was a sponsor on his car at Indy. And, of course, Keithís wife, Jane, got to share in the celebration, too, just as sheís shared in all the hard times over the years. Meanwhile, Bill Reichert, running his fuel car in the other lane, has gone through a lot, too, and he has impressed all of us with his will and determination. Like I said, theyíre both a real tribute to the sport, themselves and their families. Itís too bad they both couldnít win Indy. And, after watching the highs and lows of their careers, youíll forgive me if I sounded like I was cheering for both of them at the U.S. Nationals this year.


NHRA: 10 Most Recent Entries
[ top ]
Apr 20
-
HOUSTON - Friday Wrap
Apr 20
-
HOUSTON - Saturday Schedule
Apr 20
-
HOUSTON - Top Fuel Qualifying, Session #2 Order
Apr 20
-
HOUSTON - Top Fuel Qualifying Notes, Session #2
Apr 20
-
HOUSTON - Pro Stock Qualifying, Session #2 Order
Apr 20
-
HOUSTON - Funny Car Qualifying, Session #2 Order
Apr 20
-
HOUSTON - Pro Modified Qualifying, Session #2 Order
Apr 20
-
HOUSTON - Funny Car Qualifying Notes, Session #2
Apr 20
-
HOUSTON - Pro Stock Qualifying Notes, Session #2
Apr 20
-
HOUSTON - Pro Modified Qualifying Notes, Session #2