Mon, 17 Sep 2001, 06:25 AM



Tri-State Raceway Victorious in Summit Racing Series



Courtesy of NHRA Marketing



TOPEKA, Kan. --
Tri-State Raceway took home two individual championships on its way to the Team Championship at this weekend's NHRA West Central Division Summit Racing Series at Heartland Park Topeka.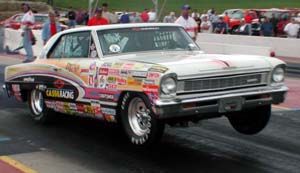 Tyler Cassil
Tyler Cassil of Belton, Mo., and Tim Pazour of Cedar Rapids, Iowa, led their team to the Championship edging out The Colonel's Brainerd International Raceway and Kansas City International Raceway who finished second and third respectively in the team standings.
Cassil, in his '66 Chevy, recorded a 10.682 second pass at 114.33 mph to knock out Bob Westhoff with an 11.012, 118.97. Cassil was joined in the winner's circle by teammate and motorcycle champion, Pazour who clocked in at 9.078 at 134.86 on his '86 Suzuki to defending champion Jeff Lanoue who ran an 8.536, 157.39 mph pass.
The Super Pro Champion was Mike Wibushouser of Blair, Neb., racing for the Nebraska Motorplex. Wibushouser beat out J.R. Lober of KCIR (Kansas City International Raceway) for the win and will advance to the Summit National Championship in Pomona California where he and three other champions from this weekend will face off against the champions from the six other NHRA Divisions.
Brad Mickle drove his '67 Mustang to a win over Kevin Rolph out of Minneapolis while Steven Graham captured the High School crown taking out Tyler Bonhom with a run of 11.301, 117.38 to Bonhom's 11.258, 116.59. Winner's in the Jr. Drag Racing classes were Michelle Cobb of Odessa, Mo., Michelle Brewer of Osawatomie, Kan., and Gage Fredenburg of Omaha, Neb.
In the Race of Champions Race on Saturday night it was Dennis Willett and his '82 Corvette taking the win over David Goolsby of Valley Lenter, Kan. in the car class while Mike Ballard of Freeport, Ill., bettered Donnie Durenberger in the motorcycle class.
The following are final round results from the NHRA West Central Division Summit Racing Series:

SUPER PRO

Mike Wibushouser, Blair, Neb., 9.781, 152.52 def.
J.R. Lober, Desoto, Kan., 8.574, 152.54

PRO

Tyler Cassil, Belton, Mo., '66 Chevy, 10.682, 114.33 def.
Bob Westhoff, Marthasville, Mo., '60 Falcon, 11.012, 118.97

SPORTSMAN

Brad Mickle, Lino Lakes, Minn., '67 Mustang, 13.151, 100.39 def.
Kevin Rolph, Minneapolis, Minn., '67 GT, 13.329, 100.70

PRO BIKE

Tim Pazour, Cedar Rapids, Iowa, '86 Suzuki, 9.078, 134.86 def.
Jeff Lanoue, Simmerman, Minn., 8.536, 157.39

HIGH SCHOL

Steven Graham, Hutchinton, Kan., '68 Camaro, 11.301, 117.38 def.
Tyler Bonhom, Lamed, Kan., '82 Cutlass, 11.258, 116.59

JR. DRAGSTER 8-9

Michelle Cobb, Odessa, Mo., '00 dragster, 13.395, 46.96 def.
Shaley Epperson, Silver Lakes, Kan., '00 dragster, 13.430, 45.94

JR. DRAGSTER 10-12

Michelle Brewer, Osawatomie, Kan., 9.312, 66.91 def.
Nick Peterson, Abilene, Kan., 9.132, 68.70

JR. DRAGSTER 13-17

Gage Fredenburg, Omaha, Neb., '01 dragster, 8.050, 79.15 def.
Mattie Thomas, Marshall, Mo., '99 dragster, 8.688, 72.67






NHRA: 10 Most Recent Entries
[ top ]
Apr 24
-
CHARLOTTE 1 - Fact Sheet
Apr 24
-
Kalitta Motorsports Welcomes NASCAR Stars to the SealMaster Track Walk in Charlotte
Apr 24
-
zMAX Dragway Celebrates 10th Anniversary
Apr 24
-
CHARLOTTE 1 - NGK Spark Plugs NHRA Four-Wide Nationals Brings 40,000 Horsepower Thrill Show to zMAX Dragway
Apr 23
-
HOUSTON - Lucas Oil Drag Racing Series Wrap Up The NHRA Lucas Oil Drag Racing Series Wrap Up
Apr 23
-
CHARLOTTE 1 - J.R. Todd Aiming for Two Four-Wide Racing Wins in 2018
Apr 23
-
Mid America Dragway Joins NHRA Member Track Network
Apr 23
-
HOUSTON - Special Awards
Apr 23
-
HOUSTON - Sunday Video
Apr 22
-
HOUSTON - Sunday Pro Mod Wrap Up