Tue, 18 Sep 2001, 05:22 PM



Life, And Racing, Do Go On



By Bob Frey



It's been a week since the tragedies in New York and Washington, and, as you all know, like most of America, virtually all of the sports industry came to a halt last Tuesday. Now, for most of us, it's back to our normal routine. And that's not because anyone is less caring, less concerned or less saddened by the incidents, but because life must go on. So, with that in mind, let's take a look at where we stand as the NHRA Winston tour heads in to Memphis this weekend.
Of course, Memphis, like it or not, will always be remembered for some of the most spectacular accidents and incidents in NHRA's history. It was here, years ago, that John Force "saw Elvis at 1,000 feet." That single crash, fire and flip, maybe more than any others in his career, defined John and helped create and/or perpetuate the image that surrounds him to this day. That, despite the fact that it's been years, literally, since John has had a really bad crash or fire. It was in Memphis that Jerry Caminto hit the wall, went over the wall or through the wall at 260 mph. And, of course, it was in Memphis, just last year, that both Larry Dixon and Tony Schumacher had their horrendous accidents. Forget the fact that Scott Geoffrion set the national Pro Stock record in Memphis last year, or that John Force and Kenny Bernstein both set Funny Car records at the track in previous seasons, Memphis will always be remembered for some of the more spectacular moments in NHRA's 50 years.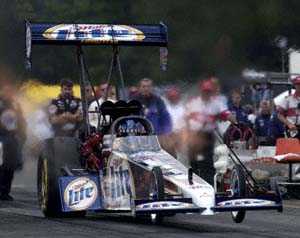 Larry Dixon
As we head into Memphis, it seems like the
Top Fuel
battle will come down to two guys, Kenny Bernstein and Larry Dixon. Although several other teams have a mathematical chance to win it, if the title goes to anyone other than those two, I would be stunned. Even
Gary Scelzi,
right now, admits that he is, basically, running for third place. Kenny, who led the points for quite some time, has slowed just a bit over the last few races, while Larry has put back-to-back wins on the board. Kenny, of course, had his own incident in Memphis in 1999, when he crashed in the second round and was unable to return. And, I believe, that single incident probably kept Kenny from winning the title that year. With all of his success,
did you know
that Kenny Bernstein has never won in Memphis in Top Fuel? In fact, he only has one final round appearance in the dragster class at all, and that was in 1998. True, he did win in Funny Car, but that was way back in 1989. Larry hasn't fared much better at this facility, but at least he has been to two finals, in '97 and last year. Of course, Larry has never won three races in a row, but, for him and the rest of the Miller Lite team, this would be a great time to set a new, team record, wouldn't it? Dixon's car, with
Dick LaHaie
tuning, has been the hottest car on the track lately, and not only in winning races.
Did you know
that Larry has set the low elapsed time in each of the last eight rounds of racing? Plus, he had the quickest times in the last two rounds of qualifying at Indy, so, I'd say, he is the man to beat this weekend. Also,
did you know
that Larry hasn't lost in the first round since the Houston race at the end of last year? That's a string of 19 races in a row without an opening round loss and, if you look at the points, he leads Kenny by 45, that's huge. Kenny, by comparison, has dropped two, round one encounters this year, including the red light at the Winternationals. Just winning those two rounds would have meant another 40 points for the "King," and, well, you do the math.….Now, if you want to pick a "sleeper" in the field this weekend, how about
Mike Dunn?
Did you know
that Mike has won in Memphis in both Top Fuel and Funny Car? He took the FC title in 1991 (over
Tom Hoover
), and won in TF in 1996, beating
Joe Amato.
Plus, he added a runner-up finish in 1995, losing to
Cory McClenathan
. Of course,
Darrell Gwynn
also won there in 1988, so the team has a history of success in Tennessee, and, coming off their Indy performance, you have to like their chances.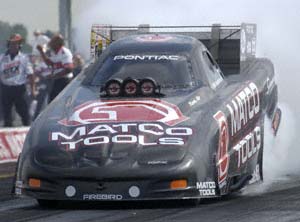 Whit Bazemore
In Funny Car, as hard as it may be to believe,
Whit Bazemore
has, all of a sudden, made a race of the points chase. OK, so maybe saying it's a "race" is a little strong, but he has certainly gotten everyone's attention over the past six weeks. Still, as well as he has done,
did you
know
that he has only trimmed 111 points off of the lead that John had prior to the
Pep Boys Nationals
in Pomona? And most of that came at Indy where Whit won and John went out in the first round. Whit is still 243 points out of first place, and, even though he's climbed from 6
th
to 2
nd
in the standings, he has a long way to go to really make this a race.
Did you know
that the 243-point deficit is the closest anyone has been to John since after the Topeka race in May? At that time,
Ron Capps
was in second place and was, believe it or not, 243 points back, the same as Whit is today.
Did you know
that five, different drivers have been in second place this year? Obviously, Whit and Ron are two of them, but, so are
Del Worsham
,
Bruce Sarver
and John Force. If Whit, and the rest of the Funny Car guys have any hope, it may come from the fact that John has lost in the first round at two of the past three races. John has already lost four times in the first round this year, and,
did you know,
that that is the most times he's gone out in round one in any year since 1990? And,
did you know
that the last time that he went out in the first round in consecutive races was in 1999 when he lost at Maple Grove the race after he lost in round one at Indy. Hmmmmm…..
Tommy Johnson
could be the spoiler here, since he, like Dunn, has won at Memphis in both fuel classes.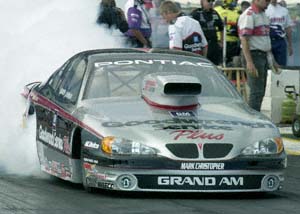 Warren Johnson
The Pro Stock battle, like Top Fuel, appears to be a two-car deal, also.
Warren Johnson
is just 80 points, or four rounds, in front of
Jim Yates
heading into Memphis. And Yates, in an effort to bolster his title hopes, has re-hired
Rickie Smith
to drive a second car and serve as the crew chief on both vehicles. Contrary to some rumors that are going around,
Richard Maskin
is not doing the engines for Yates,
Bob Ingles
is. W.J. has had great success in Memphis, winning the race four times, one of them coming over Yates back in 1996. Of course, you have to watch the Dodges here too, since
Darrell Alderman
and
Mark Osborne
have both been to the finals, with D.A. winning in 1994. And, it was here last year, that Scott Geoffrion stunned everyone with a national record in the class with his Mopar
….Jeg Coughlin
should be competing this week with a complete, "top to bottom" engine from the Jeg's in-house engine shop.
Mike Coughlin
used that home built power to win at Indy and, ironically, this is one team who may have actually benefited from the week off. Now, the yellow and black team can come with four cars and trucks all with Jeg's power, ready and rarin' to go.
Did you know
that it was here, last year, where Jeggie locked up his first NHRA Winston Championship? With Jeg not making the field at Indy, his consecutive qualifying streak came to an end at 55 races in a row.
Did you know
that the second, longest, consecutive qualifying streak in Pro Stock now belongs to
Ron Krisher
, who has made the cut 41 times in a row? W.J. leads the way, and the sport, with 282 straight, and, as you may know, his last DNQ came at the Gatornationals in 1987. But,
did you know
that there are only two drivers who made that '87 Gators' field who are still racing? Do you know who they are? I'll give you a hint, they have both been to final rounds this year. Give up? Well, I'll tell you at the end of this column. No cheating…In addition to Mike Coughlin, the defending Memphis champion, the rest of the Pro Stock Truck brigade will be in town and that point's battle is a three-way affair, with
Bob Panella
,
Randy Daniels
and
Greg Stanfield
all having a chance to win it. Randy certainly helped himself with a first round win over Greg at Indy, and a semi-final round win over Panella. In between, he beat Bob's teammate,
Jeff Gracia.
With only four races left in the season for the trucks, Memphis will be big, very big.
Speaking of big, the weather should be considerably better this year in Memphis than it has been in the past couple of years. The cold weather last year may not have been the only factor in the freak occurrences, but it certainly didn't help. Even Bob Gilbertson, who is fighting for a spot in the Winston Top 10 in Funny Car, was a victim of the cold in Memphis, when his windshield caved in on his last qualifying run, cracking, Paul Smith said, because it was just too, cold. Brrrrr…Now, the two guys who qualified when Warren Johnson could not at the 1987 Gatornationals, were Bruce Allen and Darrell Alderman, and they're the only two from that field who are still racing regularly…. Finally, I understand that one of Kenny Koretsky's cars (his), was totaled in a testing accident this past week. Kenny wasn't driving, but his status is up in the air for this week, and the rest of the year. By the way, Kenny didn't qualify for that '87 Florida field, either. He was 34th…Let's hope and pray for a good, safe race this weekend, and let's never forget the folks who were immediately touched by the tragedies of last week.




NHRA: 10 Most Recent Entries [ top ]

Apr 23- HOUSTON - Lucas Oil Drag Racing Series Wrap Up The NHRA Lucas Oil Drag Racing Series Wrap Up
Apr 23- CHARLOTTE 1 - J.R. Todd Aiming for Two Four-Wide Racing Wins in 2018
Apr 23- Mid America Dragway Joins NHRA Member Track Network
Apr 23- HOUSTON - Special Awards
Apr 23- HOUSTON - Sunday Video
Apr 22- HOUSTON - Sunday Pro Mod Wrap Up