Wed, 02 Dec 2020, 20:12 PM



Nothing Stops the Chaos as Singleton Scores Second Consecutive World Championship



Courtesy of Chris Graves



The challenges faced across the globe due to the pandemic created challenges in motorsports unlike anything we've ever seen, but dedication and perseverance prevailed for the racers and fans of the Funny Car Chaos Championship Series in 2020. It was no easy feat, with multiple events relocated and rescheduled, yet a full eight race season was completed and that came with record setting crowds and an impressive fifty five Funny Car teams participating in the tour this season. Over $175,000 in payouts and bonus programs was paid out this calendar year thanks to continued support from major series sponsors Red Line Shirt Club, Mears Mazda Volvo, O'Reilly Auto Parts and Spell Concrete & Paving Services.
The 2019 season marked the debut of the points Championship for Funny Car Chaos which was won with authority by Ken Singleton's "High Risk" alcohol Funny Car team from Chickasha, Oklahoma. Singleton and company spent many years in the drag boat circles before making the switch to asphalt and competing for four seasons in the Outlaw Fuel Altered Association, posting his best points finish of fourth in 2017 before going Funny Car racing on the Chaos tour in 2018. Singleton's screw blown alcohol burner is the last TA/FC campaigned by Texan Jimmy Jones and the hard working team has proven that commitment and consistency can go a long way.
With a target on his back and plenty of stiff competition to handle, Singleton came into the 2020 season ready to defend his title and got off to a strong start by winning the Rodak's Custom Coffee 'A' Field at the season opener in March at Pine Valley Raceway in Texas over Chris Schneider. Steve Vang's "Weekend Warrior" team made its series debut at the season opener and opened eyes with an impressive win in the AlkyDigger 'B' Field defeating Tod Barker. Literally just hours after the event, the reality of Covid-19 set in across America and the racing world was effectively shut down completely.
Timoszyk defeated Loftin
From mid-March through late May, Chris Graves and wife Tera, owners and operators of Funny Car Chaos, push through the adversity and were able to resume racing, with limited spectators, as the series made its debut at Iowa's Eddyville Raceway Park. With twenty five cars on the property in what was one of the first drag racing events to be hosted since the global lock down, Steve Timoszyk's "Detroit Tiger" claimed the 'A' Field win over Chuck Loftin and John Umlauf's nitro burning "Mass Chaos" Monza earned the 'B' Field title defeating Chris Schneider.
Haddock vs. Singleton
A busy June was on tap as two weeks after Iowa the series made its first ever appearance at Alamo City Motorplex in San Antonio, Texas for the first of back to back races with a stop at Penwell Knights Raceway in Odessa, Texas set for the following weekend. Under the watchful eyes of a great crowd in San Antonio, Ken Singleton returned to his winning ways using a 3.72 to defeat big show racer Terry Haddock's 3.75 in the 'A' Field final round. Clay Cunningham and team "Still Crazy" from Dumas, Texas clinched their first career Chaos event win in the 'B' Field by defeating Jeff Cameron.
On their trip home to the Texas panhandle, Cunningham and crew went for a wild ride as the left steer tire on their toterhome exploded sending the rig into a ditch and almost on its side. Thankfully, the team escaped the scary scene without injury, but this devastating blow sidelined their racing efforts for the remainder of the year. This fall the team took ownership of a new rig and they are gearing up for a full 2021 Chaos campaign with their alcohol burning Hemi.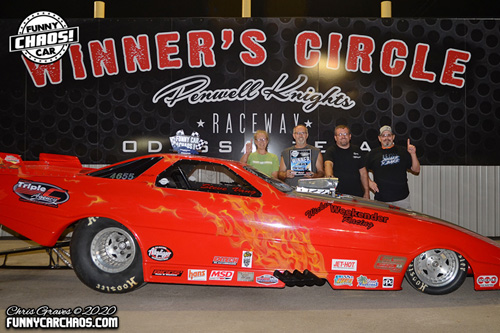 Steve Vang
On to Odessa the following weekend where the brewing rivalry between points leader Ken Singleton and tough competitor Chuck Loftin heated up in the semi-finals. Loftin's "Motivation" nitro burning Mustang from Seguin, Texas nipped Singleton in the lights with a 3.92 to a 3.95 and moved into the finals of the 'A' Field where he took the win over Kebin Kinsley. Steve Vang scored his second 'B' Field win of the season in Odessa over Nick Johnson. Meanwhile, the John Troxel owned, Chris Schneider driven "Brutus" from Holts Summit, Missouri had been steadily collecting round wins and precious points as the series reached the halfway mark. Schneider and company had tallied two runner up finishes to this point.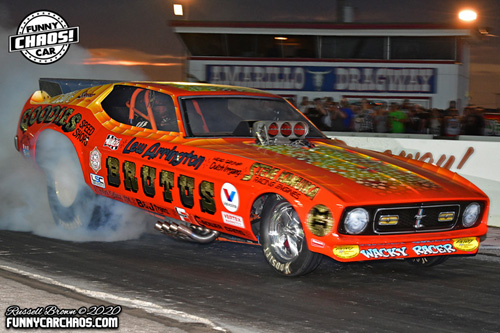 Chris Schneider
Thankful to be racing in Texas, where Covid restrictions were more lenient, the tour pressed on for its third annual visit to historic Amarillo Dragway in late July. The "Brutus" team continued to prove their talents with a 'B' Field win over Dustin Bradford, who made his first career final round appearance in the "American Dream" alcohol burning Barracuda from San Antonio, Texas. The 'A' Field in Amarillo went to Ken Singleton who defeated Kebin Kinsley who earned his second straight runner up finish. Points hungry Chuck Loftin took a disappointing first round loss in Amarillo as only two points races remained and every run would prove critical for the racers battling for a spot in the Top 5 Championship payout.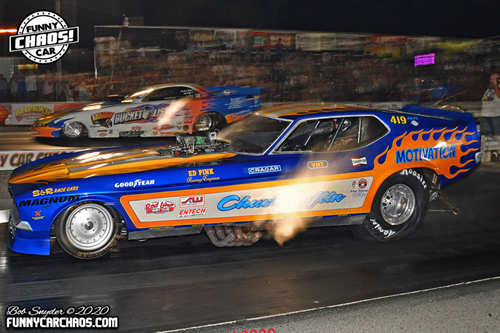 Loftin vs. Poloson
Smokin' Mo-Kan Dragway set the stage over Labor Day weekend for the second to last race of the season and in a field of over twenty entries, the Gary Doak owned and Nick Poloson driven "Bucket List" fuel burner claimed their first trip to the 'A' Field winners circle defeating a red lighting Ken Singleton. 'B' Field honors went to Matt Nissen and the Nebraska based "Runnin' Down A Dream" Corvette who defended their win from 2019 at Mo-Kan by taking out Colorado runner Keith Jackson. In the first round of 'A' Field competition, Singleton and Schneider squared off in the pair that would tell the tale for the 2020 title. Despite a .001 reaction time for Schneider, his 4.31 was no match for Singleton's 3.92 and with a semi-final loss from Loftin, Singleton had accumulated enough points at Mo-Kan to secure his second consecutive Funny Car Chaos World Championship by simply attending the World Finals, set for October 2nd and 3rd back at Alamo City Motorplex in San Antonio.
With an opening in the schedule after US 131 Motorsports Park was forced to cancel Funny Car Chaos due to strict Covid restrictions, a non-points exhibition event was added with just a three week notice at Nebraska's Kearney Raceway Park. This event was held September 11th and 12th, the weekend after Mo-Kan Dragway. In an exciting move, Chaos welcomed fuel altereds to join the fun and help fill the field on such short notice and with a field of fifteen floppers and four fuel altereds the Chaos was on. In the 'A' Field, Ken Singleton used a 3.82 at 201 to defeat North Dakota's Jim Chase who clicked off a close 3.96 at 188 mph. 'B' Field honors went to Nebraskan Justin Herbst who defeated Nick Johnson.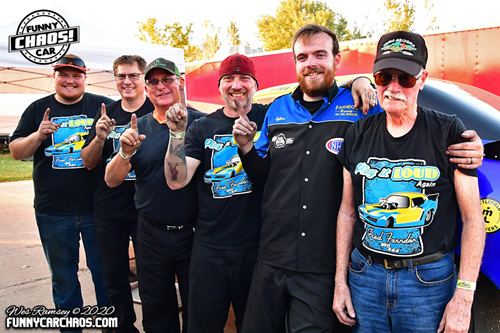 Fred Farndon Retirement
For all those in attendance in Kearney, the moment no one will forget was the official retirement from drag racing for long time nitro racer Fred Farndon. Farndon made a 'final pass' for the crowd and received a standing ovation from everyone on the property as he towed back in front of the crowd, it was quite a moment for Farndon's team and the Chaos family. We'd like to thank Fred Farndon for his dedication to the sport of drag racing and support of Funny Car Chaos in his final chapter as a driver after a fifty plus year career behind the wheel of nitro burning drag racing machines.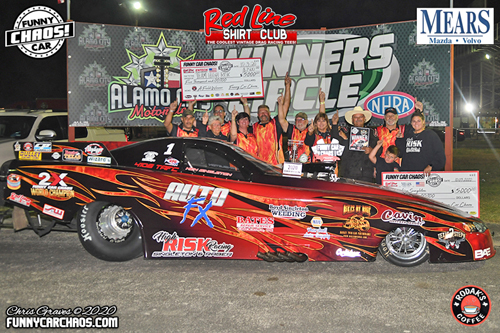 Ken Singleton is crowned Champion
The last race of the year, the grand finale, the conclusion of a hard fought and exciting season was upon the Chaos racers under 80 degree sunny Texas fall skies. Twenty funny cars from six different states converged on Alamo town and showed no mercy. The title was locked up, Singleton was crowned the 2020 Red Line Shirt Club Funny Car Chaos World Champion, but shuffling of points positions two through five was certainly a possibility as racers in the Top 5 felt the heat to hang onto their spots in the year end payout. Ronny Young in the famed "Blue Max" wowed the crowd with a career best 3.63 on Friday night but the spotlight was quickly stolen by Allan Middendorf and the "American Outlaw" nitro burner from Illinois tuned by Jake Sanders.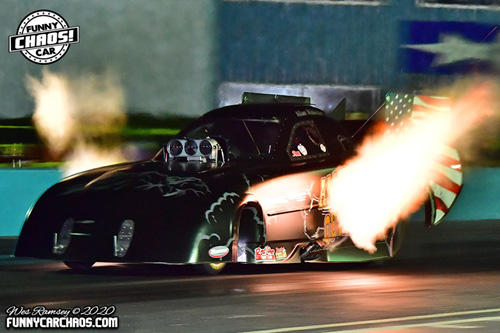 Allan Middendorf's record pass.
Middendorf was making his first appearance of the season after battling with Singleton to the final races of 2019 for the inaugural Championship, where he suffered a wild top end accident at the now closed North Star Dragway, ending his title run. Business and the pandemic got in the way of Middendorf's racing efforts in 2020, but the team wanted to close the year with one more weekend of competition and came out swinging. In the first qualifying session, Middendorf destroyed the Funny Car Chaos elapsed time record with a 3.38 at 234 mph lap, missing the mile per hour mark held by Terry Haddock by only half a mile per hour. After everyone on the property picked their jaws up off the floor, it was clear these teams came to play for keeps at the World Finals.
A stiff mix of alcohol and nitro burners were living in the three second zone as eliminations got underway and by final round time, it was Middendorf and Singleton ready for the last dance of 'A' Field competition. The 'B' Field finalists Tod Barker and Nancy Matter were both jazzed up to end the year with a big win and it was Matter blasting to a 3.92 at 192 mph to score her second career Chaos win for the "Guardian" team from Lewisville, Texas. Barker's runner up finish marked his second of the season and a career best 4.16 at 170 mph will be momentum team "Back In Black" will ride into 2021.
The 'A' Field final, the last pair of the season, the Champ versus the new world record holder, strap in for this one folks. But, a mechanical issue plagued Middendorf on the burnout, lifting the blower and deploying the parachutes as the "American Outlaw" coasted to a stop and Middendorf climbed out to watch Singleton claim win number five on the season with a 3.73 at 206 mph solo blast. Whew, what a season, it was hard to believe it was over.
The Funny Car Chaos series would like to congratulate Ken Singleton and team "High Risk" on back to back series Championships! The top five also included runner up Chris Schneider, third place Chuck Loftin followed by Steve Vang and Dustin Bradford. Fifty five teams competed in 2020, a truly remarkable number given the circumstances presented by the pandemic. The series saw record spectator attendances, new series performance records, lots of smiles, plenty of fun and the teams provided very competitive side by side drag racing entertainment and that's what drag racing at Funny Car Chaos is all about.
A big thanks goes out to Red Line Shirt Club, Mears Mazda Volvo, O'Reilly Auto Parts, Spell Concrete & Paving Services, AlkyDigger, Rodak's Custom Coffee, Littlefield Blowers, Taylor Motorsports Products, Decades of Wheels Museum, Best of Texas BBQ Sauce, S&W Race Cars, Victory Driveline Components, Dooley & Sons Hot Rod Shop, Ellis County Custom Carts, Meyer Enterprises, Performax Trailers, Precision Reprographics, Entech Oil and Tony Lewis Collision & Paint for their support of the series through a trying 2020 campaign. The 2021 Championship Tour is shaping up to be a dandy, for more info visit www.funnycarchaos.com.




Drag News: 10 Most Recent Entries [ top ]

Jan 18- Summit Racing Returns as MWDRS Title Sponsor
Jan 14- NHRA Jr. Drag Racing League Conference Finals Set for Summer 2021
Jan 13- Funny Car Chaos Announces $250,000 Championship Tour Payout
Dec 29- Inaugural Southern Sportsman Showdown to Spotlight Stock and Super Stock Racers
Dec 23- Inaugural Nitro Chaos Event Set for July 2021
Dec 21- NHRA Announces Eight-Race 2021 NHRA Hot Rod Heritage Series Schedule
Dec 21- Pacific Division Summit Racing Equipment ET Finals Moves to Sacramento Raceway
Dec 18- Texas Motorplex Releases 2021 Schedule
Dec 17- "Flings" Add Lohnes, Perivolaris and Lazzari for 2021
Dec 17- 2021 Good Vibrations Motorsports March Meet Postponed