Wed, 02 Dec 2020, 17:40 PM



Summers Earns Pro Mod Win at a Unique SCSN 16 in Las Vegas



Courtesy of Brandon Mudd


Photo copyright 2020 Gary Nastase Photography





LAS VEGAS -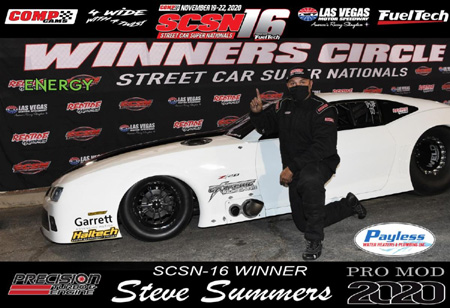 Steve Summers
While one of the most challenging yet, the COMP Cams Street Car Super Nationals 16 Presented by FuelTech provided a much-needed weekend of grassroots drag racing at The Strip at Las Vegas Motor Speedway. With COVID-19 restrictions heavy due to the pandemic surging through America since March, fans and racers did their parts to ensure they were masked and socially distanced throughout the event in accordance to state directives.
"We cannot thank everyone enough for this weekend," said Mel Roth, Street Car Super Nationals promoter. "A lot of people didn't think we were going to pull it off and there were a couple times where it was close. But we want to thank the elected officials of Nevada for working with us to allow a limited number of spectators to watch in person.
"I don't know what the future holds, but being able to bring a little bit of normalcy to the drag racing world for a weekend felt good."
In Pro Mod, Steve Summers' 5.628-second lap at 264.39 mph topped runner-up Sean Renteria pass of 7.994 seconds at 119.04 mph. The car count in Pro Mod was hit the hardest, due almost entirely in part to COVID restrictions in Canada preventing the dozens of racers from north of the border who traditionally attend from racing. Although Canada couldn't be represented on the track, they were still present at the event, with "O Canada" being played prior to eliminations, as is custom.
SCSN 15 Pro Mod finalists, Aaron Wells (who won the event) and Randy Merrick, had both planned to attend this season. However, Wells made a last-minute decision to stay home due to COVID concerns and Merrick's car wasn't ready after a recent rebuild.
"We still had an amazing Pro Mod field," Roth said. "Ed Thornton, the Shootout winner from Thursday, just blistered the track and Steve Summers had an incredible weekend. The Pro Mods always get a lot of attention and even though we didn't see our usual car count in that class, they still put on a show."

SCSN 16 Finals

Precision Turbo Pro Mod:
Steve Summers (5.628 seconds, 264.39 mph)
over Sean Renteria (7.994 seconds, 119.04 mph)

Vortech Superchargers Outlaw 8.5:
Jason McLean (4.723 seconds, 153.35 mph)
over Anthony Smith (NY)

MagnaFuel Outlaw 10.5:
Gilly Bobby (3.938 seconds, 198.64 mph)
over Art Raz (NT)

MagnaFuel XDR:
Sergio "FLACO" Gonzalez (4.184 seconds, 177.04 mph)
over Derek Cooper (6.266 seconds, 66.82 mph)

Ross Racing Pistons Limited 235:
Wendy Gonzalez (5.266 seconds, 135.20 mph)
over Luke Harper (5.716 seconds, 120.42 mph)

Mickey Thompson Tires X275:
John Urist (4.299 seconds, 169.83 mph)
over Kenny Hubbard (4.259 seconds, 165.44 mph)

Nitrous Outlet Super Index:
Mark Laeger (RT .013)
over Christopher Tourek (RT .041)

Red Tide Canopies Triple Index:
Joe Cox, Jr (RT .042)
over Don Bonahoom (RT LB3A)

MMR Open Comp:
Kevin Stokesberry (9.598 seconds, 140.58 mph)
over Monte Lefrenz (9.557 seconds, 140.31 mph)

Morrow Bros Mustang Maddness:
Chris Holbrook (RT .054)
over Kyle Holbrook (RT .061)

Unlimited Prod Electronics:
Peyton Januik (RT .034)
over Steve Valdez (RT .187)

Calvert Racing Non Electronics:
Brandon Umberger (RT .087)
over Ed Hauter Jr (RT .064)

Hughes Performance Big Tire No Time:
Giuseppe Gentile
over Lawrence Drake

Addiction Motorsports Limited Small Tire No Time:
Brandon Kersey 
over Richard Shelly

Holder's AC Small Tire No Time:
Marty Stinnett
over Bobby Frye

SMC Customs Pro 275 No Time:
Flaco
over Darren Rupinski





Drag News: 10 Most Recent Entries [ top ]

Jan 14- NHRA Jr. Drag Racing League Conference Finals Set for Summer 2021
Jan 13- Funny Car Chaos Announces $250,000 Championship Tour Payout
Dec 29- Inaugural Southern Sportsman Showdown to Spotlight Stock and Super Stock Racers
Dec 23- Inaugural Nitro Chaos Event Set for July 2021
Dec 21- NHRA Announces Eight-Race 2021 NHRA Hot Rod Heritage Series Schedule
Dec 21- Pacific Division Summit Racing Equipment ET Finals Moves to Sacramento Raceway
Dec 18- Texas Motorplex Releases 2021 Schedule
Dec 17- "Flings" Add Lohnes, Perivolaris and Lazzari for 2021
Dec 17- 2021 Good Vibrations Motorsports March Meet Postponed
Dec 14- Second Annual CTech World Doorslammer Nationals Set for March 5-7, 2021