Mon, 3 Sep 2001, 08:07 PM



Dixon, Bazemore, Savoie Among Winners at the MAC Tools U.S. Nationals



Courtesy of NHRA Communications



CLERMONT, Ind. --
Larry Dixon extended his NHRA Winston points lead with a commanding Top Fuel performance Monday at the Mac Tools U.S. Nationals, the world's most prestigious drag race.
Whit Bazemore, Greg Anderson, Angelle Savoie and Mike Coughlin also were winners of the $2.6 million race, NHRA's 500th national event and the 18th of 24 events in the $50 million NHRA Winston Drag Racing Series during NHRA's 50th Anniversary season.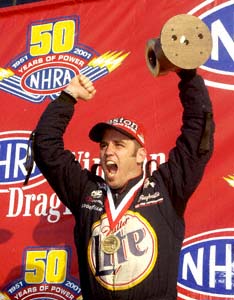 Larry Dixon
Dixon used consistent 4.6-second runs to claim his fifth victory of the season and second at the Indianapolis Raceway Park Labor Day classic. He powered his Miller Lite dragster to a 4.609 second run at 315.93 mph to defeat Mike Dunn's Yankee dragster, which covered the same distance in 5.149 at 199.79.
"This race means a lot to everybody and we are real fortunate to win," said Dixon, who gave much of the credit to veteran crew chief Dick LaHaie, who had never won the U.S. Nationals during his legendary career.
"In the beginning it was just Indy," Dixon added. "This was the one. (Don) Garlits and Shirley (Muldowney) didn't come back to Atlanta, they (made their comeback) at Indy."
In his march to victory, Dixon defeated Bruce Litton, Darrell Russell and most importantly for his chances at a first Winston championship, Kenny Bernstein. He inched 45 points ahead of rival Bernstein in the chase for the 2001 crown.
"I could care less about points this weekend, I wanted to win Indy," said Dixon, who also won this race as a rookie in 1995. "If I won here, I was going to get all the points anyway. We don't have a John Force kind of lead in this deal. If Winston was cutting checks this weekend, we'd be in good shape, but we have six races to go."
Top Fuel legend Garlits, 69, accomplished his goal of running four-seconds at 300 mph (4.720 seconds, 303.37 mph), but lost in a tire-smoking duel to Dunn in the first round.
"I can't remember when I've had so much fun," said Garlits, a three-time Winston champion and eight-time U.S. Nationals winner. "This weekend was a dream."
Muldowney's pink Mac Tools dragster experienced mechanical problems at the starting line that led to an uncharacteristic red-light start against first round foe Darrell Russell.
"I didn't come here for a joy ride, I came here to win," said the 61-year-old Muldowney, who posted a career-best speed of 320.20 mph during the weekend. "I think we had a legitimate chance to do that. I just wanted a chance today, but I didn't get it."
Bazemore scored second win of the season and second U.S. Nationals victory by outrunning Tony Pedregon in the Funny Car final. Bazemore clocked a 4.971 at 298.14 in his Matco Tools Pontiac Firebird to pull away from Pedregon's Castrol Syntec Ford Mustang, which lost traction midway and recorded a 5.123 at 275.06.
"Being the No. 1 qualifier we looked like the favorite, but we went into the final round feeling like the underdog," said Bazemore, also a winner here in 1997. "Tony ran a (4.82) earlier today. To beat those guys you have to do everything they do and turn it up a notch. That's the only way to beat them. It's an unbelievable feeling to be here at the U.S. Nationals holding another trophy."
With the victory, Bazemore, who earned the title of driver of the quickest and fastest Funny Car (4.756 seconds, 325.69 mph) in NHRA history during the weekend but couldn't covert the run into a national record, cut John Force's Winston points lead to 243.
"To win Indy, this is everything," said Bazemore, who outran Al Hofmann, Del Worsham and Ron Capps to advance to his sixth final of the season. "This is what this sport is. To win this race two times, you really have to pinch yourself."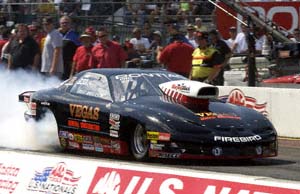 Greg Anderson
Anderson took his second win of the season and first at the U.S. Nationals by holding off Mark Osborne in the Pro Stock final. Anderson drove his Pontiac Firebird to a 6.958 at 198.58, while Osborne's Dodge Neon trailed to the finish in 7.016 at 198.70.
"I can't believe it happened," said Anderson, who was runner-up at Indy in 1999. "I had a terrible day driving, but the car was awesome. The car was just really fast all day."
Jim Yates, who advanced to the semifinals, cut second-round loser Warren Johnson's Winston points lead to 80.
Savoie claimed her 20th career victory in Pro Stock Motorcycle and first-ever at Indy. She took her fifth win of the season and increased her Winston points lead to 51 over Antron Brown by clocking a final round performance of 7.237 at 183.37 on the Team Winston Suzuki, while final round foe Shawn Gann ran 7.311 at 176.77, also on a Suzuki.
Savoie becomes only the second female to win the U.S. Nationals in NHRA history. Muldowney claimed a Top Fuel title here in 1982.
"I'm so excited to finally win the U.S. Nationals," said Savoie, who beat Sam Hurwitz, Todd Doege and Craig Treble to advance to the final. "To win here is everything. But for the first time I didn't cry. I was just so proud that I did my job. Now the next thing on my agenda is to defend my Winston championship."
Coughlin earned his first Pro Stock Truck victory of the season and second at the U.S. Nationals in an all-Chevy S-10 final round. Coughlin, who also won here in 1999, powered to a final round run of 7.540 at 179.40, while Daniels posted a 7.566 at 178.33 in the runner-up effort.
"To win Indy once is awesome. To win it twice, I can't describe how it feels," said Coughlin, who carried the flag for Team Jeg's over the weekend as his two Pro Stock brothers -- Jeg and Troy -- failed to qualify. "This means a lot to my team. We've put a lot of work into this new engine program and we're excited to finish off the season with a bang."
With the runner-up finish, Daniels cut Bob Panella's Winston points lead to 40.
The next NHRA Winston Drag Racing Series event is the Keystone Nationals, Sept. 13-16 at Maple Grove Raceway, Reading, Pa.
Monday's final results from the 47th annual Mac Tools U.S. Nationals at Indianapolis Raceway Park. The $2.6 million race is the 18th of 24 events in the $50 million NHRA Winston Drag Racing Series:
Top Fuel -- Larry Dixon, 4.609 seconds, 315.93 mph def. Mike Dunn, 5.149 seconds, 199.79 mph.
Funny Car -- Whit Bazemore, Pontiac Firebird, 4.971, 298.14 def. Tony Pedregon, Ford Mustang, 5.123, 275.06.
Pro Stock -- Greg Anderson, Pontiac Firebird, 6.958, 198.58 def. Mark Osborne, Dodge Neon R/T, 7.016, 198.70.
Pro Stock Bike -- Angelle Savoie, Suzuki, 7.237, 183.37 def. Shawn Gann, Suzuki, 7.311, 176.77.
Pro Stock Truck -- Mike Coughlin, Chevy S-10, 7.540, 179.40 def. Randy Daniels, S-10, 7.566, 178.33.
Federal-Mogul Dragster -- Keith Stark, 5.614, 260.97 def. Bill Reichert, 5.598, 246.93.
Federal-Mogul Funny Car -- Frank Manzo, Dodge Avenger, 5.724, 251.39 def. Jay Payne, Chevy Camaro, 5.763, 250.55.
Comp Eliminator -- Santo Volpe, Chevy Corvette, 6.951, 200.71 def. Robert Bailey, Dragster, 6.822, 195.96.
Super Stock -- Peter Biondo, Pontiac Firebird, 10.241, 121.44 def. Jerry Jenkins, Plymouth Barracuda, 9.184, 144.63.
Stock -- Eric Waldo, Ford Mustang, 10.922, 119.55 def. Jim Waldo, Mustang, 10.604, 126.25.
Super Comp -- Damon Dabbs, Dragster, 8.895, 171.34 def. Jim Hughes, Dragster, broke.
Super Gas -- Larry Edmoundson, Ford Probe, 10.420, 139.36 def. Steve Shaughnessy, Ford Roadster, 10.569, 132.28.




NHRA: 10 Most Recent Entries [ top ]

Mar 22- LAS VEGAS 1 - Defending Funny Car Winner Tommy Johnson Jr. Excited for Four-Wide Racing
Mar 22- NHRA Northwest Nationals Tickets on Sale Now
Mar 21- LAS VEGAS 1 - Fact Sheet
Mar 21- LAS VEGAS 1 - Event Preview
Mar 20- Strong Stable of Contending Pro Stock Racers Vie for Final Starting Position for K&N Horsepower Challenge
Mar 20- GAINESVILLE - Special Awards
Mar 20- GAINESVILLE - Lucas Oil Drag Racing Series Wrap Up
Mar 19- GAINESVILLE - Sunday Video
Mar 18- GAINESVILLE - Pro Mod Sunday Wrap Up
Mar 18- GAINESVILLE - Sunday Wrap Up