Wed, 5 Sep 2001, 09:01 AM



What A Race!!



By Bob Frey



Wow! That's all I can say, wow. The 47
th
running of the MAC Tools U.S. Nationals was a spectacular drag race. Now remember, I've been to a lot of these races, and I have a lot of fond memories of Indy, but it'll be hard to top the excitement, the drama, the emotions and the thrills of this race. There really wasn' t much that could have happened to make it a better race.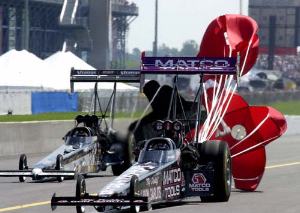 Garlits vs. Karamesines
To begin with, the return of
Don Garlits
to Indy was, in itself, enough to make this a great event. To see him qualify, run in the four-second range, and go over 300 mph was just icing on the cake. And, of course, he did all of those things on a run against his long time friend and rival,
Chris Karamesines
….Then you had
Shirley,
again, at Indy in all of her glory. All you had to do was walk into the pits and you could see how popular she still is with the fans. Even after her foul start in the first round, she went back to the pits and "worked the ropes," meeting fans and signing autographs for hours. By the way, Shirley fouled out because her brake handle had broken in the pits when she was warming the car up prior to the first round, and, when it got welded back together, it was in a slightly different angle, an angle that prevented her from fully applying pressure when she staged the car, so it rolled through the beams and she got the red light. While it was a tough break (no pun intended) for her, she still thrilled the crowd all weekend long. So did "Big." In fact, after Don's historic run, he came up the return road to a standing ovation, got out of the car and ran along the fences, much like Cal Ripken did earlier this year in Baltimore. It was a sight to behold. Thanks to both Don and Shirley for giving us a few more thrills at Indy. Oh, before I forget,
did you know
that Shirley recorded the best speed of her career at Indy, a great 320.20 mph pass during qualifying?
Larry Dixon's win, his second at Indy, moved him 45 points in front of Kenny Bernstein in the battle for the Winston title. Larry grabbed 37 more points than Kenny this weekend, much of that from his semi-final win over the "red car." After tying car owner, Don Prudhomme, with his 14th Top Fuel win in Brainerd, Larry now moved past the "Snake" and into a tie with, of all people, Dick LaHaie, with 15 wins. Did you know that this was the first time that LaHaie has ever been in the winner's circle at Indy? And, the win was probably all that much sweeter because LaHaie and Dixon beat Darrell Gywnn's car in the final. After all, it was Darrell, himself, who kept LaHaie from getting the title in the final round at the 1989 event….Mike Dunn was denied a little piece of history when he lost to Dixon in the final. Did you know that Mike, who had won Indy in the Funny Car class in 1986, could have become the fifth person to win Indy in both Top Fuel and FC if he could have beaten Dixon? Maybe next year, Mike….Mike can now add the name of Don Garlits to the list of drivers that he has raced in his great career. Did you know that Dunn has now faced 101 different drivers over the span of 20 years in the sport? How many guys can say that they have raced Garlits, Karamesines, Eddie Hill, Gary Scelzi, John Force, Jim White, Don Prudhomme and John Andretti, among others, in their drag racing careers? Not many….About the only thing in common between Dixon's win this year and his '95 win, is the fact that, at both events, Kenny Bernstein was the number one qualifier and set low elapsed time. He also didn't win either of them. Oh, I almost forgot, Peter Biondo won in 1995 and he won this year, too.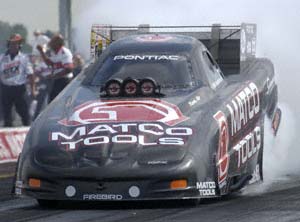 Whit Bazemore
Whit Bazemore
leveled the field in Funny Car and almost doubled up after reaching the finals of the Budweiser Shootout on Sunday. Whit, who made the quickest and fastest pass in Funny Car history on Saturday night, lost in the finals of the "Shootout" but made up for it with his win on Monday.
Did you know
that
Frank Pedregon
, who was making his first start in the "Shootout," became only the fourth "rookie" to win the Big Bud Bash? Kenny Bernstein did it in 1983,
Tom McEwen
in '84 and
Ron Capps
in '98. And, please, don't write and say, "what about
Frank Hawley
in 1982?" Everybody was a rookie in '82…Whit's win shaved a whopping 82 points off John Force's lead, and, while John is still way out in front, a strong showing by Whit at Maple Grove could make things interesting.
Did you know
that this was the fifth time that John has lost in the opening round at Indy?
Jim Epler
, who beat Force, has now beaten John two times in a row in round one, including his win at Sonoma a few weeks ago.
Did you know
that Epler is the only driver to beat John twice in the opening round in the same year since 1990? …
Al Hofmann
and
Tim Wilkerson
both deserved more than a losing ticket for their first round performances, didn't they? Al almost beat Whit, running a 4.95 to Whit's 4.94, while Tim, the runner-up to Bazemore in '97, carded an even better 4.93 in his loss to Capps….The only similarities between Whit's first Indy win and this win is the fact that, in '97 he beat a Pedregon (Cruz) and Ron Capps along the way, just like he did this year when he beat Ron and then Tony P in the finals. Oh, yeah, Peter Biondo won in 1997 and he won this year, too. Or did I say that already?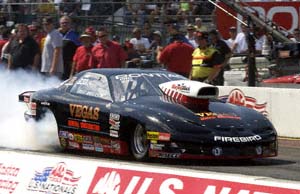 Greg Anderson
Greg Anderson
won his second race of the year in only nine starts, and that's pretty impressive. Rumor is that Greg will be with a different team next year and run the full schedule. I hope I get him in the fantasy league. I guess that old Pontiac Firebird has a lot of power, because Greg, by his own admission, wasn't really sharp on the line at Indy. In fact, the .474 reaction time that he had in the final was his best of the afternoon. Go figure. Still, with two Indy finals (he was runner-up in '99), a U.S. Nationals win, and a couple of victories this year, he is one of the real stars of the future in this class. About the only thing that was the same between his '99 final and this race, was the fact he beat
Mike Edwards
and
Bruce Allen
along the way in '99 and he beat them both this year, too. He also beat
Hurley Blakeney
this year, after Hurley qualified his Ford in the 15
th
spot. As such, Hurley became the first Ford driver to qualify at Indy since
Billy
and
Bob Glidden
did it back in 1996….
Jeg Coughlin
failed to qualify for the field, ending his streak at 55 consecutive starts.
Did you know
that Jeg's last DNQ was back at Atlanta in 1999? That leaves only
Warren Johnson
,
Mike Edwards, Ron Krisher
and
Jim Yates
as drivers who have made every field this year… When Warren went out in round two, Jim Yates had a golden opportunity to gain some real ground on the point' s leader. But, Jim lost in the next round to
Mark Osborne
and only managed to pick up 18 total points on W.J. Still, it's something….Osborne, who qualified number one at Indy for the third, consecutive year (two in car and one in the truck class), gave Mopar hope going into the final that they may have their first, Indy winner since 1991 when
Darrell Alderman
turned the trick. And, even though he lost, "Oz" did come out with low elapsed time and top speed in the class in addition to his final round appearance.
Did you know
that the last time that a Mopar recorded top speed at the U.S. Nationals was in 1981 when
John Hagen
did it with an amazing blast of 163.63 mph? And,
did you know
that only once in the history of the class has a Mopar grabbed both low elapsed time and top speed at Indy? Believe it or not, that came way back, and I mean way back, in 1971, the second year of the class, when
Stuart McDade
, one of the great, early Chrysler drivers, went 9.96 at 144.23 to set both marks. And about the only thing similar between 1971 and now, is that Peter Biondo was born in '71. I just had to throw that in.
Angelle Savoie made history at Indy this weekend. Did you know that she became just the second woman ever to win at the U.S. Nationals? In the process, she put a little distance between herself and Antron Brown in the battle for the championship. Mrs. Savoie added 41 points to her lead coming in and now is up by 51 over Antron….Shawn Gann, the runner-up to Angelle, almost doubled-up at Indy. Shawn won the Holley Pro Stock Dominator Duel on Saturday and could have picked up an extra 10 grand if he won on Monday, too. It would have been the biggest, surprise weekend in the bike class since Jim Bernard swept both titles in 1991. Gann, who won the All Pro Bumper-to-Bumper Reaction Time Challenge at Indy, had a .410 reaction time in the semi-finals, and an even better .407 in the finals. You can't ask a guy to do much more than that, can you?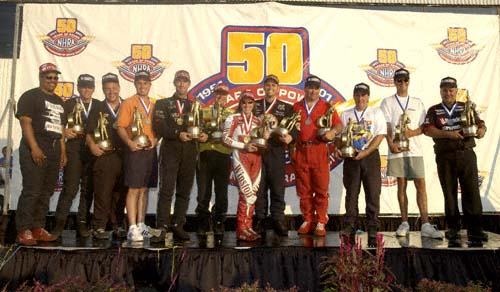 From left to right, the winners at the 47th annual U.S. Nationals are Ronnie Hood, Keith Stark, Santo Volpe, Peter Biondo, Whit Bazemore, Mike Coughlin, Angelle Savoie, Larry Dixon, Larry Edmoundson, Damon Dabbs, Eric Waldo and Frank Manzo.
Since I've mentioned the "Terminator," Peter Biondo already, I guess I should say congratulations to him and all of the sportsman winners at Indy, and thanks for the great show. Keith Stark and Frank Manzo won the top, two sportsman classes, while Santo Volpe added a spectacular win in Competition Eliminator. Santo drove Bob Phelps' AA/A Corvette to a wildly popular victory, and became the first driver to win Indy with a AA/A since Tom Trisch turned the trick back in 1981. It was way cool!…The Stock Eliminator final saw a rare, father-son match, with Eric Waldo beating his dad, and former Winston Champion, Jim in the final. A final, by the way, that featured two, big block, stick shift Fords. Way to go Waldos!.. Of course the Kalitta family and the Johnson family have had father-son finals before, but it was still really neat to see.
I could go on and on, but I'll stop here by saying, again, that this year's MAC Tools U.S. Nationals was, for me, maybe the best ever. And remember, I was there when Don Garlits ran his first six-second run and shaved his beard at Indy in '67. But, no matter what happens in the future, this one will be tough to beat. Just like Peter Biondo!




NHRA: 10 Most Recent Entries [ top ]

Mar 18- GAINESVILLE - Top Fuel Round 1 Eliminations
Mar 18- GAINESVILLE - Top Alcohol Dragster Round 2 Eliminations
Mar 18- GAINESVILLE - Super Comp Round 5 Eliminations
Mar 18- GAINESVILLE - Top Alcohol Funny Car Round 2 Eliminations
Mar 18- GAINESVILLE - Top Dragster presented by RacingRVs.com Round 3 Eliminations
Mar 18- GAINESVILLE - Papa John's Extends Official Partnership with National Hot Rod Association
Mar 18- GAINESVILLE - Top Sportsman presented by RacingRVs.com Round 3 Eliminations
Mar 18- GAINESVILLE - Sunday Schedule
Mar 18- GAINESVILLE - Super Gas Round 4 Eliminations
Mar 18- GAINESVILLE - Super Stock Round 4 Eliminations