Thu, 6 Sep 2001, 09:40 AM



Hemi Challenge 2001



By Geoff Stunkard, editor, MoparMuscle Magazine



CLERMONT, Ind. --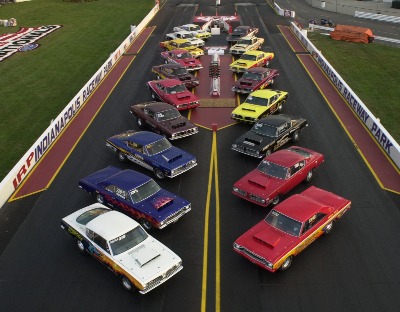 Hemi Challenge Line Up
While the SS/AA class eliminations are considered a highlight of the NHRA Mac Tools U.S. Nationals, this year's edition offered particular drama. This was due in no small part to the posted award of $10,000 by Mopar Performance. As a result, cars from all over the nation were on hand to take part in this year's event. NHRA was taking no chances of competitors being illegal, either; the sanctioning body put the VP racing fuel in each machine prior to every round, and a close scrutiny during tech had three competitors bounced for infractions. By Friday morning, 17 of the 18 cars eligible for competition were ready to go (one entry broke and was unable to return).
The drama began in the opening stanza, when top qualifier Richard Beshore was unable to fire his car for the bye run and was disqualified, ending his chances at the crown. Meanwhile, other heavy hitters fell in the quarter finals; Sid Bonnecarrere fell to Jim Keyes with a red-light, 9.18 to a much slower 9.32, and David Barton, son of engine builder Ray Barton, was late off the line, wasting a 9.10 to Joe Jenkins 9.14. However, Bucky Hess, who had a heartbreaker last year when he could not get out of his pit space for the second round, prevailed this year, and with a best of the round 9.05 to beat Dean Nicopolis, and Joe Teuton Jr., who also was locked out in 2000 due to pit traffic, beat Rick Johnson for the final berth.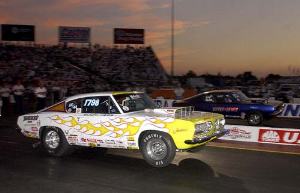 Hess vs. Keyes
Four of the Hurst-created-style Barracudas were now left and Bucky proved it might indeed be his day when he took out Teuton, the other strong competitor, blasting to another 9.05. Meanwhile, Jim Keyes made the most of an 9.32 by beating Jenkins for the other final round berth when Jenkins broke.
The sun was setting at IRP as the two made their way to starting line. Due to the efforts of David Hakim of Mopar Performance and Graham Light of NHRA, the final was scheduled as a tribute to Pro Stock's birth, scheduled between Friday evening Pro Stock Motorcycle and Pro Stock car. At the green, Hess was off and sped down track to a 9.07 for the 2001 title and its big buck accolades and contingency funds; Keyes had difficulties and shut off at the 100-foot mark. For his effort, Keyes was awarded a new Mopar Performance Hemi block for his next engine project.




NHRA: 10 Most Recent Entries [ top ]

Apr 24- CHARLOTTE 1 - Steve Torrence Enjoying Four-Wide Success Heading to NGK Spark Plugs NHRA Four-Wide Nationals
Apr 24- CHARLOTTE 1 - Fact Sheet
Apr 24- Kalitta Motorsports Welcomes NASCAR Stars to the SealMaster Track Walk in Charlotte
Apr 24- zMAX Dragway Celebrates 10th Anniversary
Apr 24- CHARLOTTE 1 - NGK Spark Plugs NHRA Four-Wide Nationals Brings 40,000 Horsepower Thrill Show to zMAX Dragway
Apr 23- HOUSTON - Lucas Oil Drag Racing Series Wrap Up The NHRA Lucas Oil Drag Racing Series Wrap Up
Apr 23- CHARLOTTE 1 - J.R. Todd Aiming for Two Four-Wide Racing Wins in 2018
Apr 23- Mid America Dragway Joins NHRA Member Track Network
Apr 23- HOUSTON - Special Awards
Apr 23- HOUSTON - Sunday Video