Sun, 2 Sep 2001, 08:07 PM



Pedregon Wins $100,000 Budweiser Shootout



Courtesy of NHRA Communications



Garlits Records 300 mph Speed at MAC Tools U.S. Nationals



CLERMONT, Ind. --
Frank Pedregon pocketed $100,000 Sunday for winning the Budweiser Shootout at the 47th annual Mac Tools U.S. Nationals at Indianapolis Raceway Park, but legendary Top Fuel driver 'Big Daddy' Don Garlits stole the show at the world's most prestigious drag race when he clocked his first 300 mph speed.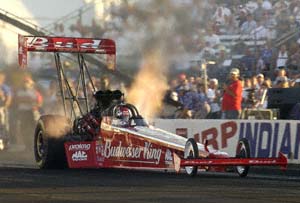 Kenny Bernstein
Kenny Bernstein, Whit Bazemore, Mark Osborne, Angelle Savoie and Mike Coughlin will lead their respective categories into tomorrow's 10:30 a.m. eliminations at the $2.6 million race, the 18th of 24 events in the $50 million NHRA Winston Drag Racing Series.
Garlits, a three-time Winston Top Fuel champion and eight-time U.S. Nationals winner, solidified his drag racing resume by clocking a four-second run with a speed of 300 mph when he sped down the track with a career-best effort of 4.720 seconds at 303.37 mph in his Matco Tools dragster. Garlits, who last competed at an NHRA event in 1992, will face No. 2 qualifier Mike Dunn in the opening round. Prior to the run, Garlits' best was 5.07 seconds at 287 mph.
"What a deal," said an emotional Garlits, who was paired alongside longtime rival Chris Karamesines on the historic run. "If I never do another thing in drag racing the rest of my life, I can always say I had a great time at Indy. That run would've been better. It was on a much better pass and it got loose right in the middle and I had to drive it around a little. When I went through the lights I knew it was over 300. I didn't think it was much over 300, but I knew it was close. That thing left (the starting line). Now we're concentrating on the plan for race day to see how many rounds I can go."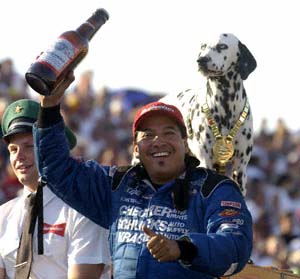 Frank Pedregon
Pedregon, the '99 U.S. Nationals winner, became the fourth driver to win the lucrative bonus event for Funny Cars in his first start, as he drove his Checker Schuck's Kragen Pontiac Firebird to a 5.072 second run at 282.48 mph. Heavy favorite Bazemore lost traction in his Matco Tools Firebird and posted a 6.290 at 222.99 for the $15,000 runner-up paycheck.
"I'm exhausted already because this feels like winning the race," said Pedregon, who will take on Dean Skuza in tomorrow's opening round. "Now, I have to get mentally ready like I know how to do and try and go out there and win even more money."
Should Pedregon win Monday, he will earn a $50,000 'double-up' bonus from the NHRA, pushing his possible weekend earnings to more than $235,000.
Bernstein scored his eighth No. 1 effort of the season in Top Fuel, as his 4.505 at 323.74 was quickest among 21 entries.
Bazemore claimed his fifth No. 1 qualifying award in the last six races in his Matco Tools Pontiac Firebird as no one improved on his track record effort of 4.756 at 325.69.
Osborne powered his Dodge Neon to a track record run of 6.879 at 200.74 to take his first top qualifying award of the season in Pro Stock. Osborne, who will face teammate Darrell Alderman in the first round, was also the top qualifier here last year.
Savoie took her fourth No. 1 position of the season in Pro Stock Motorcycle, as she posted a track record performance of 7.127 at 189.87.
Coughlin, the '99 winner here, used a track record run to claim his first top qualifying position in Pro Stock Truck. He powered his Chevy S-10 to a 7.461 at 180.62.
Sunday's elimination results for the $147,00 Budweiser Shootout for Funny Cars at the 47th annual Mac Tools U.S. Nationals at Indianapolis Raceway Park.
ROUND ONE -- Whit Bazemore, Pontiac Firebird, 5.308, 246.39 def. Ron Capps, Chevy Camaro, 5.642, 186.98; Frank Pedregon, Firebird, 5.227, 272.67 def. Bruce Sarver, Firebird, 5.368, 236.59; John Force, Ford Mustang, 4.863, 316.23 def. Del Worsham, Firebird, 10.942, 84.51; Tony Pedregon, Mustang, 4.842, 313.58 def. Dean Skuza, Dodge R/T, 5.188, 248.02;
SEMIFINALS -- F. Pedregon, 4.921, 316.45 def. T. Pedregon, 8.588, 111.04; Bazemore, 4.985, 307.09 def. Force, 12.327, 82.58;
FINAL -- F. Pedregon, 5.072, 282.48 def. Bazemore, 6.290, 222.99.




NHRA: 10 Most Recent Entries [ top ]

Mar 18- GAINESVILLE - Pro Mod Sunday Wrap Up
Mar 18- GAINESVILLE - Sunday Wrap Up
Mar 18- GAINESVILLE - Pro Mod Championship Points
Mar 18- GAINESVILLE - Bonus Points
Mar 18- GAINESVILLE - Championship Points
Mar 18- GAINESVILLE - Mickey Thompson Top Fuel Harley Series Championship Points
Mar 18- GAINESVILLE - Bonus Points
Mar 18- GAINESVILLE - Summary of Eliminations in Top Fuel
Mar 18- GAINESVILLE - Summary of Eliminations in Funny Car
Mar 18- GAINESVILLE - Summary of Eliminations in Pro Stock