Mon, 3 Sep 2001, 02:31 PM



They Call Him Bucky



Courtesy of David Harris



Veteran Super Stock Driver Recreates History



CLERMONT, Ind. --
It's often hard to relive the glory days. But when Bucky Hess piloted his 426-cubic-inch Hemi-powered 1968 Plymouth Barracuda through the Indianapolis Raceway Park timing lights to win the $10,000 Mopar Performance Parts Hemi Super Stock Challenge at the 47th annual U.S. Nationals, there was more than one memory rekindled.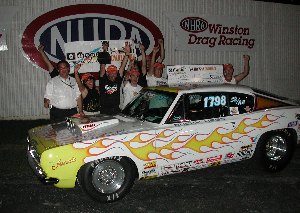 Bucky Hess Celebrates Win
In front of a large professional qualifying crowd, Hess took on the Hemi-powered 1968 Plymouth Barracuda of James Keyes. As in the days of lore, the two performed a burn down in the staging lanes and Keyes took a starting line advantage. But as quick as Keyes started, it was over as mechanical woes set in. Hess cruised to a 9.072-second elapsed time at 145.67 mph to take the victory.
"This weekend was so much more than I ever expected," Hess said. "The $10,000 is great, but I really wanted that trophy so bad. It has just blown my mind and I'm overwhelmed.
"For some reason, I came into this weekend with a lot of confidence," Hess continued. "I've been racing hard all year and I felt good. I told (ESPN announcer) Brett Kepner that they were going to have to beat me this weekend. And I stayed with that same game plan. My friend kept my head on straight and I was able to cut good lights, which helped me get a lot of wins."
Limited production Plymouth Barracudas and Dodge Darts have had a long and illustrious history at the U.S. Nationals. In 1968, Allen Vanke drove a Super Stock Barracuda to victory and Ronnie Sox, of the famous Sox and (Buddy) Martin duo, took home the 1969 title in another 1968 Hemi-powered Barracuda. Ron Mancini drove his 1968 Hemi Dart to Super Stock victory in 1970, while Don McCullum's 1968 Barracuda took home the Stock Automatic victory in 1994.
"I've done so many things with this class," said Hess, who has broken many records in the Super Stock category. "I have won all over the country, but I never won Indy."
Mopar Performance Parts Marketing Manager David Hakim talked about the Hemi Challenge, which was developed to help celebrate the 50th anniversary of the vaunted engine.
"Bucky Hess has been instrumental in helping develop and build the block and heads that we use in our crate Hemi engines," Hakim said. "(Engine builder) Ray Barton used his car as the R & D vehicle to make sure that our parts were durable over years of Super Stock racing. It's guys like Bucky - and Barton - that help keep the Hemi legacy alive and well for another 50 years.
"We have so much brand equity in the Hemi nameplate," Hakim continued. "All the Sportsman racers are diehard Mopar enthusiasts. The Hemi Supers Stock Challenge was a way for Mopar Performance Parts to say thank you to all of its dedicated racers. In a way, we're an underdog out here. We're outnumbered by the General Motors and Ford guys, but we work just as hard - if not harder - and I think we work a little bit smarter. Auto racing is a team effort. With our engineering group making quality products like the crank and the block, racing is a great way to test it.
"The Hemi Challenge is a way for us to really elevate this group of racers," Hakim added. "We figured we would put $10,000 dollars on the plate and have the quickest person win. We plan on even doing more and better things for next year. The fact is that the NHRA technical staff has been great to work with. Everything from checking the cars in to doing the fuel check during each round of eliminations was tremendous. We can't say enough about their efforts this weekend."
To add to Hess' weekend, NHRA also awarded the Bunker Hill, W.V. driver with the Best Engineered Award.




NHRA: 10 Most Recent Entries [ top ]

Apr 19- HOUSTON - Friday Schedule
Apr 19- Tige Boats Named Presenting Sponsor of E3 Spark Plugs NHRA Pro Mod Drag Racing Series Portion of NHRA SpringNationals
Apr 19- HOUSTON - Previous Success, Early Win has Funny Car's Courtney Force Excited
Apr 18- Haney Headed for NHRA Pro Mod with Summit Racing on His Side
Apr 18- HOUSTON - Richie Crampton Enjoying Early-Season Success Heading to 31st Annual NHRA SpringNationals
Apr 18- 2018 Mustang Cobra Jet Celebrates 50th Anniversary of Racing Legend with Quickest
Apr 18- New Ford Mustang Funny Car Scheduled to Debut In 2019 NHRA Mello Yello Season Opener
Apr 16- HOUSTON - Fact Sheet
Apr 16- HOUSTON - After Early-Season Mishap Funny Car's Jonnie Lindberg Looks to Get On Track