Sat, 1 Sep 2001, 10:13 PM



Gann Wins Holley Dominator Duel for Pro Stock Motorcycles



Courtesy of NHRA Communications



Bazemore Leads Record Assault at MAC Tools U.S. Nationals



CLERMONT, Ind. --
Shawn Gann won the $15,000 Holley Dominator Duel for Pro Stock Motorcycles Saturday while Funny Car driver Whit Bazemore led a parade of track record performances in qualifying at the Mac Tools U.S. Nationals, the world's most prestigious drag race.
Warren Johnson and Mike Coughlin joined Bazemore in moving to the top of the order in their respective categories at Indianapolis Raceway Park, while Kenny Bernstein and Angelle Savoie continued to lead Top Fuel and Pro Stock Motorcycle qualifying at the $2.6 million race, the 18th of 24 events in the $50 million NHRA Winston Drag Racing Series.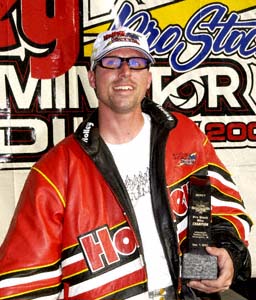 Shawn Gann
Gann rode his Suzuki to the Duel victory, joining Matt Hines (1996) and Jim Bernard (1991) as the only Pro Stock Motorcycle riders in NHRA history to win the Duel in their first start. He used a 7.258 second run at 184.80 mph to overcome a quicker start by defending Duel winner Antron Brown, who fell off the pace near the finish line and ran 7.334 at 180.55.
"This was no easy victory," said Gann. "I had to beat Matt (Hines) in the first (round), Angelle (Savoie) in the second and Antron in the final. This was my first win and there's a lot more to come."
Should Gann win Monday's eliminations, he could earn more than $35,000, which includes a $10,000 double-up bonus from the NHRA.
Bazemore clocked the quickest and fastest Funny Car run in NHRA history, a 4.756 at 325.69 effort to leapfrog John Force in the qualifying order. Should Bazemore hold on to the top spot following Sunday's final two sessions, it will be his fifth No. 1 qualifying effort in the last six events.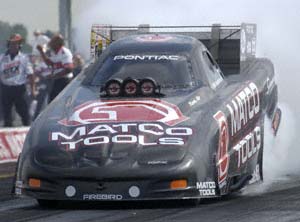 Whit Bazemore
"It's a great feeling when you've got the baddest hot rod out here," said Bazemore, a Georgia native who now calls Indianapolis home. "I knew that run was quick. I've never been in a situation to hold the national record and that's exciting. It's pretty neat because I live here now, but it wouldn't matter if I lived in Alaska -- this is the U.S. Nationals, this is the place -- we came here loaded for bear."
Both performances are eligible for national record status under NHRA's one-percent certification rule. To set the records Bazemore needs to log a time quicker than 4.803 seconds and a speed faster than 322.44 mph during the remainder of the weekend.
Bazemore, who is qualified among drivers for the $100,000 payday available in tomorrow's Budweiser Shootout (12:30 p.m.), says he isn't sure what his team's strategy will be for backing-up the record.
"That's a Lee Beard (crew chief) decision," said Bazemore, who faces Ron Capps in the first round of the Shootout. "I'm sure he will make the right call. We don't want to go out there and try and run a 4.77 and make a mistake in the Budweiser Shootout. We're not going into a defensive mode by any means, but we want to make sure we're at our best for the Shootout. I shut (the car) off two times this weekend and it still ran in the low 4.80s. We ran a 4.81 in the heat of the day today. It's going to be interesting. I think we have a shot at (the record)."
Bernstein continued to lead Top Fuel qualifying, by recording a track record run of 4.505 at 323.74. The elapsed time is the 10th quickest in NHRA history. Mike Dunn, who is second in the order, briefly held the top spot with a 4.530 at a track record speed of 327.82 in his Yankee dragster.
"(Tim Richards, crew chief) wanted to see what he could get out of (the car) today and push it a little," Bernstein said. "These cars are fickle, sometimes they do well and sometimes they don't. You never know. We knew the track was there because it was there last night. A (4.53) is a heck of a number. To get under that, it's tough. I got in the car and said 'Timmy, let's do it. Let's get it on. Is it in there?' He said, 'I hope.'"
In a drama-filled nighttime qualifying session, NHRA legends Shirley Muldowney and Don Garlits were paired as retired chief starter Buster Couch signaled the green light. Muldowney moved to 11th in the 16-car field by covering the distance in 4.647 seconds with a career-best speed of 320.20. Garlits, in his bid to run over 300 mph, lost traction immediately at the start. He has two qualifying attempts remaining in his Matco Tools dragster to move into the 16-car lineup.
Six-time U.S. Nationals winner Johnson moved to the front of the 16-car order in Pro Stock, clocking a track record time of 6.885 at 200.50 in his GM Goodwrench Pontiac Grand Am.
Savoie continued to set the pace in Pro Stock Motorcycle on a Suzuki, with a track record run of 7.127 at 189.87, also a career best speed.
Coughlin, the '99 winner here, took the top spot in Pro Stock Truck, driving his Chevy S-10 to a track record performance of 7.473 at 180.52.
Qualifying continues Sunday with sessions at 10 a.m. and 2:30 p.m for Monday's 10:30 a.m. eliminations.




NHRA: 10 Most Recent Entries [ top ]

Apr 19- HOUSTON - Friday Schedule
Apr 19- Tige Boats Named Presenting Sponsor of E3 Spark Plugs NHRA Pro Mod Drag Racing Series Portion of NHRA SpringNationals
Apr 19- HOUSTON - Previous Success, Early Win has Funny Car's Courtney Force Excited
Apr 18- Haney Headed for NHRA Pro Mod with Summit Racing on His Side
Apr 18- HOUSTON - Richie Crampton Enjoying Early-Season Success Heading to 31st Annual NHRA SpringNationals
Apr 18- 2018 Mustang Cobra Jet Celebrates 50th Anniversary of Racing Legend with Quickest
Apr 18- New Ford Mustang Funny Car Scheduled to Debut In 2019 NHRA Mello Yello Season Opener
Apr 16- HOUSTON - Fact Sheet
Apr 16- HOUSTON - After Early-Season Mishap Funny Car's Jonnie Lindberg Looks to Get On Track