Sun, 2 Sep 2001, 08:04 AM



Bazemore's New Look



By Larry Sullivan



CLERMONT, Ind. --
Whit Bazemore's Matco Tools Pontiac Firebird sports a somewhat different set of tail feathers here at Indy and the rear wing modifications are certain to spark some controversy after Bazemore's eye-watering 4.756 second, 325.69 mph run Saturday night.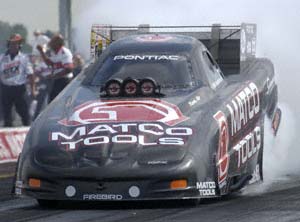 Whit Bazemore
The rear deck area of the Funny Car category is one of the tightest-controlled areas of the race cars and most of the rear wings look pretty much the same, with only slight variations.
Bazemore's new rear wing, designed with the aid of the Reynard chassis folks of open-wheel chassis fame, sports a pair of "fences" about a foot inside the large spill plates that run along the sides of the rear deck. The rear spoiler (the upright plate at the rear of the car) is in three sections, separately adjustable, between the longitudinal plates.
There is also an added longitudinal plate behind the center of the rear spoiler, extending rearward several inches.
Bazemore's car ran an older body with a conventional rear deck setup Friday, unveiling the new body configuration Saturday.
On his Saturday night run, the two outside sections of the spoiler, between the fences and the spill plates, were at the usual steep (almost vertical) angle, with the center section at a slightly shallower angle.
What does the new configuration accomplish? Only a trip to the wind tunnel can answer that question definitively, but the added fences should channel the air to the rear spoiler more efficiently and the three-piece spoiler should let the team fine-tune downforce and drag to fit track conditions.
For example, by laying the center section back a few degrees, as it was last night, the outside spoiler sections would still apply a lot of downforce to the outside corners of the rear deck while the center section would have reduced drag.
Whatever the answer, crew chief Lee Beard and a couple of "engineer-types" were gathered around the rear of the car in the pits after last night's successful qualifying session, disassembling and measuring the new aerodynamic devices.
If the new configuration survives the inevitable controversy, you can expect more cars to be sporting new tail feathers before long. After all, this is a sport where technological innovation moves almost as quickly as the race cars.




NHRA: 10 Most Recent Entries [ top ]

Apr 23- HOUSTON - Sunday Video
Apr 22- HOUSTON - Sunday Pro Mod Wrap Up