Sat, 1 Sep 2001, 07:52 AM



Bernstein, Force Among Qualifying Leaders at MAC Tools U.S. Nationals



Courtesy of NHRA Communications



CLERMONT, Ind. --
Kenny Bernstein was the quickest of 21 Top Fuel dragsters to lead opening qualifying Friday at the 47th annual Mac Tools U.S. Nationals, the world's most prestigious drag race.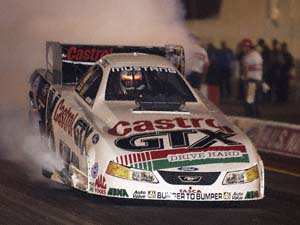 John Force
John Force, Mark Osborne, Angelle Savoie and Randy Daniels also were qualifying leaders in their respective categories at the $2.6 million race, the 18th of 24 events in the $50 million NHRA Winston Drag Racing Series.
Bernstein sped down the newly-renovated Indianapolis Raceway Park quarter-mile in 4.540 seconds at 323.58 mph in his Budweiser King dragster.
Doug Kalitta was second in the order with a 4.580 at 309.91 in the Mac Tools dragster, while Bernstein's top Winston points rival, Larry Dixon, was third, recording a 4.585 at 316.97 in the Miller Lite dragster. Mike Dunn qualified fourth in the Yankees dragster at 4.593 seconds, with a track record speed of 325.69 mph.
Bernstein, who trails Dixon by eight points entering this event, feels certain the standing room only crowd will be treated to an even quicker run later in the weekend.
"We're going to step on it and push it harder tomorrow, as will every other team out here," Bernstein said. "I don't think the (4.54) will hold for the (No. 1) position by any means. It is just so critical to qualify in one of the first three positions because it helps so much on race day. It feels really good to get started on the right foot at this event with a run like that."
Top Fuel legends Don Garlits and Shirley Muldowney didn't disappoint in their initial qualifying attempts in separate comeback efforts. Three-time Winston champion Muldowney, 61, clocked a 4.647 at 319.98 in her pink Mac Tools dragster, while eight-time U.S. Nationals winner Garlits, 69, drove his Matco Tools dragster to a planned half-track shut-off run of 5.322 at 190.46. It is Garlits' first NHRA event as a driver since 1992.
Force led Funny Car qualifying with a track record run of 4.810 at 315.56 mph in his Castrol GTX Ford Mustang. Del Worsham, who qualified third in a Pontiac Firebird at 4.843, set a track speed record at 316.08 mph.
Osborne paced the Pro Stock order, covering the distance in 6.903 at 198.44 in a Dodge Neon.
Savoie was quickest in Pro Stock Motorcycle, powering her Team Winston Suzuki to a 7.245 at 178.90. Shawn Gann qualified second on a Suzuki, posting a 7.275 with a track record speed of 184.67.
Randy Daniels posted a track record run to lead Pro Stock Truck qualifying. He covered the distance in 7.522 at 178.71 in a Chevy S-10, while '99 U.S. Nationals winner Mike Coughlin qualified second with a 7.534 at a track record speed of 179.11, also in an S-10.
Qualifying continues Saturday at 11:45 a.m. The Holley Pro Stock Dominator Duel, a lucrative bonus event for Pro Stock Motorcycles, begins at 11:30 a.m.




NHRA: 10 Most Recent Entries [ top ]

Mar 17- GAINESVILLE - Saturday Wrap Up
Mar 17- GAINESVILLE - Super Gas Round 3 Eliminations
Mar 17- GAINESVILLE - Pro Modified Eliminations Ladder
Mar 17- GAINESVILLE - Pro Modified Final Qualifying, Session #4 Order
Mar 17- GAINESVILLE - Super Stock Round 3 Eliminations
Mar 17- GAINESVILLE - Super Comp Round 3 Winners
Mar 17- GAINESVILLE - Stock Eliminator Round 3 Eliminations
Mar 17- GAINESVILLE - Super Comp Round 3 Eliminations
Mar 17- GAINESVILLE - Top Alcohol Funny Car Round 1 Eliminations
Mar 17- GAINESVILLE - Total Qualifying Bonus Points