Tue, 02 Jun 2020, 16:59 PM



Timoszyk and Umlauf Execute at Eddyville Chaos



Courtesy of Chris Graves, Funny Car Chaos


Photo copyright 2020 Wes Ramsey and Bob Synder






EDDYVILLE, Iowa -- The Red Line Shirt Club Funny Car Chaos Championship tour presented by Entech Oil and Mears Mazda Volvo was able to resume its 2020 season at Iowa's Eddyville Raceway Park on May 29-30th. After sneaking in the season opener in mid-March, the series was forced to re-schedule several events due to the Covid-19 pandemic. With funny car teams across the country itching to race, a stout twenty five car field with teams from twelve states converged on Eddyville, Iowa for two days of ground pounding heads up flip top action.
Per the Iowa governor's orders, no 'spectators' were allowed in the property, a mandate that was set to expire June 1st, just two days after the event's completion. But, an unlimited number of 'crew' were permitted in the pits, which allowed a respectable amount of hard core 'crew' to become part of the Funny Car Chaos 'survey team' working to observe the event and report back to the series in an effort to improve upon future events.
This event marked the first time for a Funny Car Chaos pay-per-view service allowing people who were unable to attend the event to experience the show from the safety of their own homes around the world. It was also the first time for live stream provider BangShift.com to provide a multi-camera broadcast with Chad Reynolds hosting the event and Les Mayhew of Nitro America fame capturing the action from the starting line.
Ken Singleton and Steve Vang entered the event, both making the tow from Oklahoma, with targets on their backs as winners of the season opener held in Texas. Chaos regulars chasing every possible point towards the 2020 title were joined by many first time series participants from the mid-west. Chris Foster, Kyle Smith and Robbie Massey were in attendance in their big show legal TA/FC cars, joined by Jeff Krug and Justin Herbst's alcohol powered entries. Three nitro teams made their Chaos debut with Levi Keenen's Tom Motry tuned "Illinois Thunder" entry, Mark Howard's "Rednecks N' Fuel" big show style fuel burner driven by Top Fuel pilot Terry Totten and Jim Hidy's "Fuelish Intentions".
Eddyville Raceway Park owner Gerald Kramer and Chaos series director Chris Graves had to get creative in this one of a kind event structure and a massive effort was put forth to make this race a reality. It was an effort well worth it, as racers and 'crew' members were treated to a spectacular showing by the funny cars under stellar weather conditions. The fun meter was pegged, the pits were filled with people who were finally able to do what they love, drag race, and one awesome drag race it was!
Friday night hosted two rounds of qualifying and for about half of the field, this was their first time to hit the track in the 2020 season. Chaos was missing its touring announcer David Rattan to illness, so the familiar voice of Bob Unkefer came into call the action for the weekend. Keith Jackson rounded out the Rodak's Custom Coffee 'A' field with a 4.20 at 165 mph charge, but his story wasn't over at the finish line. After debuting a brand new 1970 Camaro bodied "High Heaven" with a jaw dropping custom paint job, Jackson had major issues at the top end after his parachute lever bracket failed sending him through the shutdown with no chutes. Off the end of the track Jackson went and deep into the corn field. This marks the second trip into a cornfield for Jackson in Chaos competition after a very similar scenario in 2018 in Illinois.
Keith Jackson
Keith Jackson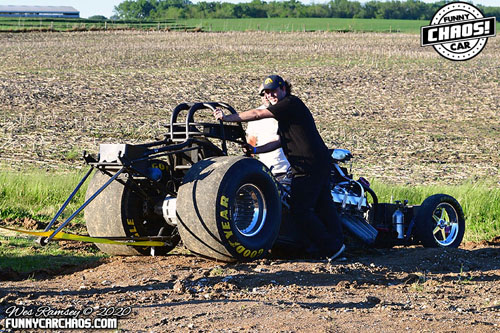 Keith Jackson
Thankfully for Jackson and the team, much due to a stellar driving effort, Jackson climbed out of the car completely uninjured and to the surprise of everyone on the property, the one year old chassis and brand new body were minimally damaged. After a thrash back in the pits and some fabrication assistance from fellow fuel flopper pilot Jack Wyatt, team "High Heaven" was able to return to competition and race in Saturday's main event.
Jeff Krug had an oil filter failure early in the second qualifying session which resulted in a massive oil down, thus the remainder of the session was run in left lane singles. Ken Singleton raised eyebrows with a top qualifying effort of 3.75 at 20 4 mph. Chris Foster's 3.90 at 174 and Steve Timoszyk's career best 3.91 at 182 mph held on for the top three spots after Friday. John Umlauf's "Mass Chaos" nitro burning Monza clicked off a 4.38 to earn the top qualifying spot in the Alkydigger 'B' field and the bump spot was Dustin Bradford's 4.59 with one qualifying session remaining on Saturday afternoon.
Parts attrition took its toll on a few teams who were out of competition early including Howard & Totten's big show style entry along with Harrigan & King's "Fools Gold" entry, Scott Cousimano's "Nitro Mafia" and Jim Hidy's Iowa based fueler. Saturday afternoon's final qualifying session welcomed sunshine and a stellar race track for teams looking to step up and that they did.
Jim Chase's "Wicked Quick" alcohol burning 1957 Chevy from Bismarck, North Dakota had posted a cone slaying 3.90 on Friday night, but the centerline foul disqualified the run. Not to worry, Chase blasted to a stellar 3.82 at 192 mph to jump to the number two spot in the 'A' field. Chuck Loftin's "Motivation" nitro burning Mustang from Texas made a big move into the 'A' field with a 3.93 at 190 mph effort and Chris Schneider wheeled John Troxel's Missouri based "Brutus" to a career best 4.33 at 162 mph to lead the 'B' field qualifiers into eliminations after inserting alternates for sidelined qualifiers.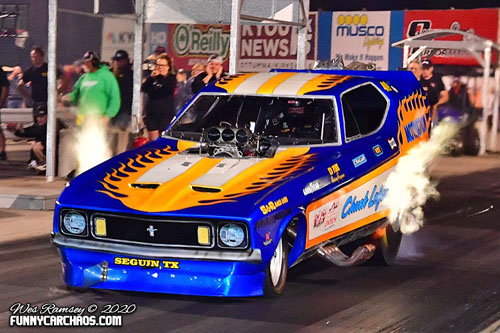 Jeff Cameron's "Magnolia Missile" joined the growing list of career best times with a 4.41 at 156 mph and Nick Johnson rounded out the 'B' field in Wayne Reinart's "Prairie Fire" with a 4.66 at 154 mph as the final alternate. Johnson bumped into the field after Chris Foster discovered mechanical issues that were not repairable at the track, an unfortunate result for a first time Chaos team that everyone on the property expected to be a top contender. Jeff Krug also made an early exit due to breakage after a career best 4.12 at 176 mph had earned him a spot in the elite 'A' field. The pairings were set and it was time to play for keeps in Iowa.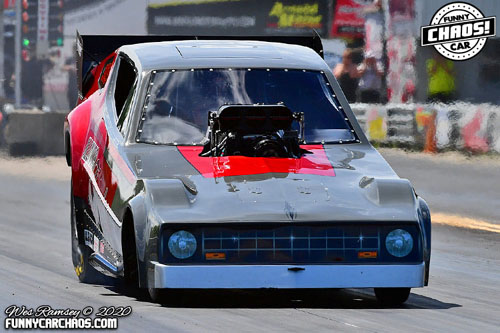 FINAL QUALIFYING ORDER:

Rodak's Custom Coffee 'A' Field -
1. Ken Singleton (Chickasha, OK) - 3.75 @ 204
2. Jim Chase (Bismarck, ND) - 3.82 @ 191
3. Chris Foster (North Platte, NE) - 3.90 @ 174 (Broke)
4. Steve Timoszyk (Detroit, MI) - 3.91 @ 182
5. Chuck Loftin (Seguin, TX) - 3.93 @ 190
6. Kyle Smith (Wichita, KS) - 3.98 @ 182
7. Chris King (Chicago, IL) - 4.11 @ 171 (Broke)
8. Jeff Krug (Mount Pleasant, IA) - 4.12 @ 176 (Broke)
9. Robbie Massey (Des Moines, IA) - 4.13 @ 135
10. Keith Jackson (Lakewood, CO) - 4.20 @ 165
11. Levi Keenen (Paris, IL) - 4.331 @ 166

AlkyDigger 'B' Field -
12. Chris Schneider (Holts Summit, MO) - 4.337 @ 162
13. John Umlauf (Rolla, MO) - 4.34 @ 131
14. Jeff Cameron (Magnolia, TX) - 4.41 @ 156
15. Matt Nissen (Alma, NE) - 4.42 @ 160
16. Steve Vang (Norman, OK) - 4.45 @ 156
17. Clay Cunningham (Dumas, TX) - 4.55 @ 129
18. Dustin Bradford (San Antonio, TX) - 4.59 @ 125
19. Nick Johnson (Orleans, NE) - 4.66 @ 154
---------------------------------------------------------
20. Justin Herbst (North Platte, NE) - 4.75 @ 147
21. Vic Tiffin (Stillman Valley, IL) - 5.06 @ 162
22. Jordan Ballew (Bartlesville, OK) - 5.84 @ 104
23. Scott Cousimano (Las Vegas, NV) - 11.01 @ 43 (Broke)
24. Terry Totten (Gretna, NE) - No Time (Broke)
25. Jim Hidy (Batavia, IL) - No Time (Broke)

The first pair out in the Rodak's Custom Coffee 'A' field featured a classic Chaos match up, nitro versus alcohol, old school versus new school body styles, with Chuck Loftin and Kyle Smith pulling to the line. Both cars capable of 3.80s or better, but Smith went big time red off the line and Loftin shutoff early after flirting with the centerline, costing to a 4.60 win. Top qualifier and points leader Ken Singleton and team "High Risk" fired up next alongside new nitro pilot Levi Keenen who bumped into the 'A' field. Keenen took a nice starting line advantage and ran his best numbers of the event with a 4.32 at 173 mph but was no match for Singleton who matched his qualifying effort with another 3.75 at 204 mph blast.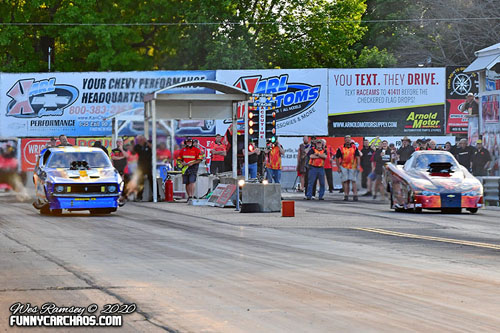 Keith Jackson couldn't be stopped as team "High Heaven" staged up against Jim Chase. Jackson and company had thrashed to make repairs after their trip into the cornfield on Friday night and were rewarded in the opening round as Chase took the lead early, but fell off at half-track allowing Jackson to blast by in the lights for the win with a 4.21 at 159 mph. Steve Timoszyk and Robbie Massey finished up the opening round of the 'A' field. Massey was defending home turf on a track he had been racing at since the age of 7, now wheeling the iconic ex. Vern Moats driven entry to which he had long family ties to. Massey was out front and charging hard, but tire shake sent the car sideways and forced him to lift, allowing Timoszyk to charge by for the come from behind win with a 4.07 at 173 mph.
Alkydigger 'B' field action kicked off with the closest drag race of first round eliminations between Chris Schneider and Nick Johnson. Johnson took a slight advantage off the line and posted his best pass of the weekend with a 4.45 at 155 mph but Schneider nipped him at the finish line with a come from behind 4.38 at 160 mph charge. Matt Nissen and Steve Vang both went red, almost simultaneously, but Vang was on the better end of the numbers and posted a 4.46 at 155 mph to advance and keep his undefeated streak alive in his debut season with Chaos after winning Lufkin in March.
Clay Cunningham and Jeff Cameron were up next and after a nail biting .004 reaction time from Cunningham, he posted a career best 4.11 at 161 mph in the "Still Crazy" Hemi powered entry to take out Cameron's 4.53 at 151 mph. John Umlauf and Dustin Bradford closed out the round as Bradford struggled off the line and Umlauf pedaled to a 4.49 at 125 mph ticket into the semi-finals.

FIRST ROUND RESULTS:
Rodak's Custom Coffee 'A' Field
(W) Loftin (.033 rt) 4.60 @ 117 vs. (L) Smith (-.302 rt) 4.64 @ 104
(W) Singleton (.173 rt) 3.75 @ 204 vs. (L) Keenen (.100 rt) 4.32 @ 173
(W) Jackson (.140 rt) 4.21 @ 159 vs. (L) Chase (.234 rt) 4.66 @ 106
(W) Timoszyk (.128 rt) 4.07 @ 173 vs. (L) Massey (.031 rt) 4.36 @ 138

AlkyDigger 'B' Field
(W) Schneider (.076 rt) 4.38 @ 160 vs. (L) Johnson (.050 rt) 4.45 @ 155
(W) Vang (-.010 rt) 4.46 @ 155 vs. (L) Nissen (-.013 rt) 5.41 @ 89
(W) Cunningham (.004 rt) 4.11 @ 161 vs. (L) Cameron (.072 rt) 4.53 @ 151
(W) Umlauf (.133 rt) 4.49 @ 126 vs. (L) Bradford (.105 rt) 14.22 @ 36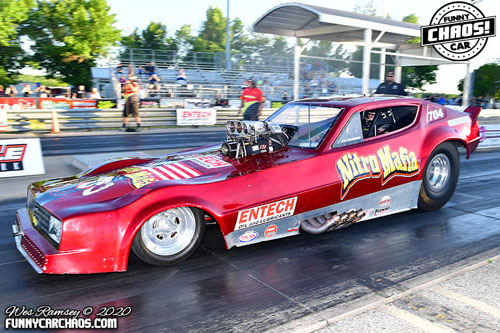 Semi-final action brought some great drag racing action as Steve Timoszyk and Keith Jackson brought their cars to life to kick off the 'A' field final four. Could Jackson's incredible story of survival continue or would Timoszyk earn yet another final round appearance, which would be his fourth in five Chaos event entries. Timoszyk was off the line first and never looked back getting back into the three second zone with a 3.97 at 177 mph over Jackson's 4.61 at 114 early shutoff pass. The tiger was final round bound and would face the winner between two Chaos regulars in Singleton and Loftin. These two had history, both heavy hitting points chasers who had squared off several times in recent events. At the flash of amber Loftin charged out to an early lead but left the red bulb glowing with a -.095 reaction time. Side by side and wide open they thundered down the eighth mile but Singleton was steadily making a move to the centerline. At the lights, the finish line cone flew as the "High Risk" car made contact on a 3.74 at 204 mph lap disqualifying the run alongside Loftin's strong 3.84 at 183 mph pass. Thankfully the cars were able to avoid contact in a close call at the top end, but for Singleton it was 'first or worst' and despite the red light, Loftin would advance to the finals to battle Timoszyk for the crown.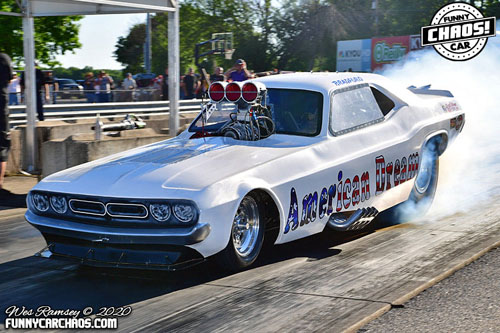 The Alkydigger 'B' field did not disappoint as it delivered equally entertaining action in the semis with Chris Schneider and Steve Vang opening the round. Vang took a healthy starting line advantage but his 4.45 at 155 mph just didn't have enough ponies to hold off the hard charge from "Brutus" as Schneider's 4.34 at 163 again came from behind for the win. Two Hemis, one on nitro, one on alcohol, came to life next as Umlauf and Cunningham staged up for battle. Yet again, Cunningham ripped off the line with a big advantage but ran into issues allowing Umlauf to come from behind, posting his best numbers of the event thus far with a 4.22 at 149 mph to move into his first ever Chaos final. Schneider was headed to his second consecutive final round of 2020 Chaos racing after posting an impressive runner up finish in the 'A' field to start the season.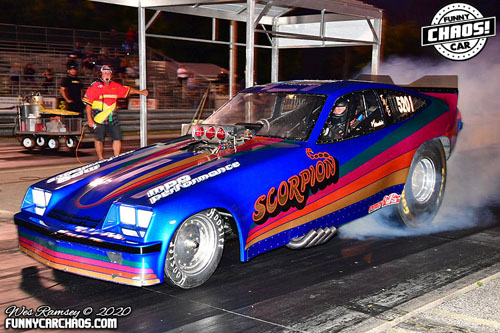 Following the semis, Jordan Ballew's "Ballew Thunder" and Justin Herbst's "Scorpion" squared off in a classic funny car match race presented by One Track Solutions Corp. and Best of Texas BBQ Sauce. Herbst and Ballew put on a show with side by side dry hops and Herbst took the win light in a great side by side match race.
Semi-Final Elimination Results:
Rodak's Custom Coffee 'A' Field (W) Timoszyk (.082 rt) 3.97 @ 177 vs. (L) Jackson (.144 rt) 4.61 @ 114
(W) Loftin (-.095 rt) 3.84 @ 183 vs. (L) Singleton (.099 rt) 3.74 @ 204 (DQ)
Alkydigger 'B' Field (W) Schneider (.103 rt) 4.34 @ 163 vs. (L) Vang (.047 rt) 4.45 @ 155
(W) Umlauf (.139 rt) 4.22 @ 149 vs. (L) Cunningham (.054 rt) 4.99 @ 117
Right on time and ready to go the final round pairings were in the lanes and fired at 10 pm to conclude a very exciting evening of Chaos competition in Iowa. First up the AlkyDigger 'B' field finalists Chris Schneider and John Umlauf completed their burnouts and crept into the beams. Schneider had been living in the 4.30s while Umlauf had been steadily improving on each pass. Schneider busted off his best reaction time of eliminations with a .073 while Umlauf was a bit tardy with his worst reaction time of eliminations at .194. Both cars gave it a quick pedal job as the drivers were plenty busy in the cockpit but at the stripe it was Umlauf's best pass of the night with a 4.16 at 170 mph taking the win over Schneider's 4.51 at 159 mph.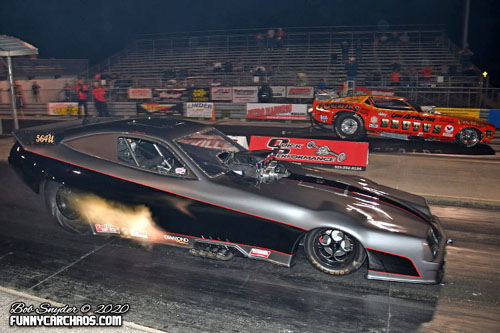 John Umlauf defeated Chris Schneider in the B Final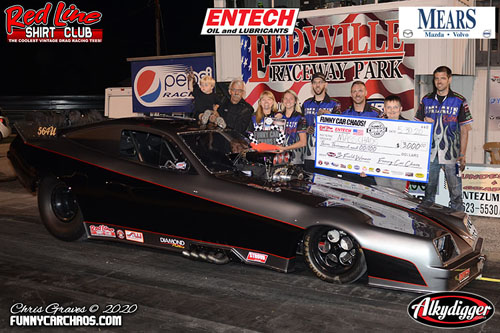 B Winner John Umlauf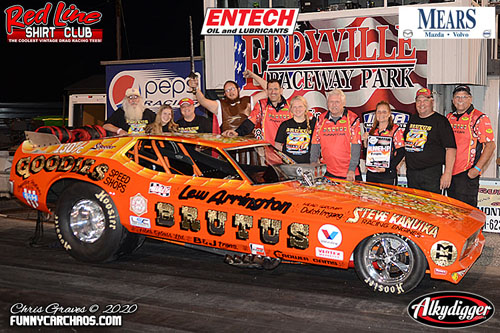 B Runner Up Chris Schneider
"The 'Mass Chaos' team was thrilled to be back at the track doing what we love last weekend at the Funny Car Chaos event at Eddyville Raceway. The track put on a stellar, well ran event as always. As it was the first race of the season for us, we mainly came to test the car and of course had issues but with our family and team, we worked together and pulled off an awesome and exciting win! Can't wait to be back at it soon and continue the chaos. Thanks to Chris and Tera Graves for organizing the Funny Car Chaos events, thanks again to Eddyville Raceway and thank you to all the sponsors who make an event like this possible including Red Line Shirt Club, Entech Oil and PRC Fabricating," said Umlauf.
Steve Timoszyk defeated Chuck Loftin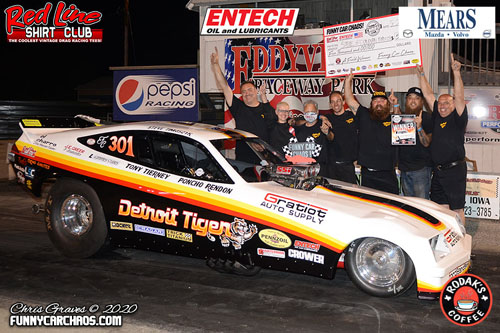 A Winner Steve Timoszyk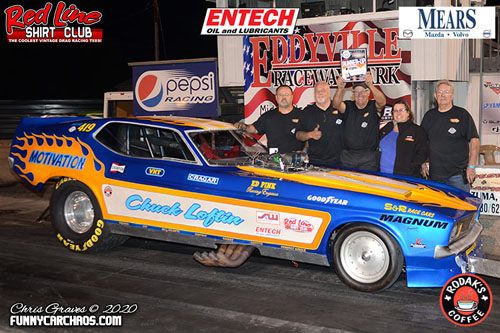 A Runner Up Chuck Loftin
The final pair of the weekend, Loftin versus Timoszyk, nitro versus alcohol, Texas versus Michigan, let's dance! Timoszyk was no stranger to Chaos final rounds having found success in both 'A' and 'B' field competition in the past, while Loftin had been in two final rounds and was looking for his second career Chaos trophy. Fumes were thick as these two big power floppers got lined up in their marks and staged up. They were off the line together and flames belched from the pipes of Loftin who then went up in tire smoke. Timoszyk pulled ahead, while Loftin was quick with an excellent pedal job and with flames back up was looking to make a comeback, but ran out of real estate. Timoszyk's slowest pass of eliminations with a 4.26 at 173 mph was able to hold off Loftin's 4.49 at 169 mph effort as the "Detroit Tiger" team erupted in celebration on the starting line!
"Eddyville, what a weekend! A lot of firsts for us at this race. No spectators, our team mate Buzz McElwee not in attendance and our tuner Scott Bowen could not make the trip. Scott kind of kicked us out of the nest for this one and said we could figure it out! I'm not going to lie, I was a little concerned. But once again, he was right! My crew was flawless this weekend, overcoming every challenge that was thrown their way. I can't thank them enough. Thank you to Bowen Race Cars, Powershield Coatings, Waterman Racing Components, SSI Superchargers and Brandon Wakeling for all your continued support. Thank you to the Graves family and all the companies that support the FCC events, we can't do it without you all," said Timoszyk.
Final Round Elimination Results: Rodak's Custom Coffee 'A' Field (W) Timoszyk (.108 rt) 4.26 @ 173 vs. (L) Loftin (.115 rt) 4.49 @ 169
AlkyDigger 'B' Field (W) Umlauf (.194 rt) 4.16 @ 170 vs. (L) Schneider (.073 rt) 4.51 @ 159
As Timoszyk stated, this weekend was full of a lot of firsts for the racers, the Funny Car Chaos series and Eddyville Raceway Park. But, as we knew we would, the teams banded together and put on a fabulous show for the 'crew' in attendance and fans streaming worldwide on BangShift.com. For Chaos first timers, all feedback was positive and indications of seeing those names again at a Chaos future event are highly likely. For the points chasing teams touring the country, June will be busy in Texas with back to back events. The first stop will be at Alamo City Motorplex in San Antonio on June 12-13th and that will be followed the next weekend by Penwell Knights Raceway in Odessa on June 19-20th.
Funny Car Chaos would like to thank One Track Solutions Corp. and Best of Texas BBQ Sauce for their support at the Eddyville event along with full season marketing partners Red Line Shirt Club, Entech Oil & Lubricants, Mears Mazda Volvo, O'Reilly Auto Parts, Rodak's Custom Coffee, Alky Digger, Taylor Motorsport Products, Littlefield Blowers, Concrete & Asphalt Paving Services, Decades of Wheels, Ellis County Custom Carts, S&W Race Cars, Meyer Enterprises, Precision Reprographics, Victory Driveline Components, Performax Trailers, Dooley & Sons Hot Rod Shop, Sam Tech.edu, RockAuto.com and Turn Key Print & Embroidery for their support this season!




Drag News: 10 Most Recent Entries [ top ]

Jul 07- Announcement- World Wide Technology Raceway and Total Venue Concepts
Jul 06- BTE World Footbrake Challenge- Final Day Results
Jul 06- BTE World Footbrake Challenge- Saturday Results
Jul 05- BTE World Footbrake Challenge- Friday Results
Jul 05- BTE World Footbrake Challenge- Thursday Results
Jun 30- BTE World Footbrake Challenge Pre-Race
Jun 30- Scoggin-Dickey Parts Center NMRA/NMCA All-Star Nationals Race Wrap Up
Jun 29- SACRAMENTO NO SUNDAY - Stock/Super Stock Combo Final, Round 6 Eliminations
Jun 29- SACRAMENTO NO SUNDAY - Top Comp Final, Round 5 Eliminations
Jun 29- SACRAMENTO NO SUNDAY - Super Comp Final, Round 5 Eliminations