Sun, 31 May 2020, 12:45 PM



Austin Aces Xtreme Raceway Park Season Opener



Courtesy of Chris Graves, OFAA


Photo copyright 2020 Wes Ramsey






FERRIS, Texas --
The long awaited return to action for the Good Vibrations Motorsports Outlaw Fuel Altered Association finally took place at Xtreme Raceway Park in Ferris, Texas on May 23rd. With teams eager to take the track, the pits filled quickly with over 200 cars on the property for a long day of racing which included a full twelve car field of fuel altered entries. Lots of new paint jobs were debuted at this event and it was time to see the results of many performance upgrades that were done to the cars over the off season. With humid but clear skies and stands full of horsepower hungry spectators ready for a show, the fuel altereds took the stage on Saturday night as qualifying got underway.
Aaron Morrow wheeled Terry Darby's "Nitro Relapse" to the top spot with a 3.85 at 190 mph blast right off the trailer. Jody Austin's "BushWhacker" clicked off a 3.90 to qualify number two and John Broussard's 4.00 earned the number three spot in the "Purple Haze" entry from Louisiana. Mark Hunter, Jimmy Jones and Mark Billington rounded out the top half of the field as the pairings were set for first round eliminations under the lights in Texas.

FINAL QUALIFYING ORDER: 
1. Aaron Morrow - 3.85 @ 190
2. Jody Austin - 3.90 @ 153
3. John Broussard - 4.00 @ 178
4. Mark Hunter - 4.01 @ 161
5. Jimmy Jones - 4.17 @ 174
6. Mark Billington - 4.18 @ 165
7. Bobby Marriott - 4.19 @ 139
8. Rick Grindstaff - 5.03 @ 107
9. Clint Cross - 5.55 @ 83
10. Donny McSwain - 5.91 @ 85
11. Raymond Dawson - 6.93 @ 64
12. Dustin Bradford - No Time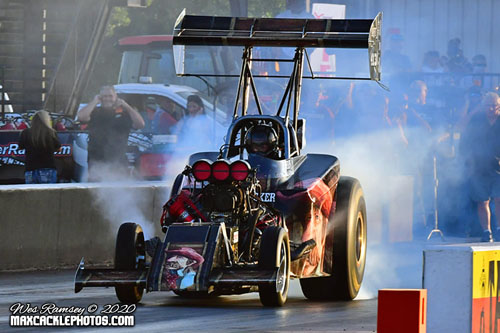 The opening round kicked off with a solo shot by Donny McSwain who's opponent Mark Hunter was unable to make the call with mechanical issues after his qualifying pass. McSwain set the pace early with a nice 3.87 at 186 mph in the "Wild One" to take the round win. Mark Billington drove Raymond Austin's "Magic Dragon" to a winning 4.19 at 177 mph over Dustin Bradford's 4.48 at 153 mph. Jimmy Jones' "Texas Tremor" and Raymond Dawson's "High Octane" squared off in a close match with Jones' 4.01 at 176 taking the win by a slim margin to Dawson's 4.03 at 183 mph. Jody Austin clocked another 3.90 to advanced past Rick Grindstaff's 4.40 at 156 mph. Bobby Marriott's "Shockwave" lined up with top qualifier Aaron Morrow as Marriott flirted with the wall and was forced to abort his run while Morrow advanced with a 4.16 at 172 mph. In the final pair, Clint Cross went into severe tire shake in the "Crossways" entry and had the best seat in the house to watch John Broussard light the scoreboards with a strong 3.89 at 183 mph to move into the semi-finals.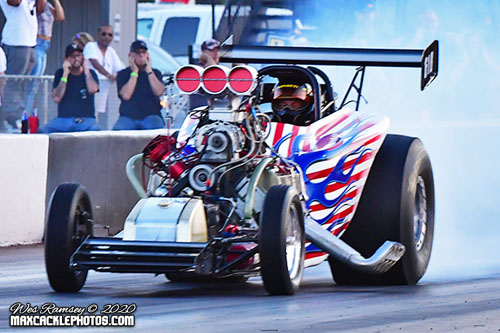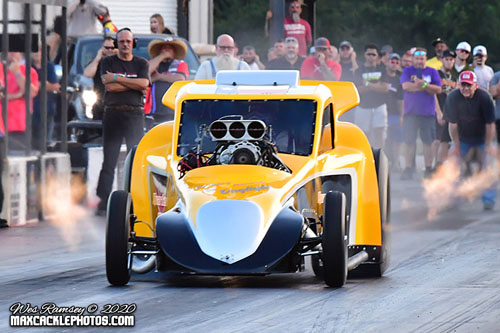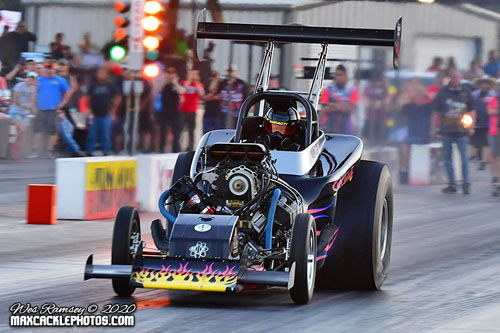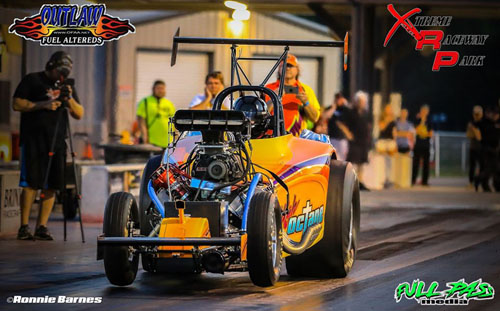 FIRST ROUND RESULTS: 
(W) Donny McSwain (.111 rt) 3.87 @ 186 vs. (L) Mark Hunter (Broke)
(W)Mark Billington (.129 rt) 4.19 @ 177 vs. (L) Dustin Bradford (.197 rt) 4.48@ 153
(W) Jimmy Jones (.073 rt) 4.01 @ 176 vs. (L) Raymond Dawson (.133 rt) 4.03 @ 183
(W) Jody Austin (.162 rt) 3.90 @ 149 vs. (L) Rick Grindstaff (.149 rt) 4.40 @ 156
(W) Aaron Morrow (.143 rt) 4.16 @ 172 vs. (L) Bobby Marriott (.146 rt) 5.39 @ 87
(W) John Broussard (.043 rt) 3.89 @ 183 vs. (L) Clint Cross (.075 rt) 5.18 @ 93

Semi-finals were paired up in the waterbox and the first pair out featured an all alcohol battle with Donny McSwain and Jimmy Jones. McSwain was off the line first and got the win light with a 3.85 at 188 mph to Jimmy Jones' 3.79 at 192 mph which was a career best, but under the 3.80 index. John Broussard was up next alongside Aaron Morrow and in a great race, Broussard strapped a holeshot and 3.88 at 183 mph pass to take out a quicker but losing 3.84 at 191 mph for Morrow. Jody Austin and Mark Billington closed out the round in all 'Austin' family battle as Jody's father Raymond owns the car Billington drives. Jody Austin's 3.87 at 154 mph got the win over Billington's 3.96 at 186 mph. As the two quickest winners, Donny McSwain and Jody Austin were final round bound.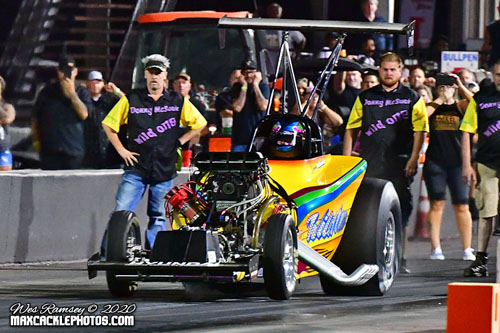 SEMI-FINAL RESULTS: 
(W) Donny McSwain (.083 rt) 3.85 @ 188 vs. (L) Jimmy Jones (.114 rt) 3.79 @ 192
(W) John Broussard (.053 rt) 3.88 @ 183 vs. (L) Aaron Morrow (.142 rt) 3.84 @ 191
(W) Jody Austin (.103 rt) 3.87 @ 154 vs. (L) Mark Billington (.107 rt) 3.96 @ 186

Late into the night as fuel altered rounds were delayed with over 200 bracket racers on the property, it was finally time for the final round to put a cap on an exciting evening of fuel altered action. Donny McSwain was looking to win his second consecutive OFAA event after winning the final race of 2019 held in October at Xtreme Raceway Park. Austin and company were looking to start the 2020 season with a win in their hopes for a Championship at the end of the year. As the ambers dropped, both drivers were a bit tardy but McSwain took a massive starting line advantage and seemed to have this one in the bag until the car made a wicked move to the guard wall and at around 500 feet sparks flew as the header made contact with the wall disqualifying his 4.00 at 151 mph run. Austin blasted by with a very nice 3.82 at 160 mph pass to take the win.

FINAL ROUND RESULTS: 
(W) Jody Austin (.404 rt) 3.82 @ 160 vs. (L) Donny McSwain (.169 rt) 4.00 @ 151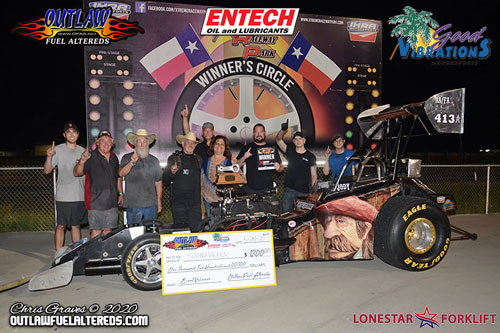 Jody Austin and crew celebrate win.
Team "BushWhacker" celebrated in their hard earned win in the winner's circle and will take the early points lead in the Championship stands. The next event for the Outlaw Fuel Altered Association is in two weeks, June 5-6th with the return of the series to Mo-Kan Dragway nearly Joplin, Missouri. The Outlaw Fuel Altereds would like to thank Good Vibrations Motorsports, Lone Star Forklift, Entech Oil, Taylor Motorsports Products, Littlefield Blowers, Red Line Shirt Club, Meyer Enterprises, Precision Reprographics, Grim Reeper Racing and Shockwave Racing for their support this season!




Drag News: 10 Most Recent Entries [ top ]

Jul 07- Announcement- World Wide Technology Raceway and Total Venue Concepts
Jul 06- BTE World Footbrake Challenge- Final Day Results
Jul 06- BTE World Footbrake Challenge- Saturday Results
Jul 05- BTE World Footbrake Challenge- Friday Results
Jul 05- BTE World Footbrake Challenge- Thursday Results
Jun 30- BTE World Footbrake Challenge Pre-Race
Jun 30- Scoggin-Dickey Parts Center NMRA/NMCA All-Star Nationals Race Wrap Up
Jun 29- SACRAMENTO NO SUNDAY - Stock/Super Stock Combo Final, Round 6 Eliminations
Jun 29- SACRAMENTO NO SUNDAY - Top Comp Final, Round 5 Eliminations
Jun 29- SACRAMENTO NO SUNDAY - Super Comp Final, Round 5 Eliminations